Svensson Running Away with PBA World Championship Lead
November 14, 2017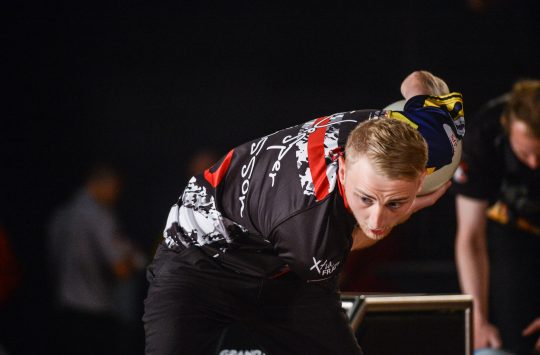 RENO, Nev. (Nov. 13, 2017) – Sweden's left-handed, two-handed star, Jesper Svensson averaged 250 for 10 games to take a commanding lead after the Chameleon and Shark rounds of the PBA World Championship Monday at the National Bowling Stadium.
The PBA World Championship is the crown jewel of the GEICO PBA World Series of Bowling IX, presented by Eldorado Reno Resorts Properties, and the final major championship of the PBA's 2017 season. WSOB IX is also a part of the 2017-18 Go Bowling! PBA Tour schedule.
The 22-year-old Svensson, who entered the PBA World Championship as the qualifying leader, rolled games of 246, 224, 247, 268 and 269 on the 45-foot Shark lane conditioning pattern after posting games of 237, 247, 245, 237 and 269 on the 39-foot Chameleon pattern earlier in the day to finish with a 12,083 50-game overall pinfall total, good for a 241.6 average.
Svensson leads Australia's Jason Belmonte, a right-handed two-handed player, who is 303 pins behind in second with a 11,780 50-game pinfall total.
"I'm the guy they want to beat at this point so the thing to do now is stay focused," said Svensson, who is the winner of six PBA Tour titles including the 2016 PBA Tournament of Champions. "Today, I bowled well in both rounds but it felt good to have a strong finish on the Shark pattern. To this point I've been able to avoid major mistakes and have been able to do what I do best."
Svensson is trying for his second PBA major title; Belmonte is after major title number nine, which would put him alone in third place among the PBA's all-time major title winners. Neither player has won the PBA World Championship.
In third place heading into Tuesday afternoon's qualifying round on the 33-foot Cheetah lane condition was another two-hander, Kyle Troup of Taylorsville, N.C., with 11,625 pins. Ryan Ciminelli of Cheektowaga, N.Y., finished the day in fourth with 11,601 and 2009 PBA World Championship winner Tom Smallwood of Saginaw, Mich., finished fifth with 11,553.
The PBA World Championship cashers' rounds will conclude with five games on the 42-foot Scorpion Tuesday at 5 p.m. PST. The top five bowlers after a total of 60 games will advance to the World Championship finals on Sunday, Nov. 19 at noon PST (live streamed on ESPN3, taped for telecast on ESPN on Dec. 31 at 1 p.m. EST).
All preliminary rounds of WSOB IX are being covered live on PBA's Xtra Frame online video streaming channel, and all competition throughout the WSOB also will be covered in real time game-by-game detail on pba.com's "live scoring" feature.
PBA WORLD CHAMPIONSHIP
(a part of the 2017-18 Go Bowling! PBA Tour)
National Bowling Stadium, Reno, Nev., Monday
Cashers' Round 2 Standings (after Shark round, 50 of 60 games completed):
1, Jesper Svensson, Sweden, 12,083.
2, Jason Belmonte, Australia, 11,780.
3, Kyle Troup, Taylorsville, N.C., 11,625.
4, Ryan Ciminelli, Cheektowaga, N.Y., 11,601.
5, Tom Smallwood, Saginaw, Mich., 11,553.
6, Bill O'Neill, Langhorne, Pa., 11,518.
7, Matthew Sanders, Evansville, Ind., 11,506.
8, Matthew McNiel, Minneapolis, Minn., 11,502.
9, Sean Rash, Montgomery, Ill., 11,472.
10, Marshall Kent, Yakima, Wash., 11,469.
11, Dick Allen, Columbia, S.C., 11,454.
12, Francois Lavoie, Canada, 11,453.
13, BJ Moore III, Greensburg, Pa., 11,434.
14, Anthony Pepe, Elmhurst, N.Y., 11,423.
15, Muhammad Rafiq Ismail, Malaysia, 11,400.
16, Liz Johnson, Palatine, Ill., 11,397.
17, Tommy Jones, Simpsonville, S.C., 11,396.
18, Brad Angelo, Lockport, N.Y., 11,395.
19, Thomas Larsen, Denmark, 11,384.
20, Glenn Pedersen, Norway, 11,376.
21, Shota Kawazoe, Japan, 11,361.
22, Zacharay Wilkins, Canada, 11,346
23, Dom Barrett, England, 11,342.
24, Rhino Page, Orlando, Fla., 11,340.
25, Norm Duke, Clermont, Fla., 11,332.
26, Sam Cooley, Australia, 11,330.
27, Wes Malott, Pflugerville, Texas, 11,319.
28, EJ Tackett, Huntington, Ind., 11,303.
29, Francois Louw, South Africa, 11,270.
30, Nick Kruml, Downers Grove, Ill., 11,261.
31, Chris Via, Springfield, Ohio, 11,250.
32, Josh Blanchard, Mesa, Ariz., 11,240.
33, Tobias Boerding, Germany, 11,236.
34, (tie) Kristopher Prather, Plainfield, Ill., and Tom Daugherty, Riverview, Fla., 11,228.
36, Brandon Novak, Chillicothe, Ohio, 11,226.
37, Connor Pickford, Plano, Texas, 11,220.
38, Chris Warren, Grants Pass, Ore., 11,218.
39, Richie Teece, England, 11,204.
40, Anthony Simonsen, Austin, Texas, 11,195.
41, Kim Bolleby, Thailand, 11,191.
42, Trey Ford III, Bartlesville, Okla., 11,182.
43, Stuart Williams, England, 11,180.
44, DJ Archer, Friendswood, Texas, 11,177.
45, Arturo Quintero, Mexico, 11,154.
46, Cristian Azcona, Puerto Rico, 11,130.
47, Daniel Fransson, Sweden, 11,120.
48, Darren Tang, San Francisco, 11,114.
49, Chris Loschetter, Avon, Ohio, 11,017.