Sweden's Martin Larsen Takes Lead After Third Round at 2016 U.S. Open
November 07, 2016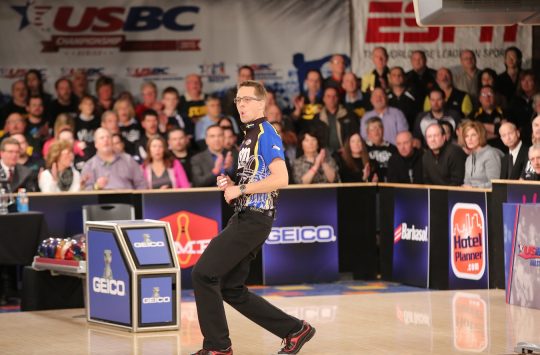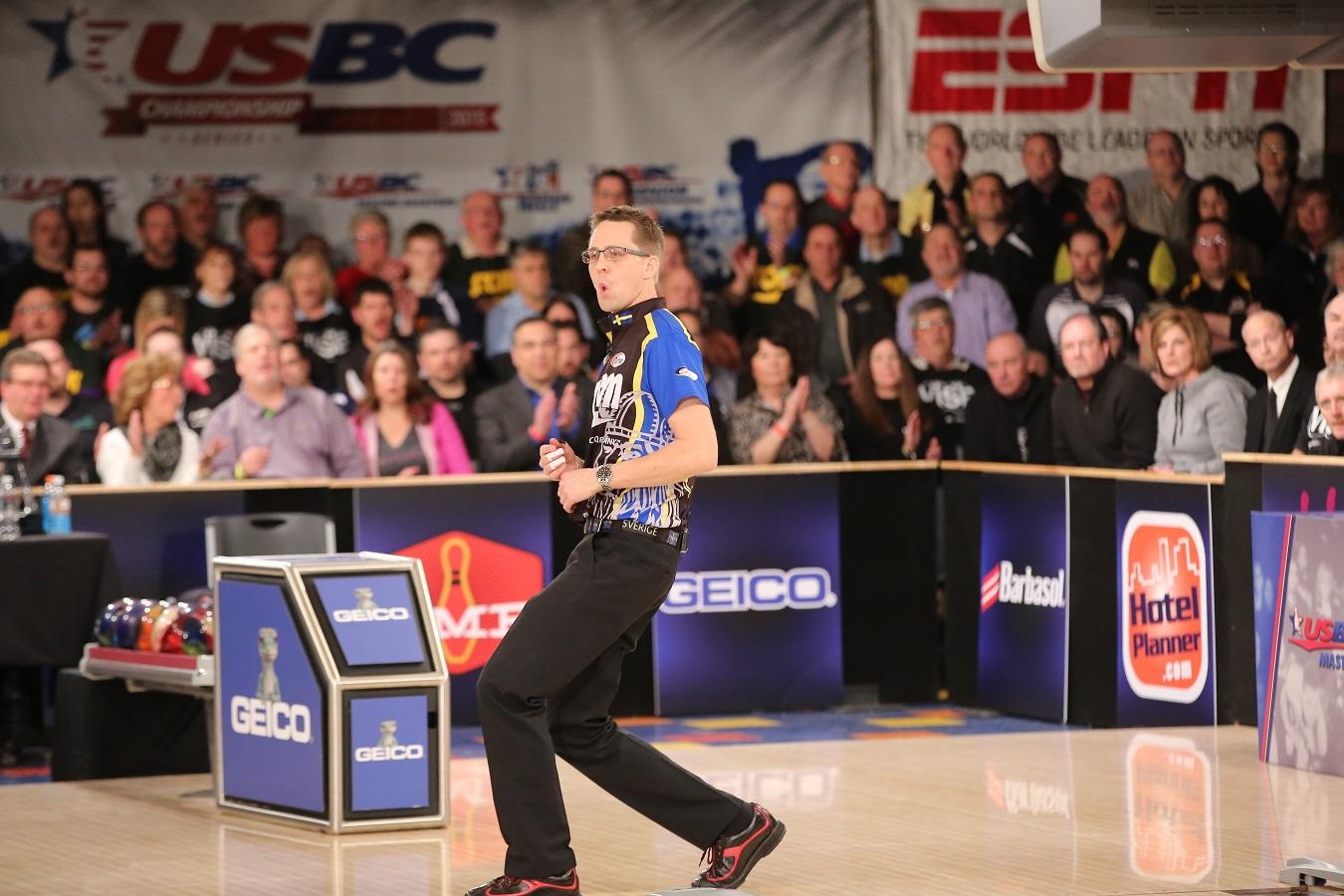 LAS VEGAS – Sweden's Martin Larsen fired 279 in his final game of qualifying Sunday to edge his way into the lead at the 2016 U.S. Open.
The 37-year-old right-hander used an eight-game block of 1,826 to finish qualifying with a 5,417 total, a 225.71 average, to sneak past 2016 United States Bowling Congress Masters champion Anthony Simonsen of Princeton, Texas, who is in second place with 5,406.
Canada's Francois Lavoie, who led after the second round, is third with 5,395, Marshall Kent of Yakima, Washington, is fourth with 5,363 and Shawn Maldonado of Houston is fifth with 5,362.
All competitors at the 2016 U.S. Open now have completed 24 games of qualifying, and the field of 228 has been cut to the top 57 players. Those competitors will bowl an additional eight games starting Monday at 1 p.m. Eastern to determine the 24 players that advance to round-robin match play, based on 32-game pinfall totals.
Chris Via of Springfield, Ohio, earned the final spot in Monday's cashers' round, finishing with a 5,031 total, a 209.63 average.
Qualifying at the 2016 U.S. Open gave competitors the opportunity to navigate three different phases of the 42-foot oil pattern being used during the event – the fresh, burn and double-burn. The oil pattern only is applied before the day's opening squad.
Larsen finished his final block on the burn squad. He started on the fresh during Friday's opening round of qualifying.
"I think I made some good ball choices, since we're used to only having six balls when we travel in Europe, and together with help from the ball reps I've been able to stay away from trouble," said Larsen, who finished 41st at the 2015 U.S. Open in Garland, Texas. "That's the main thing on this U.S. Open pattern. Keep your low games high and try to take advantage when the lanes give you something.
"It will be three days since I bowled on the fresh, and I started off well. Based off of what I've heard and seen since then, it seems like they haven't been playing them the same way I was and are starting a little further to the left. I'm going to try and go in open minded and see what the lanes tell me to do and move on from there."
Ryan Ciminelli of Cheektowaga, New York, will not defend his title in 2016. Ciminelli finished in 85th place with a 4,930 total.
Match play will begin Monday at 8 p.m. Eastern with the first of three eight-game rounds. Match play resumes Tuesday at 1 p.m. Eastern with the final two blocks, including a position round.
The top five, determined by total pinfall and bonus pins for 56 games, will advance to the stepladder finals, which will be broadcast live on CBS Sports Network at 8 p.m. Eastern on Nov. 9.
Each round of the 2016 U.S. Open leading up to the stepladder finals will be broadcast live on Xtra Frame, the exclusive online bowling channel for the Professional Bowlers Association.
The 2016 U.S. Open features a prize fund of more than $210,000, which includes $100,000 in added money. The 2016 champion will earn $30,000 and the coveted green jacket.
For more information on U.S. Open, visit BOWL.com/USOpen.
2016 U.S. OPEN
At South Point Bowling Plaza, Las Vegas
Sunday's results
ROUND 3 QUALIFYING
(24 games)
1, Martin Larsen, Sweden, 5,417. 2, Anthony Simonsen, Princeton, Texas, 5,406. 3, Francois Lavoie, Wichita, Kan., 5,395. 4, Marshall Kent, Yakima, Wash., 5,363. 5, Shawn Maldonado, Houston, 5,362. 6, Pontus Andersson (a), Sweden, 5,346.
7, John Szczerbinski, North Tonawanda, N.Y., 5,322. 8, Sam Cooley, Australia, 5,295. 9, Brad Miller, Raytown, Mo., 5,265. 10, Bill O'Neill, Langhorne, Pa., 5,247. 11, Rhino Page, Orlando, Fla., 5,241. 12, AJ Chapman (a), Wichita, Kan., 5,234.
13, EJ Tackett, Huntington, Ind., 5,222. 14, Thomas Larsen, Denmark, 5,220. 15, Zach Wilkins (a), Canada, 5,218. 16, Andrew Cain, Phoenix, 5,216. 17, Chris Barnes, Double Oak, Texas, 5,208. 18, Arturo Quintero (a), Mexico, 5,202.
19, Tommy Jones, Simpsonville, S.C., 5,199. 20, Ronnie Russell, Marion, Ind., 5,188. 21, Dave Wodka, Beavercreek, Ohio, 5,187. 22, Josh Blanchard, Mesa, Ariz., 5,181. 23, Kristopher Prather, Milton, Fla., 5,179. 24, Andres Gomez, Hollywood, Fla., 5,174.
25, Sean Rash, Montgomery, Ill., 5,169. 26, Walter Ray Williams Jr, Oxford, Fla., 5,166. 27, Paul Moor, United Kingdom, 5,165. 28, Kamron Doyle (a), Brentwood, Tenn., 5,164. 29, Jason Belmonte, Australia, 5,159. 30, Cameron Weier, Tacoma, Wash., 5,137.
31, Dino Castillo, Highland Village, Texas, 5,131. 32, Martin Paulsson (a), Sweden, 5,130. 33, Anthony Pepe, East Elmhurst, N.Y., 5,129. 34, Greg Thomas (a), Irmo, S.C., 5,120. 35, DJ Archer, Kingwood, Texas, 5,113. 36(tie), Kyle Sherman (a), O'Fallon, Mo., and Jake Peters, Henderson, Nev., 5,110.
38, Dominic Barrett, United Kingdom, 5,103. 39, Wes Malott, Pflugerville, Texas, 5,093. 40, Brad Angelo, Lockport, N.Y., 5,088. 41, Aaron Lorincz, Belleville, Mich., 5,080. 42, Osku Palermaa, Finland, 5,078.
43, Thomas Smallwood, Saginaw, Mich., 5,075. 44, Alex Cavagnaro, North Massapequa, N.Y., 5,071. 45, Anthony Lavery-Spahr, Little Elm, Texas, 5,069. 46(tie), Jeffery Evans, Supply, N.C., and Andrew Anderson (a), Holly, Mich., and Darren Tang, San Francisco, 5,055.
49, Norm Duke, Clermont, Fla., 5,054. 50, Wesley Low (a), Palmdale, Calif., 5,053. 51, Brandon Novak, Chillicothe, Ohio, 5,046. 52, Devin Bidwell, Wichita, Kan., 5,045. 53(tie), Jakob Butturff, Chandler, Ariz., and David Haynes, Las Vegas, 5,044.
55, Dick Allen, Columbia, S.C., 5,034. 56, Matthew Kuba (a), Chicago Ridge, Ill., 5,033. 57, Chris Via (a), Springfield, Ohio, 5,031.
DID NOT ADVANCE
58, Michael Haugen Jr., Phoenix, 5,028. 59, Michael Markis, Tafton, Pa., 5,026. 60, Stuart Williams, Phoenix, 5,015.
61, Richard Teece, England, 5,013. 62, Tom Daugherty, Riverview, Fla., 5,010. 63, Ildemaro Ruiz, Venezuela, 5,005. 64, Maria Jose Rodriguez, Austin, Texas, 5,003. 65, Greg Ostrander, Freehold, N.J., 4,997. 66, Bob Learn Jr., Lake Worth, Fla., 4,993.
67, Kyle Troup, Taylorsville, N.C., 4,992. 68, Ryan Graywacz, Feeding Hills, Mass., 4,986. 69, Chris Loschetter, Avon, Ohio, 4,984. 70, Jesse Buss, Belvidere, Ill., 4,983. 71(tie), Jason Sterner, Cocoa, Fla., and Tom Hess, Urbandale, Iowa, 4,981.
73, John Furey, East Windsor, N.J., 4,978. 74(tie), Nick Kruml (a), Downers Grove, Ill., and Joachim Karlsson, Sweden, 4,975.