Sylvia Broyles was a key contributor to USBC's success
March 10, 2021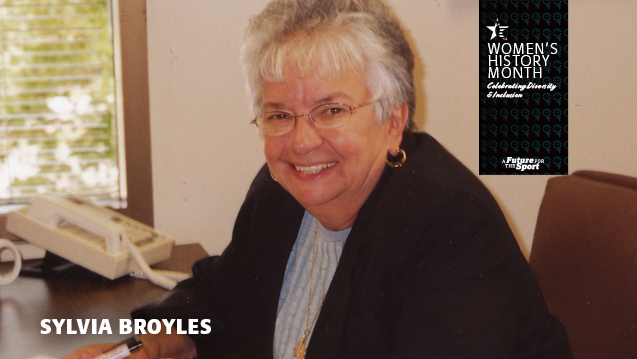 ARLINGTON, Texas -
The celebration of Women's History Month would be incomplete without recognizing United States Bowling Congress Hall of Famer Sylvia Broyles of Spring Branch, Texas, who was the epitome of great leadership and possessed a love for bowling as big as the state she represented for more than four decades.
Among the most challenging and rewarding milestones of her career was serving as the final president of the Women's International Bowling Congress, a position she held from 2002-2004.
Her presidency came during one of the most significant times in bowling history, and her voice and influence were invaluable in facilitating the transition of bowling from a multi-organizational sport to a unified USBC.
The 2005 merger of the WIBC, American Bowling Congress, Young American Bowling Alliance and USA Bowling to form one organization to serve adult and youth bowlers in the United States didn't come without naysayers and challenges, but Broyles was there, focused on what ultimately was best for the future of the sport.
Broyles employed a leadership style that saw her lead by example, while also empowering and motivating those who worked for, and alongside, her.
Among them, fellow USBC Hall of Famer Roseann Kuhn of Hays, Kansas, whose rise through the ranks of WIBC, and eventually USBC, were a direct reflection of Broyles' mentorship.
"My relationship with Sylvia started from my first day as a field rep, and we worked closely together on many different projects over the years," Kuhn said. "She was a tremendous leader, and even when we agreed to disagree, it didn't affect our friendship one bit. We had a great working relationship and were even better friends. Many times, I surprised myself with the things I was able to do, and I don't think I'd be in the hall of fame without her leadership and guidance."
Broyles, who died in 2015 at the age of 80, served at the local and state levels beginning in the 1960s. She held a variety of positions at each level and found the national spotlight as a member of the WIBC Board of Directors, starting in 1977.
She spent nearly 30 years on the WIBC Board, serving on more than two dozen committees. Following the merger, she was a member of the first USBC Board of Directors and was the organization's vice president through the 2006-2007 season.
Broyles was enshrined in the USBC Hall of Fame in 2005 for meritorious service.
She also is a member of the Texas State USBC and Greater San Antonio USBC Halls of Fame.
During her own progression from field representative to manager of the Field Services department to executive director of WIBC, Kuhn was very much influenced by Broyles and past WIBC President Joyce Deitch.
Years later, when it was time for Kuhn to be considered for the hall of fame, it became clear through Broyles' letter of support just how much the respect was reciprocated and how much Kuhn's work ethic and enthusiasm also pushed those who came before her to continue striving for progress.
"It all was life-changing for me, and the things I learned from Sylvia and Joyce and all the people I met in the field really helped shape me and my career," said Kuhn, who served as USBC's first Chief Tournament Officer and was inducted into the USBC Hall of Fame in 2011. "Regardless of how we felt about things or rules, we had a true respect for each other, and no matter what we initially thought personally, we ultimately all wanted to do what was best for the sport and bowlers.
"I watched them and how they conducted themselves in meetings and how they treated the members, and it always was in a respectful and professional manner. You have to be nice to people and respect their opinions, and they'll usually do the same. No matter where we went across the country, that strategy worked well."
By the time USBC was formed, women's bowling had solid footing and nearly a century of history, having formally organized, first as the Woman's National Bowling Association, in late 1916. The inaugural USBC Women's Championships was held shortly after.
Another significant step for women's bowling during Broyles' career came in 1993, when ABC opened its doors to women for the first time, followed closely by women competing in the ABC Championships Tournament for the first time in 1994.
Beyond just guiding bowling's organizations, Broyles also was a dedicated competitor.
Six months before her death, she achieved a special on-lane milestone, when she competed in her 50th Women's Championships.
Her career at the world's largest participatory sporting event for women began at the 1965 tournament in Portland, Oregon, and concluded at the iconic National Bowling Stadium in Reno, Nevada.
Even in the spotlight at the NBS, in a moment that belonged to her, Broyles was sure to share the credit and recognize those who helped her succeed and excel during her administrative and competitive journeys.
"As I expressed when I received my plaque, the people I have to thank are the people who have supported me all these years," said Broyles in 2015 after receiving a plaque, pendant and special march down Center Aisle to commemorate her 50th tournament appearance. "No one accomplishes anything alone. It takes the support of family, friends and the team captains that have put up with me for 50 years."
This story about Broyles is part of an ongoing digital media campaign recognizing various groups, organizations and bowlers that make up the USBC membership, while also bringing attention to topics that affect the world on a larger scale.
USBC will continue to expand its diversity and inclusion topics and welcome the opportunity to showcase the people and other areas that are important to the members.
March is a celebration of Women's History Month and features stories that recognize some of bowling's most influential women.
If you know someone who is a standout or inspiration, or you'd like to suggest a topic close to you, please let us know more by sending an email to
PR@bowl.com
.
For more information about USBC and its programs and partnerships, visit
BOWL.com/Diversity
.