Szczerbinski Takes Lead at 2015 U.S. Open
November 06, 2015

Matt Cannizzaro and Aaron Smith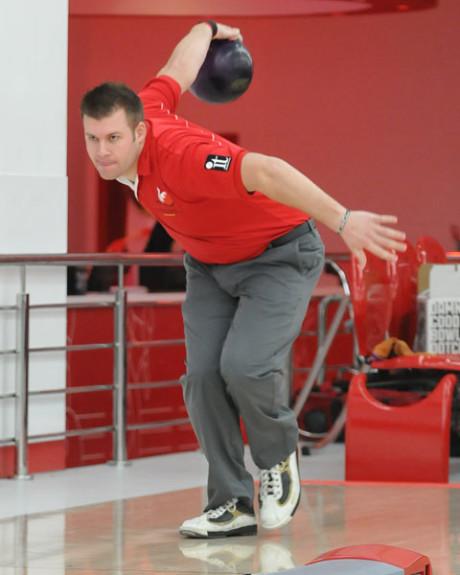 GARLAND, Texas - Before heading to the 2015 Bowlmor AMF U.S. Open, John Szczerbinski of North Tonawanda, N.Y., spent some time working on the feel of his equipment and some inconsistencies in his physical game.
His efforts paid dividends at AMF Garland Lanes this week as the five-time Team USA member never fell below second place and finished Thursday's third round of qualifying atop the 275-player field with a 24-game total of 5,530, a 230.42 average.
Szczerbinski now will lead the top third of the field, 92 bowlers, back onto the lanes for eight additional games, beginning Friday at 11 a.m. Eastern.
Left-hander, Ryan Ciminelli of Cheektowaga, N.Y., was second overall with a 5,461 total, and he was followed by first-round leader, Cameron Weier of Tacoma, Wash. (5,323), England's Dominic Barrett (5,321) and two-time U.S. Open champion, Norm Duke of Clermont, Fla. (5,319).
"I still don't necessarily feel physically sharp, even though I scored well, but my ball reaction was phenomenal, and I did my best to take advantage of that," said Szczerbinski, who has a high game of 299 this week. "It's a little bit of a dream come true to be in this position, but we're not even halfway there yet. Tomorrow, I'll just try to keep doing what I've been doing. I haven't looked at the numbers too much, but I did want to give myself as much of a cushion on 24th place as possible."
Heading into Friday's fourth round, Szczerbinski is 375 pins ahead of two-time Professional Bowlers Association Tour champion, DJ Archer of Kingwood, Texas, who is 24th with 5,155, while Jesse Buss of Belvidere, Illinois, was the final bowler to advance with a 4,870 total.
Friday's eight games will take place on the fresh 43-foot lane condition, on which Ciminelli excelled early to maintain his lead after the first squad of the day Thursday. He opened with a 779 series for his first three games, and though he struggled late in the eight-game block, he learned from his mistakes.
"When you see ball reaction you like, you can get comfortable, your arm swing gets loose and your mind goes blank, so all you have to focus on is repeating shots," said Ciminelli, a three-time PBA Tour champion and the lone southpaw in the top 50 so far this week. "Until that last game (150), I never really had to make a desperation move like I did when I changed balls for the last couple of frames. I threw a ball I hadn't thrown all week, and I found something I'll be able to use again if I need it."
All competitors at the 2015 U.S. Open completed 24 qualifying games over three days, before the field was cut to the top 92. The 32-game pinfall totals will determine the 24 players for round-robin match play, which is scheduled to begin Friday at 7 p.m. Eastern. The top five will advance to Sunday's stepladder finals based on their 56-game totals.
All qualifying and match-play rounds are being broadcast live on the PBA's online bowling channel, Xtra Frame.
The televised finals are scheduled for Sunday at 1 p.m. Eastern on the CBS Sports Network, and the winner will take home a top prize of $50,000.
Bowlmor AMF, the largest operator of bowling centers in the world, committed to hosting and providing television sponsorship of more than $250,000 for the U.S. Open and U.S. Women's Open, which USBC Hall Famer Liz Johnson won at Brunswick Zone Carolier in North Brunswick, New Jersey, in September.