Tackett stays atop standings after Day 1 of match play at 2023 U.S. Open
February 04, 2023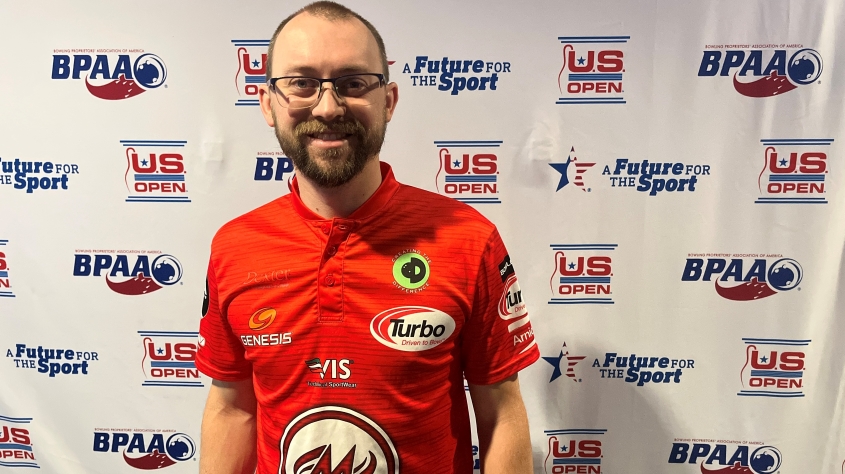 INDIANAPOLIS –
Friday was a long day of competition at the 2023 U.S. Open presented by Go Bowling! as the 24 players remaining in the field completed two eight-game blocks of round-robin match play at Royal Pin Woodland (formerly Woodland Bowl) in Indianapolis.
Most of those bowlers saw their names rise and fall on the leaderboard at various times throughout the day, but when the final balls had been thrown, qualifying leader E.J. Tackett of Bluffton, Indiana, was once again sitting atop the overall standings.
The right-hander went 8-8 during his 16 matches Friday to end the day with an 8,963 total, which includes 30 bonus pins for each win in match play.
Defending U.S. Open champion Anthony Simonsen of Las Vegas went 10-5-1 to finish the day in second place with 8,829.
Tomas Kayhko of Finland (8,811), Kyle Troup of Taylorsville, North Carolina (8,730) and Frank Snodgrass of Sterling Heights Michigan, (8,730) secured the remaining spots in the top five.
All 24 match-play competitors will be back on the lanes Saturday morning at 9 a.m. Eastern for a final eight-game block of round-robin matches, after which the field will be cut down to just nine bowlers.
The players seeded No. 5-9 will compete in a five-person stepladder competition live on FS1 Saturday starting at 4 p.m. Eastern.
The player who wins Saturday's stepladder will join seeds No. 1-4 Sunday for another round of stepladder competition, this one to determine the 2023 U.S. Open champion.
Sunday's stepladder finals will be broadcast live on FOX at 2 p.m. Eastern.
Despite holding a lead of more than 250 pins over fourth place and nearly 350 pins over ninth, Tackett knows that he can't take anything for granted heading into Saturday's final block of round-robin matches.
"As we've already seen, no matter how big a lead is, within a couple of games, everyone can catch right back up to you," Tackett said. "It doesn't take much to lose a lead of 100 pins when you're adding 30 bonus pins for each win."
Tackett learned that lesson the hard way on Friday as Simonsen and Kayhko each took turns going on runs to move ahead of him in the standings.
However, Tackett is no stranger to the up-and-down nature of major championship competition having won the 2016 PBA World Championship and the 2017 FireLake PBA Tournament of Champions.
As such, each time he took a punch from a contender on Friday, he absorbed the blow and responded with a counterattack of his own to get back on top.
Tackett closed his morning set with a 279 to finish at 4-4, and in the evening, he rebounded from a 1-3 start by shooting scores of 223, 234, 278 and 237 to win three of his final four matches and finish at 4-4 yet again.
According to Tackett, his 8-8 record on the day was indicative of the difficulty of U.S. Open competition, and he fully expects more of the same on Saturday.
"Today was a grind. I started out good and had a better gameplan, but then I struggled for a couple of games of each set before finding it and finishing with some better scores," Tackett said. "But all of these guys are good enough to put up some big games to catch me or go around me, so with eight games to go, there can't be any let up on my part."
Marshall Kent of Yakima, Washington, and Michael Martell of West Babylon, New York, certainly showed the ability to put up big scores as each recorded a 299 game on Friday.
Kent started Game 4 of the morning block with 11 strikes in a row before a solid 10 pin thwarted his bid for perfection.
Martell made his run at 300 during Game 7 Friday night, but his final shot left the 8 pin standing, forcing him to settle for a tie with Kent for the highest game of the 2023 U.S. Open thus far.
Even though neither Kent nor Martell was able to achieve perfection, their strong runs proved that higher scores are very possible from this point forward, which should make for a very interesting final round of match play and beginning to stepladder finals competition.
But regardless of where the scoring pace goes or who is shooting what around him, Tackett's plan is just to remain focused on himself and his own game.
"I'm not a really big scoreboard watcher," Tackett said. "I already know that I'm going to have to be firing on all cylinders in the morning to maintain this lead and hopefully stretch it out, but it's going to take some good bowling to do that."
Tackett will have plenty of incentive as finishing match play in the top four would guarantee him a spot in Sunday's stepladder and a check for no less than $10,000, which is what the fifth-place finisher will earn. This year's U.S. Open champion will take home $100,000.
The 2023 U.S. Open is a collaborative effort between the USBC and BPAA and again will be considered a major on the PBA Tour. The total prize fund for the event will exceed $275,000.
For more information about the U.S. Open, visit
BOWL.com/USOpen
.