Tackett takes lead, field cut to top 24 at 2023 U.S. Open
February 03, 2023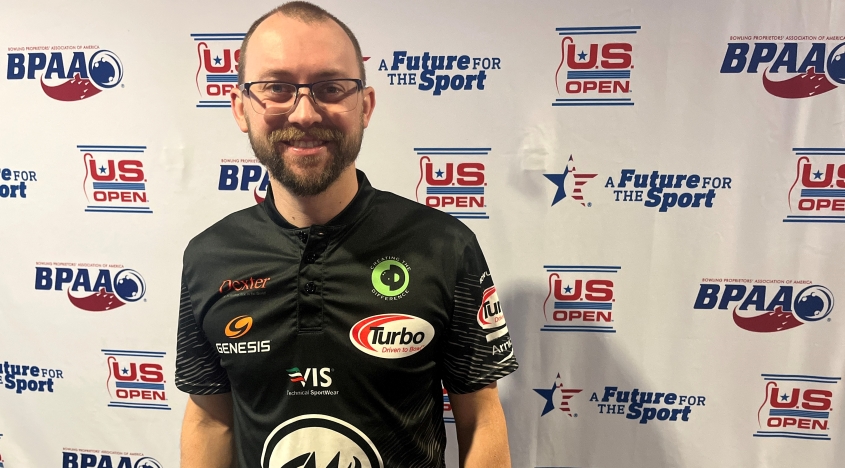 INDIANAPOLIS –
Qualifying round competition came to an end Thursday night, and the first cuts were made at the 2023 U.S. Open presented by Go Bowling!
A field that started with 108 competitors has been whittled down to the top 24 who have advanced to the match-play portion of competition, which begins Friday morning at 10 a.m. Eastern at Royal Pin Woodland (formerly Woodland Bowl) in Indianapolis.
For the second year in a row, E.J. Tackett of Bluffton, Indiana, found his name atop the overall standings at the end of qualifying.
Tackett began the final round trailing Day 2 leader Thomas Larsen of Denmark by four pins for the lead, but it didn't take long for Tackett to take over once action began on B Squad Thursday night.
The powerful right-hander got off to a quick start and remained steady throughout his final qualifying set, at times making the lanes look easy on a very challenging 39-foot flat oil pattern that gave most competitors trouble all day long.
Tackett rolled games of 215, 244, 248, 245, 224, 191, 184 and 202 to shoot a Day 3 best 1,753, which pushed his three-day, 24-game total to 5,226.
That placed Tackett 138 pins ahead of Frank Snodgrass of Sterling Heights, Michigan, who fired an eight-game total of 1,702 on Thursday to move into second place overall with 5,088.
Despite being pleased with the lead he established during qualifying, Tackett was quick to point out that there is plenty of work left to be done.
"I'm in a great position just like I was last year, but this tournament is only halfway over. There's still lots of games and lots of bonus pins out there to be had," Tackett said. "It doesn't really matter how big of a lead you have after qualifying because anything can happen during match play."
Aside from his outstanding physical talent, Tackett's ability to remain focused at all times and take nothing for granted is part of the reason why he is a two-time major champion on the PBA Tour – Tackett won the 2016 PBA World Championship and the 2017 FireLake PBA Tournament of Champions.
He would love to walk away with his third major title and first U.S. Open victory when all is said and done this week.
"All majors are special and mean a lot, but the U.S. Open just has that extra prestige and history to it that puts it over the other events," Tackett said. "It's cool to get off to a good start and be in a position to try to make a run at that title."
Although Tackett begins match play in the top spot, he'll have to contend with 23 talented opponents who have designs on making their own championship runs this year.
Several heavy hitters are among the group, including defending champion Anthony Simonsen of Las Vegas, who qualified fourth with 5,062, and 2016 and 2019 U.S. Open winner Francois Lavoie of Wichita, Kansas, who narrowly made the cut by qualifying in 22nd place at 4,912.
Tom Hess of Granger, Iowa, grabbed the last spot for match play after finishing 24th with a three-day, 24-game total of 4,907, which was good for a 204.5 average.
With qualifying completed, advancing players will now compete in three rounds of round-robin match play, which will begin Friday morning and be contested on an oil pattern the players have yet to face at this year's. U.S. Open.

After 24 games of match play, players' 48-game tournament totals, including 30 bonus pins for each win during match play, will decide the nine bowlers who advance to the two live televised rounds.
The first round will feature seeds No. 5-9 battling it out on FS1 Saturday at 4 p.m. Eastern. The bowler who wins that stepladder will join seeds No. 1-4 for the championship round Sunday at 2 p.m. Eastern on FOX.
The 2023 U.S. Open is a collaborative effort between the USBC and BPAA and again will be considered a major on the PBA Tour. The total prize fund for the event will exceed $275,000.
For more information about the U.S. Open, visit
BOWL.com/USOpen
.