Tackett wins 2023 U.S. Open to complete triple crown
February 06, 2023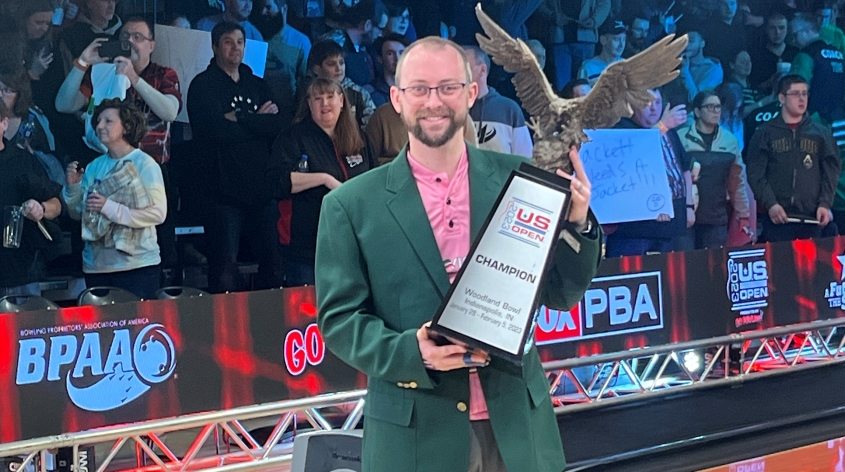 INDIANAPOLIS – E.J. Tackett of Bluffton, Indiana, described his second-place finish at the 2022 U.S. Open as a fairytale that ended too quickly.
On Sunday, Tackett authored the storybook ending he was longing for by defeating Kyle Troup of Taylorsville, North Carolina, 221-208 to win the 2023 U.S. Open presented by Go Bowling!
The victory gave Tackett his first U.S. Open title and third major overall, earning him the career triple crown.
Tackett won the

2016 PBA World Championship in Reno and the 2017 FireLake Tournament of Champions in Owasso, Oklahoma.
Now that he's added the green jacket to his trophy case, Tackett just needs a USBC Masters title to achieve the grand slam.
However, that was the furthest thing from his mind after Sunday's hard-fought victory; instead, he was just trying to wrap his mind around how much this U.S. Open title meant to him.
"There's a whole mountain of things that this win means, the U.S. Open, the triple crown, winning at Woodland and getting my banner hung up with all of the others who have won here, winning in the state of Indiana, the list just goes on and on," Tackett said. "This is absolutely incredible; it almost has me at a loss for words."
What was equally incredible was the dramatic fashion in which it happened.
That's because after six days, 48 games and nine frames, this year's U.S. Open title was determined by a single shot.
The championship match was tied at 164 through eight frames, which meant that both Tackett and Troup had the opportunity to strike out to finish at 224.
Troup struck in the ninth and on the first ball in the tenth, but his second shot in the final frame left the Big 4 (4-6-7-10 split).
He was unable to convert, taking two pins to finish with a final score of 208.
Nevertheless, Troup's first strike was crucial as it meant that Tackett would have to match with a strike of his own to start the tenth. If he failed to do so, he would be the U.S. Open runner up for the second consecutive year.
With everything on the line, Tackett stepped up and delivered a flush shot into the 1-3 pocket.
For a fraction of a second, it looked like the 10 pin was going to stand, but it slowly toppled over to keep Tackett's title bid alive.
Now, he needed at least seven pins on his next two balls in order to win the crown.
Leaving nothing to chance, Tackett delivered another flush strike, this one a no-doubter that officially sealed the win, giving Tackett the trophy, the green jacket and the $100,000 first-place prize.
"I never looked at the scoreboard, so I didn't know exactly what I needed. I just knew that if I stepped up there and threw a really good shot like I had been, the tournament would be mine," Tackett said. "I really thought I had rung the ten on that first shot, but it fell over, and now here I am talking to you."
Tackett was understandably overcome with emotion at various times throughout that talk as the realization that he had accomplished a goal that he's dreamt about for nearly 20 years slowly began washing over him.
"You know, I remember being on the lanes practicing when I was 12 and pretending that I needed a double in the tenth frame to beat Norm Duke for the U.S. Open title," Tackett said. "This morning, Norm texted me and said 'post your shot, post your score; everything else is just fish stories. I love you; go get 'em.' That meant a lot to me.
"I know that there are so many people who live and die on every shot I make. I'm not bowling for just me because so many people want me to be successful and have given up so much to allow me to be here. I'm living in a fairytale."
Troup nearly completed his own fairytale U.S. Open ending, winning Saturday's stepladder battle between seeds No. 5-9 on FS1 and emerging victorious in Sunday's first three matches on FOX before eventually falling to Tackett in the title bout.
Troup began his day with a 207-192 victory over England's Richie Teece, this year's No. 4 seed.
That match was close throughout, but an untimely washout (1-2-4-10) in the eighth by Teece allowed Troup to open Sunday's telecast with a 207-192 victory.
Defending champion Anthony Simonsen of Las Vegas was Troup's Match 2 opponent.
Simonsen was looking to become the youngest player in PBA history to win five major titles and the first player to successfully complete a U.S. Open title defense since Dave Husted accomplished the feat in 1996, one year before Simonsen was born.
Troup held a 21 pin lead through eight frames and appeared to be on his way to victory, but things turned dramatic when he left a 1-2-4-10 washout in the tenth frame.
Troup threw a quality shot at the conversion, but the head pin went around the 10 pin, forcing Troup to settle for 203 and giving Simonsen the opportunity to strike out to beat him by a pin.
It wasn't meant to be for the defending champion, however, as his first ball in the tenth went high and left the 3-4-6-7 split, which gave Troup a 203-177 victory and ended Simonsen's valiant bid for a U.S. Open repeat.
With Simonsen vanquished, Tomas Kayhko of Finland awaited Troup in the semifinals.
Despite coming in with far less TV finals experience than his American counterpart, the two-hander from Finland didn't seem intimidated in the least while taking on Troup.
In fact, it was Kayhko who jumped out front, using an early double to take a six-pin lead at the halfway point in the match.
The tide would turn from there, however, as despite hitting the pocket consistently, Kayhko would record just two more strikes the rest of the way.
Troup, meanwhile, delighted the standing-room-only crowd with a four-bagger in frames five through eight to erase the deficit and go on to a 219-215 win.
With his place in the championship match secured, Troup stood just one victory away from completing a successful run up the stepladder and taking home the U.S. Open title.
That victory would have been all the more impressive when considering that until this year, Troup had never even managed to qualify for match play in a U.S. Open.
However, once the title match started, it was clear that Troup wasn't content just to be there; he had designs on winning.
He fought Tackett hard throughout, using an early turkey in frames two, three and four and a clutch double in the sixth and seventh to tie the match up at 164 with just two frames to go.
But that's when Tackett stepped up and delivered the shots he needed to bring home the title and put Troup's U.S. Open title aspirations on hold for at least another year.
"Kyle is a tremendous competitor, one of the toughest that we have on Tour, but it was just my time," Tackett said. "I tried to keep my emotions inside all week, but you saw it come out when I threw that last shot because of how much more this win means. I can try to play it off, but this one just means so, so much to me."
This year's field at Royal Pin Woodland was made up of the sport's top performers in recent seasons. It included the leaders on the PBA Tour points list, Team USA and Junior Team members, top performers at USBC events and PBA majors, and those who advanced from an on-site pre-tournament qualifier last weekend.
The 2023 U.S. Open was a collaborative effort between the USBC and BPAA. The total prize fund for the event exceeded $275,000.
For more information about the U.S. Open, visit
BOWL.com/USOpen
.