Tackett Wins First PBA Tour Title in Xtra Frame Lubbock Southwest Sports Open
June 28, 2015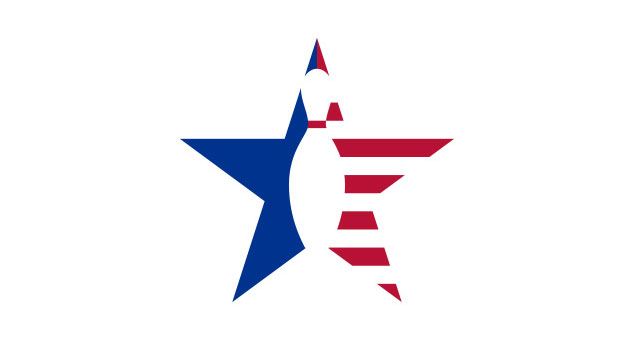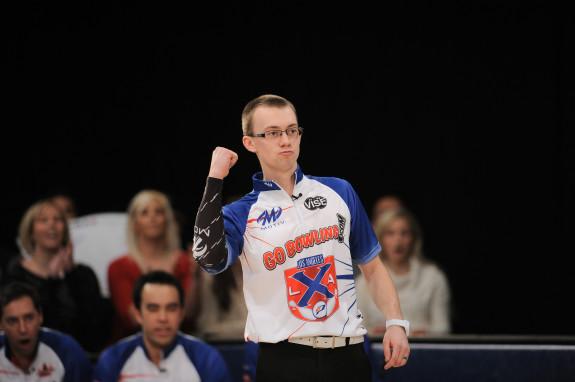 Top qualifier EJ Tackett of Huntington, Ind., threw a string of seven strikes to defeated Bill O'Neill of Langhorne, Pa., 256-213, to win the PBA Xtra Frame Lubbock Sports Southwest Open and his first PBA Tour title Sunday at South Plains Lanes in Lubbock, Texas.
Tackett, PBA's 2013 Rookie of the Year, opened the title match with three single-pin spares, but made a few adjustments and followed with his string of seven strikes to run away from O'Neill, who is arguably the hottest player in professional bowling this summer. O'Neill came into the Lubbock event fresh off wins in the PBA Badger Open and Oklahoma's Grand Casino Hotel & Resort King of the Swing, a multi-event summer series in which he also had two third-place finishes.
Tackett, 22, had previously finished second in the 2013 USBC Masters and the 2014 Oklahoma Open. Along with his first PBA Tour title, he won a $15,000 first prize.
"A lot of people took a chance on me when I first came out on tour, so I want to thank all of them," Tackett said. "This one is for them."
O'Neill advanced to the title match with a 267-235 victory over 2014 PBA Southwest Region Player of the Year, Shawn Maldonado, a two-handed player from Houston, Texas. Maldonado also was trying for his first PBA Tour title.
In the first match, Maldonado rallied from a 45-pin deficit in the fifth frame, finishing with seven consecutive strikes – including a cross-over strike on his first shot in the 10th frame – to eliminate defending Lubbock Southwest Open champion, Mitch Beasley, of Nashville, Tenn.
The Xtra Frame Lubbock Southwest Open, presented by Storm, was the fourth PBA Tour event covered exclusively live on by PBA's exclusive online video-streaming service. Earlier in the year, Chris Barnes of Double Oak, Texas, won the DHC PBA Japan Invitational in Tokyo – the first international event ever streamed live on Xtra Frame; Josh Blanchard of Phoenix, Ariz., won the PBA Xtra Frame Maine Shootout at Bayside Bowl in Portland, Maine, and Colombia's Andres Gomez won the PBA Xtra Frame Pensacola South Open last Sunday at New Liberty Lanes in Pensacola, Fla.
Among the 59 players who qualified for the cashers' round was former Major League All-Star John Burkett of Southlake, Texas. Burkett, a 50-year-old first-year competitor on the PBA50 Tour, bowled Saturday's early nine-game qualifying squad. With half of the field yet to bowl, Burkett was certain he had missed the cut to Sunday's cashers' round, so he headed back to Southlake – roughly 320 miles away. At the end of the five-hour trip, he learned he had, in fact, qualified in 58th place, so he turned around and drove back to Lubbock. Bowling the cashers' round on three hours' sleep, Burkett moved up to 34th place after two games before fatigue set in and he fell to 51st.
Upcoming exclusive live coverage events on Xtra Frame will be the Teen Masters National Championship, June 30-July 3, and the Teen Masters Collegiate Masters, July 4-5, at South Point Bowling Plaza in Las Vegas; the MOTIV Revolution Tournament at Thunderbowl in Allen Park, Mich., July 8-9; the Professional Women's Bowling Association Storm Sacramento Open from Steve Cook's Fireside Lanes in Citrus Heights, Calif., July 10-11; the PWBA Lubbock Sports Open from South Plains Lanes, July 17-18; the PBA50 Treasure Island Resort & Casino Open from Island Xtreme Bowl in Welch, Minn., July 20-22, and the PWBA Wichita Open from Northrock Lanes in Wichita, Kan., July 24-25. The PBA Tour returns to Xtra Frame Aug. 1-12 with the PBA/PWBA Xtra Frame Striking Against Breast Cancer Mixed Doubles from Palace Lanes in Houston, Texas. For subscription information, visit pba.com and click on the Xtra Frame logo. Three-day, monthly and full year subscriptions are available.
PBA XTRA FRAME LUBBOCK SPORTS SOUTHWEST OPEN
presented by Storm
South Plains Lanes, Lubbock, Texas, June 28
Final Standings: 1, EJ Tackett, Huntington, Ind., $15,000. 2, Bill O'Neill, Langhorne, Pa., $8,250. 3, Shawn Maldonado, Houston, Texas, $5,000. 4, Mitch Beasley, Clarksville, Tenn., $3,000.
Stepladder Results: Match One – Maldonado def. Beasley, 222-200. Semifinal Match – O'Neill def. Maldonado, 267-235. Championship – Tackett def. O'Neill, 256-213.
Final Match Play Standings (after 23 games, including match play bonus pins):
1, Tackett, 6-2, 5,587. 2, O'Neill, 7-1, 5,433. 3, Maldonado, 6-2, 5,413. 4, Beasley, 5-3, 5,398. 5, Wes Malott, Pflugerville, Texas, 5-3, 5,373, $2,000. 6, Tom Daugherty, Wesley Chapel, Fla., 5-3, 5,323, $1,700. 7, Patrick Allen, Mount Kisco, N.Y., 3-5, 5,293, $1,500. 8, Stuart Williams, England, 5-3, 5,288, $1,300.
9, Mike Fagan, Ft.Worth, Texas, 4-4, 5,222, $1,200. 10, Marshall Kent, Yakima, Wash., 3-5, 5,196, $1,100. 11, Anthony Lavery-Spahr, Pasadena, Texas, 3-5, 5,145, $1,000. 12, Sean Rash, Montgomery, Ill., 3-5, 5,141, $900. 13, a-A.J. Chapman, Manchester, Iowa, 2-6, 5,099, $850. 14, D.J. Archer, Kingwood, Texas, 3-5, 5,065, $800. 15, Kyle Troup, Taylorsville, N.C., 2-6, 5,041, $750. 16, Tommy Jones, Simpsonville, S.C., 2-6, 4,968, $700.
Other Cashers (after 15 games): 17, Jason Sterner, Covington, Ga., 3,337, $620. 18, Devin Bidwell, Wichita, Kan., 3,330, $610. 19, Gary Faulkner, Memphis, Tenn., 3,328, $605. 20, Tyler Jensen, Ft. Worth, Texas, 3,312, $600. 21, a-Tyson Branagan, Euless, Texas, 3,305, $635. 22, a-Mykel Holliman, Collierville, Tenn., 3,304, $590. 23, Mika Koivuniemi, Hartland, Mich., 3,293, $585. 24, Randy Weiss, Columbia, S.C., 3,282, $580.
25, s-Mike Edwards, Tulsa, Okla., 3,278, $575. 26, Nathan Bohr, Austin, Texas, 3,275, $570. 27 (tie), Brett Cooper, Denver, Colo., and s-Mark Williams, Beaumont, Texas, 3,259, $562.50. 29, Chris Barnes, Double Oak, Texas, 3,244, $555. 30, a-Dylan Burns, Garden City, Kan., 3,238, $550. 31, Anthony Simonsen, Princeton, Texas, 3,229, $545. 32, Dino Castillo, Carrollton, Texas, 3,223, $540.
33, Scotty Pope, Odessa, Texas, 3,214, $540. 34, Dick Allen, Columbia, S.C., 3,202, $535. 35 (tie), Paul Brewbaker, Midwest City, Okla., and a-Marc Heninger, Tonganoxie, Kan., 3,197, $532.50. 37, a-Keven Williams, Springfield, Mo., 3,194, $530. 38, Brett Spangler, Niles, Ohio, 3,183, $525. 39, a-Xeno Garcia, Ft. Worth, Texas, 3,182, $525. 40, Connor Pickford, Charlotte, N.C., 3,172, $520.
41, Michael Haugen Jr., Phoenix , 3,170, $520. 42, a-Lanndyn Carnate, Glendale, Ariz., 3,166, $515. 43, Chris Colella, Templeton, Mass., 3,165, $515. 44, Chad Newman, The Colony, Texas, 3,146, $515. 45, a-David Decker, Aurora, Colo., 3,139, $510. 46, a-Brandon Martin, Derby, Kan., 3,129, $510. 47, Scott Newell, Deland, Fla., 3,125, $510. 48, s-Doug Kirkman, Lubbock, Texas, 3,122, $510.
49, Jeff Hatt, Oklahoma City, 3,107, $505. 50, Ramese Chambers, Kansas City, Mo., 3,103, $505. 51, s-John Burkett, Southlake, Texas, 3,091, $505. 52, a-Jason Duran, Littleton, Colo., 3,086, $505. 53, Arturo Quintero, Mexico, 3,078, $505. 54, a-Seth Rutledge, Dallas, 3,056, $500. 55, f-Anggie Ramirez, Chicago, 3,034, $500. 56 (tie), a-John Pierce, Denton, Texas, and s-Mike Scroggins, Amarillo, Texas, 3,030, $500.
58, Andy Patterson, Tyler, Texas, 3,005, $500. 59, a-Dylan Macon, Ennis, Texas, 2,992, $500. 64, f-Clara Guerrero, Pflugerville, Texas/Colombia, 1,850, $300.
a-denotes amateur; s-denotes PBA50 player; f-denotes female.