Team USA's Cameron Crowe ready for memorable 2021
February 03, 2021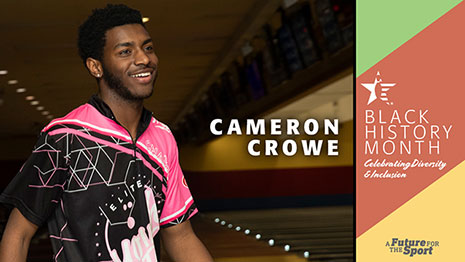 ARLINGTON, Texas -
On the way to winning the men's title at the 2020 United States National Amateur Bowling Championships, Cameron Crowe of Orland Park, Illinois, earned a place in
Junior Team USA
and
Team USA
history.
Crowe, now 19, also was the only player to make both teams for 2020. He has that distinction again in 2021, with all team members being awarded another year due to the pandemic forcing the temporary suspension of the program.
Along with a chance to train with, and learn from, some of the best bowlers and coaches in the world, Crowe will have double the opportunities to be selected to represent the United States in international competition.
Pulling on a Team USA jersey and stepping onto the approach is an honor that comes with great tradition and responsibility, though that responsibility goes well beyond just the just red, white and blue.
In making the teams, Crowe also is representing a handful of other demographics, - youth, left-handers, two-handers, collegiate bowlers, non-professionals and the African American community.
The latter comes at a time when the Team USA program is as diverse as it ever has been and at a time when social justice and racial equality are among society's most prevalent topics.
In many sports throughout 2020, teams and athletes were able to use their time in the spotlight to peacefully share messages and boost morale during a challenging year of uncertainty.
"There have been some great messages out there, and in sharing them, I also like to point out that Black Lives Matter, for example, wasn't just a trend, it's a lifestyle - a movement that needs to continue," Crowe said. "I do feel like I have somewhat of a voice, and I'm here to represent my community. It's bigger than bowling, though. It's about how we treat people, all people, and I want to keep getting that message out there."
Another current member of Team USA, Gazmine Mason of Cranston, Rhode Island, has been using her skills and voice to bring attention to bowling and the African American community, too.
Following her success with Junior Team USA and at the University of Nebraska, Mason quickly found the winner's circle in Professional Women's Bowling Association regional competition, and she's expected to be a top contender on the PWBA Tour in 2021.
Off the lanes, the 25-year-old created a platform called Black Girls Can Bowl 2, an initiative she'll continue to use to help create opportunities and inspiration for other African American females in sports. Her efforts earned her a "Good Morning America" sit-down with anchor Robin Roberts in August.
Crowe is hoping to have a similar impact someday.
"The attention on the African American community has not just been because of me," Crowe said of his U.S. Amateur title and during his preparation for the 2021 United States Bowling Congress Team USA Trials, which was canceled due to the pandemic. "Our culture is really being represented well in bowling right now. What GG is doing is amazing, and I want to do something like that. She's really connecting with people and opening eyes."
As a young bowler progressing in the game, Crowe looked up to modern stars and recent Team USA standouts such as Tommy Jones and Chris Barnes, but he also found inspiration in some memorable performances from today's African American stars, including Gary Faulkner Jr., a Junior Gold Championships winner in 2011 and a major champion on the Professional Bowlers Association Tour in 2015, after a stellar collegiate career at Webber International.
Throughout the 2020 USBC Team USA Trials, as Crowe was looking to begin his own legacy, he was excited to be able to share the stage with such a diverse group of competitors, many of whom he looked up to.
Among them, his new Team USA teammate AJ Johnson of nearby Oswego, Illinois, who was one of the first to offer congratulations after he claimed the U.S. Amateur title.
What Crowe didn't realize was the impact he already was having on the other competitors.
"Whether or not he knows it, he's already serving as a role model for the younger bowlers, and he definitely has had an impact on those of us who are older," said Johnson, a seven-time Team USA member. "He showed a lot of maturity with how he carried himself during the whole event and in some big moments.
"On the last day, I really got a chance to watch him bowl, and it was remarkable. As someone who has been the young guy making it for the first time, and because we live in the same area, I wanted to be one of the first ones to congratulate him and welcome him to the team."
Previously a top performer in high school and youth events in the Midwest, Crowe's 2020 also included a successful freshman campaign at St. Ambrose University.
Unfortunately, when COVID-19 brought the world to a halt in March, it forced an early end to the USBC Collegiate season and never gave Crowe much of a chance to ride the momentum of his big week in Las Vegas.
Two months after defeating another young two-handed bowler, Solomon Salama of Beverly Hills, California, in the U.S. Amateur title match, Crowe and his St. Ambrose teammates actually were on the sixth hour of their eight-hour bus ride to the Intercollegiate Team Sectionals, when the event was canceled.
The months that followed were filled with both uncertainty and hope. Crowe initially thought he'd have a pair of Team USA training camps and the Junior Gold Championships to look forward to. Nope.
Then, he turned his attention to putting his title on the line during the 2021 USBC Team USA Trials in Indianapolis. That did not happen either.
For someone always looking to make progress on the lanes, 2020 forced Crowe to get creative with his efforts.
When bowling centers were closed, he watched bowling on YouTube to see what he could learn, while also doing things to help keep his body in shape. He bowled when he was able to and talked to as many knowledgeable coaches and bowlers as he could.
His mindset going into the 2021 Team USA Trials wasn't going to be any different than his debut in 2020, but there's no doubt many eyes would be on him.
He also was ready physically after enduring St. Ambrose's tryouts, which were held from August-October on a variety of challenging oil patterns that tested his patience and versatility, much like the Team USA Trials.
Through it all, there's two feelings that stand out.
First, seeing the hard work pay off and getting a moment to celebrate his national win is a feeling he'll continue to chase. The other, is a feeling he'll be happy to never feel again.
"I had a good year as a junior in high school," Crowe said. "I won at regionals but tanked at sectionals. Nothing went right. I made careless mistakes. I never want to feel that again, and that is part of what pushes me so hard. I'll never be that unprepared again."
Despite less time on the lanes than he would've liked during 2020 and early 2021, Crowe believes he has had the chance to grow as a competitor and feels more confident after the success he has had.
Whenever it finally does happen, Crowe is ready for all that comes with being part of the Team USA legacy and as a role model for other young competitors.
"It's insane to think young bowlers may be looking up to me," Crowe said. "I just want to be a great role model, too, and make sure I carry myself at the highest level and in a way that lets me set a good example."
Ahead for Crowe will be the Mid States Championships with his St. Ambrose teammates on Feb. 6-7 in Wichita, Kansas, and the 2021 USBC Masters in Reno, Nevada, from March 29-April 4. The Masters appearance will mark his major-championship debut.
This telling of Crowe's story is part of an ongoing digital media campaign that will recognize various groups, organizations and bowlers that make up the USBC membership, while also bringing attention to topics that affect the world on a larger scale.
USBC will continue to expand its diversity and inclusion topics and welcome the opportunity to showcase the people and other areas that are important to the members.
If you know someone who is a standout or inspiration in one of the areas listed above, or you'd like to suggest a topic close to you, please let us know more by sending an email to PR@bowl.com.
For more information about USBC and its programs and partnerships, visit
BOWL.com/Diversity
.