Team USA Men, Women in Second at Pan American Games
July 23, 2015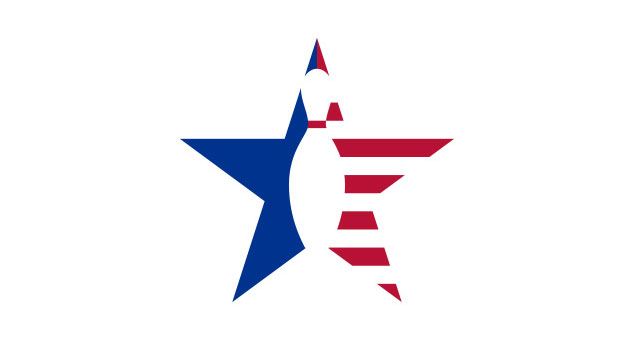 Terry Bigham
USBC Communications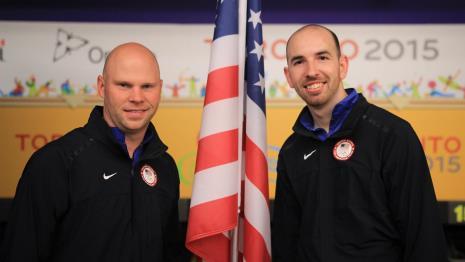 Tommy Jones (left) with Devin Bidwell
Though the Pan American Games doubles bowling competition proved to be a grind-it-out affair on Wednesday, both Team USA squads remain in contention heading into medal day.
After the first six games of the doubles competition, both the Team USA men and women are in second place. Doubles concludes Thursday with six more games and medalists will be determined on total pinfall after the 12 games.
Team USA's Liz Johnson of Cheektowaga, New York, and Shannon Pluhowsky of Dayton, Ohio, combined for a 2,381 total and trail leader Colombia by 28 pins with Venezuela third, just six pins behind the United States. The women's competition is especially tight with the top seven teams separated by 152 pins.
In the men's division, Devin Bidwell of Wichita, Kansas, and Tommy Jones of Simpsonville, South Carolina, combined for a 2,649 total for the United States and are 63 pins back of leader Canada. Francois Lavoie and Dan MacLelland totaled 2,712 for the six games to give the host nation the lead.
The Team USA women managed to briefly grab the lead after the fifth game when Pluhowsky had a 269 game and Johnson contributed 231.
"They were probably as tough as we've seen it in a long time," Johnson said of the lane conditions. "We were just trying to make the right moves and filling frames was a big key for us. Fortunately we had that one big game, but it was tough."
Johnson, who is competing in her third Pan American Games and is the defending champion in singles and doubles, had games of 218, 182, 191, 190, 231 and 166 for an 1,178 total. Pluhowsky had a 1,203 total on games of 194, 192, 170, 203, 269 and 175.
"You just didn't know what the next pair would bring; pair to pair was tricky," said Pluhowsky, "Overall everything was good, just a few less splits tomorrow and a few more strikes."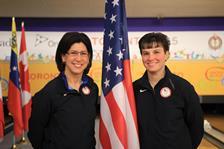 Liz Johnson (left) with Shannon Pluhowsky
Jones had games of 203, 247, 279, 233, 214 and 204 for 1,380 while Bidwell, who admitted to being a little nervous at the start of the day, put together games of 159, 225, 299, 190, 186 and 210 for a 1,269 total.
The Team USA men were 175 pins behind leader Canada after two games.
"The first pair was a little different than the other pairs and we didn't bowl great on it," Jones said. "We had three 4-9s; that's the breaks in bowling. Then later in the round we caught a really good pair and took advantage of it."
That "good pair" would allow the U.S. team to set two Pan American Games records and vault into the lead. Bidwell had 299 game, leaving a 9 pin, while Jones had the front seven en route to a 279.
The 578 doubles game shattered the record held by Team USA teammates Chris Barnes and Bill O'Neill (515 set in 2011) and Bidwell's 299 game set an individual game record, breaking the mark of 297 held by Canada's Danyck Briere.
MacLelland, who had 1,416 to break Barnes' Pan American Games record (1,400) for a six-game set, was well aware of Team USA's third game.
"I heard the 299 for Devin and then I looked over and Tommy has 279 going," MacLelland said. "They started on the worst pair in the house so I'm glad they came back. It's fun competing against them."
PAN AMERICAN GAMES RESULTS
MEN'S DOUBLES, DAY 1 (6 games)
Canada
Francois Lavoie, 238, 213, 173, 235, 192, 245, 1296, 216.0, 2712, --
Dan MacLelland, 269, 289, 204, 233, 214, 207, 1416, 236.0
United States
Devin Bidwell, 159, 225, 299, 190, 186, 210, 1269, 211.5, 2649, -63
Tommy Jones, 203, 247, 279, 233, 214, 204, 1380, 230.0
Colombia
Jaime Gonzalez, 167, 269, 215, 198, 181, 224, 1254, 209.0, 2605, -107
Manuel Otalora, 201, 256, 237, 225, 230, 202, 1351, 225.2
Puerto Rico
Cristian Azcona, 229, 205, 268, 205, 193, 186, 1286, 214.3, 2582, -130
Jean Perez, 216, 213, 241, 200, 202, 224, 1296, 216.0
Venezuela
Amleto Monacelli, 217, 259, 247, 137, 242, 258, 1360, 226.7, 2570, -142
Ildemaro Ruiz, 170, 171, 225, 221, 214, 209, 1210, 201.7
Costa Rica
Rodolfo Madriz, 208, 248, 187, 222, 216, 202, 1283, 213.8, 2566, -146
James Stanley, 267, 193, 212, 185, 224, 202, 1283, 213.8
Mexico
Alejandro Cruz, 197, 227, 216, 208, 206, 192, 1246, 207.7, 2562, -150
Mario Quintero, 268, 234, 223, 183, 202, 206, 1316, 219.3
Brazil
Charles Robini, 203, 161, 194, 177, 200, 213, 1148, 191.3, 2384, -328
Marcelo Suartz, 218, 195, 258, 209, 194, 162, 1236, 206.0
Guatemala
Armando Batres, 187, 178, 205, 182, 199, 180, 1131, 188.5, 2374, -338
Jose Morales, 202, 167, 234, 212, 201, 227, 1243, 207.2
Dominican Republic
Manuel Fernandez, 175, 182, 130, 192, 243, 220, 1142, 190.3, 2365, -347
Alex Prats, 200, 213, 203, 193, 191, 223, 1223, 203.8
El Salvador
Julio Acosta, 173, 157, 163, 213, 178, 196, 1080, 180.0, 2344, -368
Giancarlo Mateucci, 244, 191, 218, 213, 228, 170, 1264, 210.7
Aruba
Bryan Helmeyer, 155, 234, 237, 204, 210, 211, 1251, 208.5, 2317, -395
Jason Odor, 160, 188, 215, 182, 157, 164, 1066, 177.7
Panama
Juan Narvaez, 227, 201, 172, 155, 169, 171, 1095, 182.5, 2279, -433
Carlos Olmos, 172, 205, 243, 207, 158, 199, 1184, 197.3
Argentina
Ricardo Dalla Rosa, 203, 234, 202, 156, 167, 172, 1134, 189.0, 2186, -526
Ruben Favero, 207, 198, 179, 144, 172, 152, 1052, 175.3
WOMEN'S DOUBLES, DAY 1 (6 games)
Colombia
Clara Guerrero, 223, 143, 181, 211, 186, 232, 1176, 196.0, 2409, --
Rocio Restrepo, 212, 187, 168, 221, 246, 199, 1233, 205.5
United States
Liz Johnson, 218, 182, 191, 190, 231, 166, 1178, 196.3, 2381, -28
Shannon Pluhowsky, 194, 192, 170, 203, 269, 175, 1203, 200.5
Venezuela
Patricia De Faria, 212, 186, 189, 212, 199, 228, 1226, 204.3, 2375, -34
Karen Marcano, 166, 188, 191, 245, 193, 166, 1149, 191.5
Puerto Rico
Mariana Ayala, 206, 152, 169, 168, 202, 223, 1120, 186.7, 2279, -130
Kristie Lopez, 236, 142, 193, 206, 208, 174, 1159, 193.2
Dominican Republic
Aumi Guerra, 158, 214, 202, 171, 165, 214, 1124, 187.3, 2269, -140
Ana Henriquez, 215, 184, 179, 182, 195, 190, 1145, 190.8
El Salvador
Eugenia Quintanilla, 197, 180, 182, 198, 181, 202, 1140, 190.0, 2262, -147
Marcela Sanchez, 187, 191, 188, 161, 225, 170, 1122, 187.0
Canada
Robin Orlikowski, 151, 174, 211, 177, 214, 163, 1090, 181.7, 2257, -152
Isabelle Rioux, 190, 220, 173, 204, 198, 182, 1167, 194.5
Brazil
Roberta Rodrigues, 197, 198, 168, 171, 191, 171, 1096, 182.7, 2220, -189
Stephanie Martins, 214, 171, 215, 175, 192, 157, 1124, 187.3
Argentina
Maria Lanzavecchia, 174, 165, 123, 221, 158, 178, 1019, 169.8, 2219, -190
Vanesa Rinke, 188, 180, 197, 224, 222, 189, 1200, 200.0
Guatemala
Laura Barrios, 205, 208, 153, 167, 158, 200, 1091, 181.8, 2212, -197
Sofia Rodriguez, 208, 124, 206, 198, 172, 213, 1121, 186.8
Mexico
Sandra Gongora, 156, 175, 200, 147, 191, 207, 1076, 179.3, 2142, -267
Iliana Lomeli, 214, 195, 180, 156, 157, 164, 1066, 177.7
Aruba
Kamilah Dammers, 213, 170, 171, 173, 158, 216, 1101, 183.5, 2099, -310
Thashaina Seraus, 123, 202, 183, 175, 164, 151, 998, 166.3
Costa Rica
Ghiselle Araujo, 180, 145, 162, 203, 166, 158, 1014, 169.0, 2079, -330
Maria Ramirez, 182, 184, 161, 226, 157, 155, 1065, 177.5
Chile
Cony Bahamóndez, 184, 158, 160, 171, 152, 173, 998, 166.3, 2055, -354
Veronica Valdebenito, 177, 180, 157, 128, 196, 219, 1057, 176.2