Team USA men set to compete in Dominican Republic
May 19, 2023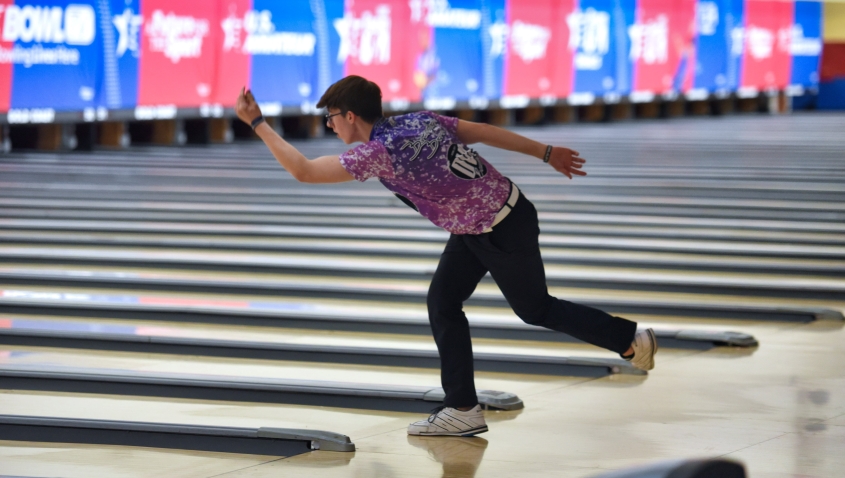 Pictured above: Brandon Bohn posts a shot at the 2023 Team USA Trials in Las Vegas. Bohn would go on to win the 2023 U.S. Amateur title and be named to Team USA 2023.

ARLINGTON, Texas –
When assembling a team, it's never a bad idea to try to combine young talent with veteran experience and leadership.
That combination is precisely what Team USA coaches Bryan O'Keefe and Andy Diercks will have on their roster when they travel to the Dominican Republic for the 2023 PANAM Bowling Male Championships, which will be contested at Sebelén Bowling Center in Santo Domingo from May 21-28.
The American squad will feature Brandon Bohn of Jackson, New Jersey; John Janawicz of Winter Haven, Florida; Nick Pate of Inver Grove Heights, Minnesota; Matt Russo of Ballwin, Missouri; Darren Tang of Las Vegas; and Chris Via of Blacklick, Ohio.
Practice sessions will take place at Sebelén Bowling Center on May 21-22 before tournament action officially gets underway with singles on May 23.
Doubles will follow on May 24, and trios will come one day later on May 25. Team competition will be conducted over the course of two days and will take place May 26-27.
At just 18 years old, Bohn will be the youngest Team USA player competing in Santo Domingo while Janawicz, 50, will be the oldest.
Bohn knew months ago that he would be traveling outside the U.S. in late May; he just thought he would be headed to a different location.
"Over the past few years, my family has tried to come up with a vacation without bowling balls because we go places all the time, but it's always to bowl a tournament," Bohn said. "About three hours before I got the call from Bryan (O'Keefe) telling me that I had been selected to compete in the Dominican Republic, I'd told my mom that I was in and ready to go for a family vacation to Mexico to celebrate my cousin's graduation.
"I was shell-shocked when I got the call telling me I'd been selected; I didn't expect that at all. I had to call my mom right away and tell her that I had good news and bad news. The bad was that I wouldn't be able to go to Mexico after all, but the good was that it was because I was going to the Dominican Republic to compete for Team USA for the first time."
Bohn has always dreamed of having the opportunity to represent his country on the lanes just as his father, USBC and PBA Hall of Famer Parker Bohn III, did for a number of years; nevertheless, now that it has become a reality, the young left-hander is having a hard time wrapping his mind around it.
"It's pretty surreal," Bohn said. "I always thought that if this happened, I'd come up through the junior stages first, bowling for Junior Team USA and then on the PBA Tour before being fortunate enough to compete for Team USA.
"My road has been different because I haven't competed for Junior Team USA or made it to the tour yet, and now I'm going to debut as a Team USA member. It's surreal to think that I'm 18 and doing all this."
But anyone who knows bowling knows that Bohn has more than enough talent to make up for anything he lacks in age or experience.
Bohn is a three-time titlist at the USBC Junior Gold Championships and is the reigning U.S. Amateur champion.
In addition, during his freshman year bowling for Mount Mercy, he earned 2023 National Collegiate Bowling Coaches Association (NCBCA) First Team All-American honors and was named the 2023 NCBCA Rookie of the Year.
Still, Bohn knows that international competition is a new ballgame. As such, he's being careful not to get ahead of himself when it comes to setting expectations for his week in Santo Domingo.
"Obviously, everyone wants to go out and win a gold medal, but not every time you go out there is going to be your best outing. I learned that pretty quickly from watching my father over the years, so I don't have a lot of expectations," Bohn said. "I just want to make sure to enjoy the experience and not take anything for granted."
Janawicz is approaching the PANAM Bowling Male Championships in a similar fashion; he's just approaching it from the other end of the timeline.
"I don't know how many years I have left," Janawicz said. "Honestly, it wouldn't surprise me if this might be one of my last trips for the team, so I'm looking forward to going out there to try to win some more gold medals.
"There's quite a mix of different levels of experience on this team, so I'm anxious to try to contribute and maybe share some of my past experiences on the lanes and with travel with the rest of the team."
But make no mistake, Janawicz will be in Santo Domingo for more than wisdom and moral support.
The veteran right-hander has been among the most decorated amateur bowlers in the world for many years, and he doesn't appear to be slowing down, as was proven yet again when he secured a third-place finish at the 2023 U.S. National Amateur Bowling Championships.
Pate, Russo, Tang and Via have established similarly impressive resumes in both international and PBA competition. As such, the six-man American squad is expected to be a major factor in the chase for medals from start to finish at
Sebelén Bowling Center.
For more information on Team USA, visit
BOWL.com/TeamUSA
.