Tang, Via place fourth in doubles at PANAM Bowling Male Championships
May 25, 2023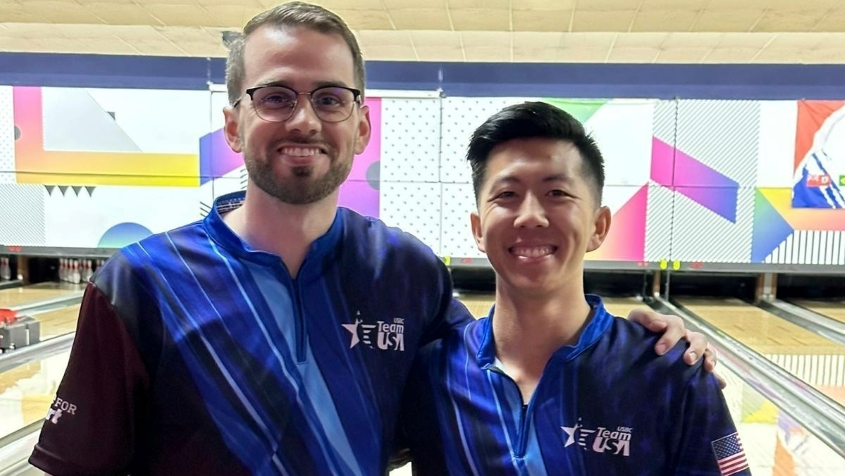 SANTO DOMINGO, Dominican Republic
– Team USA bowlers Darren Tang of Las Vegas and Chris Via of Blacklick, Ohio, authored an outstanding performance but fell one pin short of medaling in doubles at the 2023 PANAM Bowling Male Championships on Wednesday.
Via, who finished fourth in singles on Tuesday, contributed games of 266, 209, 179, 238, 204 and 276 for a 1,372 six-game total (a 228.67 average) while Tang added 1,329 (a 221.5 average) by shooting 196, 221, 223, 279, 179 and 231.
That effort pushed the American total to 2,701, which put them in fourth place one pin behind the bronze-medal-winning 2,702 posted by Canada's Graham Fach (1,373) and Austyn Ducharme (1,329).
The gold medal went to Venezuela's Luis Rovaina (1,486) and Rogelio Felice (1,318), who ran away from the field with a winning total of 2,804. Puerto Rico's Israel Hernandez (1,417) and Cristian Azcona (1,287) took home the silver with 2,704.
Despite failing to medal, Team USA did manage to put all three of its doubles pairs in the top 10 on Wednesday.
Brandon Bohn of Jackson, New Jersey, and Matt Russo of Ballwin, Missouri, came away with seventh place thanks to a six-game total of 2,590.
Bohn, who is making his Team USA debut this week in Santo Domingo, led the way with a score of 1,320 (199, 198, 245, 211, 211 and 256) while Russo contributed 1,270 (193, 184, 221, 265, 201 and 206).
Team USA's final duo, John Janawicz of Winter Haven, Florida, and Nick Pate of Inver Grove Heights, Minnesota, placed eighth with a score of 2,589.
Pate put up a six-game total of 1,364 (223, 226, 277, 209, 204 and 225). Janawicz added 1,225 by tallying games of 273, 206, 167, 168, 209 and 202.
Despite falling just short in both singles and doubles, Team USA Head Coach Bryan O'Keefe is proud of the effort his squad has put forth, and he knows that things can turn around at any moment.
"It always hurts to miss the medal stand by small amounts, especially when you feel that execution and lane play were good," O'Keefe said. The lanes played different today, and we just had a few lanes that we couldn't get figured out quick enough.
"Still, the guys are working hard and continue to learn the transitions and adjustments. We're going to stay the course with our plan, and with what we've learned during the first two days, I feel confident that our team will perform well in the next two events."
The six Americans will be back on the lanes Thursday for trios before team competition brings the tournament to a close on Friday and Saturday.
For more information on Team USA, visit
BOWL.com/TeamUSA
.