Team USA takes gold on final day at 2023 PANAM Bowling Male Championships
May 27, 2023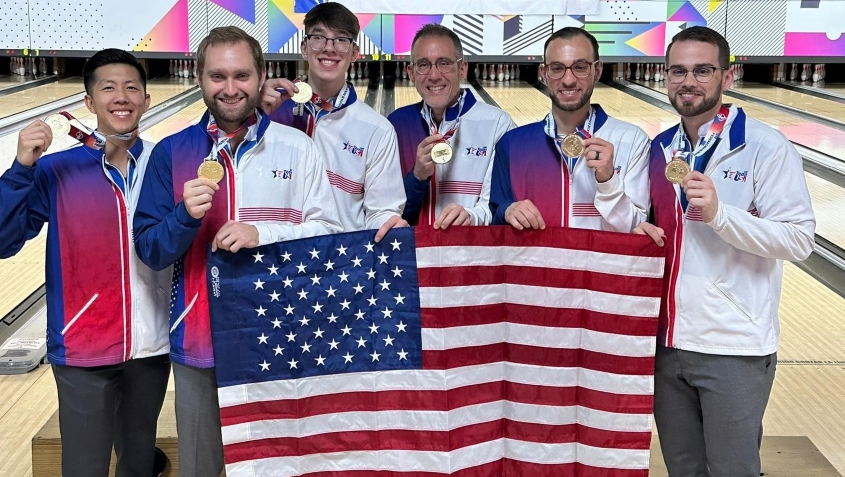 SANTO DOMINGO, Dominican Republic – The 2023 PANAM Bowling Male Championships didn't start off the way Team USA bowlers and coaches were hoping for as the Americans missed out on medals in both singles and doubles by just a single pin.
At that point, it would've been easy for Team USA to allow the disappointment of the first two days to derail its goals for the rest of the tournament.
Nevertheless, the Americans did the opposite, rebounding to capture gold and bronze during trios on Thursday and then leading the 14-team field during the first day of team competition on Friday.
Saturday was the final day of action at Sebelén Bowling Center, and Team USA closed things out in style, adding games of 1,185, 1,154 and 938 to the 1,028, 1,094 and 1,120 it authored on Friday to win the team gold medal with a six-game total of 6,519.
Puerto Rico took silver with 6,415, and Guatemala grabbed bronze with 6,378.
John Janawicz of Winter Haven, Florida, the oldest player on the squad at age 50, led the American effort with a score of 1,336 (a 222.67 average) thanks to games of 203, 219, 194, 268, 248 and 204.
Despite coming in with the highest score on the team, Janawicz was quick to point out that every Team USA players and coaches deserved equal credit for the gold-medal performance.
"It was a really great team effort," Janawicz said. "The communication was really good, and I think that's what helped catapult us during the second half of the last game to make sure we pulled it out."
Darren Tang of Las Vegas certainly seemed to get the message as he used games of 212, 213, 245, 237, 243 and 183 to come in just behind Janawicz with a six-game total of 1,333 (222.17).
Tang considered the team gold medal to be the No. 1 goal for this trip, so he was in high spirits once the final balls had been thrown and the prize had been captured.
"The goal all along was team gold, and we achieved it," Tang said. "I'm really happy; this feels good."
Nick Pate of Inver Grove Heights, Minnesota (209, 212, 258, 226, 215 and 199) and Chris Via of Blacklick, Ohio (212, 224, 222, 226, 225 and 191), were plenty happy themselves after coming in with 1,319 and 1,300, respectively.
"Winning gold never gets old," Pate said. "I can't wait to hear the National Anthem and feel that medal around my neck; it feels incredible."
Via's sentiments were largely the same.
"It's always incredible to be able to get up on that podium as a team; that's always our goal," Via said. "The other events are always bonus medals, but this is the one that we all want; I'm glad that we were able to get it done."
Matt Russo of Ballwin, Missouri, helped the Americans get it done, contributing 1,231 (192, 226, 201, 228, 223 and 161) to the team's winning total.
For Russo, the way things finished more than made up for the first two days' disappointment.
"The first half of the week didn't work out very well for us, but we turned it around in trios, and now we have another gold medal to add to the collection," Russo said. "It was a team effort, so getting to share the lanes with these guys and wear the Team USA logo on my back means the world to me."
The final team member donning the stars and stripes, Brandon Bohn of Jackson, New Jersey, didn't crack the lineup during the two days of team competition, but he was an integral part of the outstanding trios performance referenced by Russo as he contributed a six-game total of 1,284 (219, 191, 227, 181, 233 and 233) to go along with the 1,417 put up by Russo and 1,304 carded by Janawicz on Thursday.
Bohn certainly would have welcomed the opportunity to get in on the action during team competition; however, at age 18 and making his Team USA debut, he recognized that the trip wasn't about any one player; it was about the team.
"I'm the rookie, so I'm not necessarily supposed to be the one out there just yet," Bohn said. "I just let the other guys do their thing, and I was the cheerleader. If that's what it takes for us to win, then I'm okay with that. We came home with the gold, and that's all that matters."
Team USA Assistant Coach Andy Diercks, who was attending his first competition with Team USA after having traveled exclusively with Junior Team USA in the past, loved coming away with another gold medal, but, for him, the most rewarding part was simply having the honor of representing his country.
"It's always a privilege to wear the red, white and blue," Diercks said. "Hearing the National Anthem, wearing the stars and stripes and representing our country is incredible."
Team USA Head Coach Bryan O'Keefe is always honored to represent his country, but he was equally happy about what this particular American squad accomplished this week in Santo Domingo.
"For the week, I'm proud of everybody," O'Keefe said. "They're a great team, and they worked really well as a unit. We're always striving to be better, but, overall, I'm really proud of all that they did and the medals they're bringing home."
For more information on Team USA, visit

BOWL.com/TeamUSA

.