Team USA trios take gold, bronze at 2023 PANAM Bowling Male Championships
May 26, 2023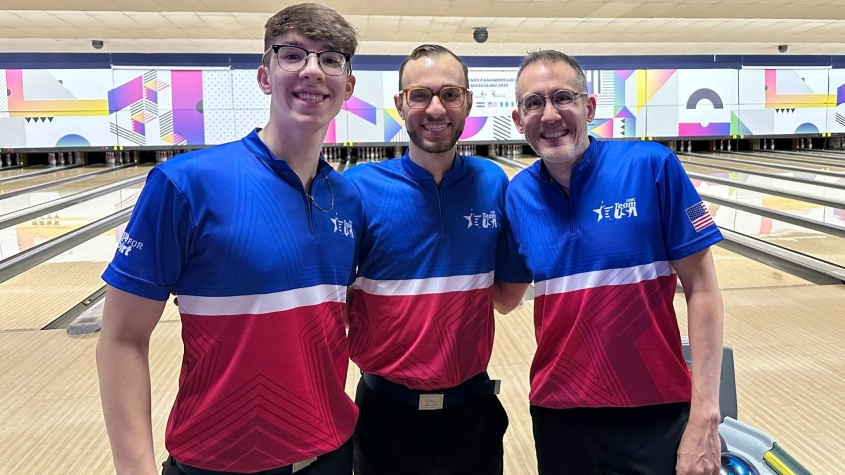 SANTO DOMINGO, Dominican Republic – Shaking off the disappointment of two days' worth of near misses, Team USA rebounded in fine fashion on Thursday by capturing two of the three available medals during trios competition at the 2023 PANAM Bowling Male Championships.
John Janawicz of Winter Haven, Florida; Matt Russo of Ballwin, Missouri; and Brandon Bohn of Jackson, New Jersey, authored the top score at Sebelén Bowling Center, capturing gold with a six-game total of 4,005.
The Americans needed every bit of it to hold off the Canadian trio of Graham Fach, Austyn Ducharme and Jordan Jung, who earned silver with a score of 3,956.
Team USA's second trio, Darren Tang of Las Vegas; Chris Via of Blacklick, Ohio; and Nick Pate of Inver Grove Heights, Minnesota, reached the podium and secured bronze by posting a total of 3,903.
Russo led all competitors on Thursday with a six-game total of 1,417 (a 236.17 average) thanks to games of 279, 258, 203, 257, 211, and 209.
The lefty two-hander has won medals for Team USA in the past; nevertheless, Thursday's gold-medal performance isn't something he'll take for granted.
"I've been fortunate enough to win some gold medals before, but this never gets old," Russo said. "To do this with a first timer like Brandon (Bohn), who's like a brother to me, and with J.J (Janawicz), who I've admired for a long time, there's just no better feeling."
Janawicz gave Russo plenty to admire on Thursday, contributing a score of 1,304 (193, 194, 237, 210, 191 and 279) to the trio's winning total.
At age 50, Janawicz is the elder statesman on the American squad, so being able to work alongside two players at or near the start of their Team USA careers and winning gold is something he won't soon forget.
"If you add up Brandon and Matt's ages, they still don't equal mine," Janawicz said. "I'm very happy to have played a part in helping Brandon get his first gold medal. Like Matt said, being able to stand on the podium and win medals never gets old."
Up until now, Bohn has had to take his teammates' word for it because, as a Team USA rookie, he'd never had the opportunity to stand on the podium and listen to the National Anthem with a medal around his neck.
Thursday's victory means that the dream is about to become a reality, and, understandably so, Bohn was having a hard time expressing what that means to him.
"I have no emotions; I don't even know what I'm thinking right now," Bohn said. "I'm just super excited that I got to do this with my brother and one of the greatest amateur bowlers to ever live. Tonight is going to be a really fun night, and I'm looking forward to what tomorrow will bring."
Pate, Via and Tang were sure to be in good spirits Thursday night as well after walking away with bronze.
Pate led the group with a six-game total of 1,308 (a 218 average). He got there by firing games of 193, 245, 204, 255, 213 and 198.
Via wasn't far behind, using games of 236, 212, 254, 223, 193 and 186 to come in at 1,304.
Tang's block was on par with those put up by his playing partners; the right-hander contributed 1,291 (196, 224, 237, 234, 178 and 222) to the team's third-place total.
Team USA will look to keep the momentum going on Friday during the first of two days' worth of team competition.
For the latest PANAM Bowling Male Championships standings,
click here
.
For more information on Team USA, visit

BOWL.com/TeamUSA

.