Team USA Wins Doubles at 2015 World Women's Championships
December 10, 2015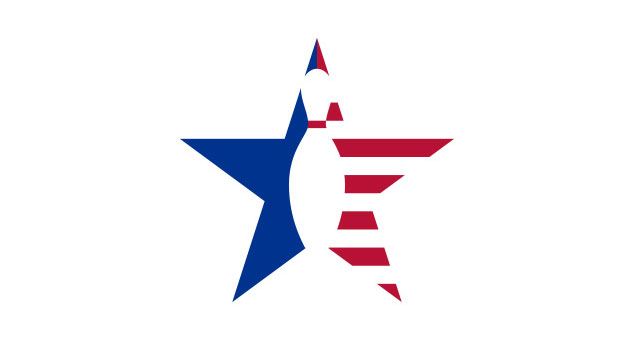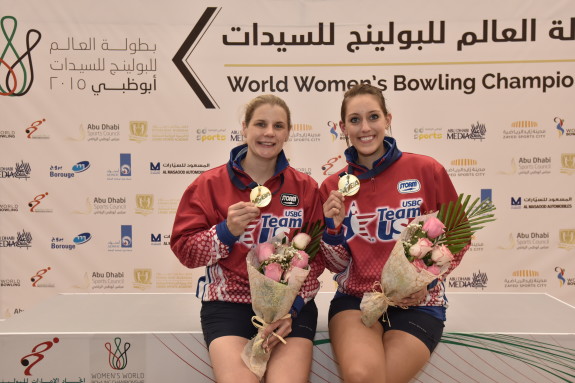 ABU DHABI, United Arab Emirates - A clutch final-frame performance lifted Team USA past Korea for the doubles gold medal Thursday at the 2015 World Bowling Women's Championships.
First-time participant, Danielle McEwan of Stony Point, N.Y., threw two 10th-frame strikes to give the United States a three-pin lead with the anchor bowlers left to bowl, and Kelly Kulick of Union, N.J., tossed three strikes of her own to claim her third world championship by a score of 486-461.
McEwan led the effort with a 247 game, and Kulick, the singles gold medalist at the 1999 World Championships in Abu Dhabi, finished with 239. This year's singles winner, Jeon Eunhee of Korea, shot 257 in the loss at Zayed Sports City's Khalifa International Bowling Centre on Thursday, and Son Hyerin, a trios gold medalist this week, added 204.
"I've never felt anything like that game in my life," said McEwan, a four-time Team USA member. "It was so intense and in the moment. I've been in that situation before bowling on TV, but nothing compares to getting up there and throwing that shot for (Kelly) and Team USA and everyone at home."
The performance marked the third consecutive time Kulick has advanced to the doubles medal round at the World Championships, and the win came at the perfect time. It also helped her confidence to be able to find success on the short oil pattern (36-foot Los Angeles), where she admits she has struggled in the past.
"This is huge momentum going into the team event, which is our main focus for the week," said Kulick, who earned the doubles silver medal in 2013 and bronze in 2011. "Short is not one of my strengths, so to help Danielle today and win gold on short is so special. Having to throw it to win is more pressure, of course, but it's also so much more rewarding. We bowled so well together today, and this is the perfect ending."
On the way to the gold-medal match, Kulick struck eight times and rolled a 248 game to catapult Team USA past Singapore, 453-412. McEwan added a 205 effort in the win. Singles silver medalist, Cherie Tan, had 228 for Singapore, while Shayna Ng rolled a 184 game. Tan and Ng also claimed trios silver medals Wednesday.
In the other semifinal, Korea took a 15-pin lead into the final frame and went on to defeat Denmark, 444-422. Jeon rolled a 224 game in the win, and Son contributed a 220 effort. Mai Ginge Jensen struck in seven of the first eight frames for Denmark on the way to a 246 game, and Britt Brondsted added 176.
Team USA's Stefanie Johnson of Grand Prairie, Texas, and Shannon O'Keefe of O'Fallon, Ill., were the defending world champions in the doubles event but finished 39th this year.
During doubles qualifying Thursday morning, Venezuela's Joan Gonzalez rolled the tournament's first perfect game. She and Alicia Marcano finished 18th overall.
All rounds of the 2015 World Women's Championships are being broadcast live on BOWL.com's BowlTV. For a complete schedule, visit BOWL.com/LiveStream.
There are 147 bowlers from 30 countries competing this week, and they'll all be back on the lanes Friday for the first three games of team competition, which will begin at 12 a.m. Eastern.
The team event will feature three games on each of the tournament's two oil patterns (43-foot Tokyo and 36-foot Los Angeles) over two days, before the field is cut to the top four teams for the medal round.
During the seven-day tournament, competitors will bowl for medals in singles, doubles, trios, team, all-events and Masters match play.
Gold, silver and bronze all-events medals will be awarded based on 24-game pinfall totals (six games of singles, doubles, trios and team), and the top 24 in the all-events standings will advance to Masters competition.
Pinfall carries forward, and all 24 players will bowl six additional games to determine the top eight for round-robin match play. After seven games of match play, the field will be narrowed to the top four for Sunday's medal round.
Through 18 games this week, left-hander Cherie Tan of Singapore leads all-events with a 4,174 pinfall total, a 231.89 average. Her teammate Ng is second with 4,158 and Team USA's Liz Johnson is third with 4,153. Rebecka Larsen of Sweden and Rebecca Whiting of Australia are tied for 23rd place with 3,896, a 216.44 average.
Participating countries this year include: Australia, Bahamas, Canada, China, Chinese Taipei, Colombia, Denmark, Dominican Republic, England, Finland, Germany, Hong Kong, Iceland, Indonesia, Iran, Korea, Latvia, Malaysia, Mexico, Panama, Philippines, Poland, Singapore, Slovakia, Spain, Sweden, Ukraine, United States, Venezuela and the host country United Arab Emirates.
For more information on the World Women's Championships, visit the official website of the event at 2015wwc.worldbowling.org.
2015 WORLD BOWLING WOMEN'S CHAMPIONSHIPS
Khalifa International Bowling Centre
Abu Dhabi, United Arab Emirates
Thursday's results
DOUBLES
CHAMPIONSHIP
(Winners earn gold, losers get silver)
Danielle McEwan/Kelly Kulick, United States def. Son Hyerin/Jeon Eunhee, Korea, 486-461
SEMIFINALS
(Winners advance, losers tie for bronze)
McEwan/Kulick, United States def. Cherie Tan/Shayna Ng, Singapore, 453-412
Son/Jeon, Korea def. Britt Brondsted/Mai Ginge Jensen, Denmark, 444-422