Teece leads after Day 1 of qualifying at 2023 U.S. Open
February 01, 2023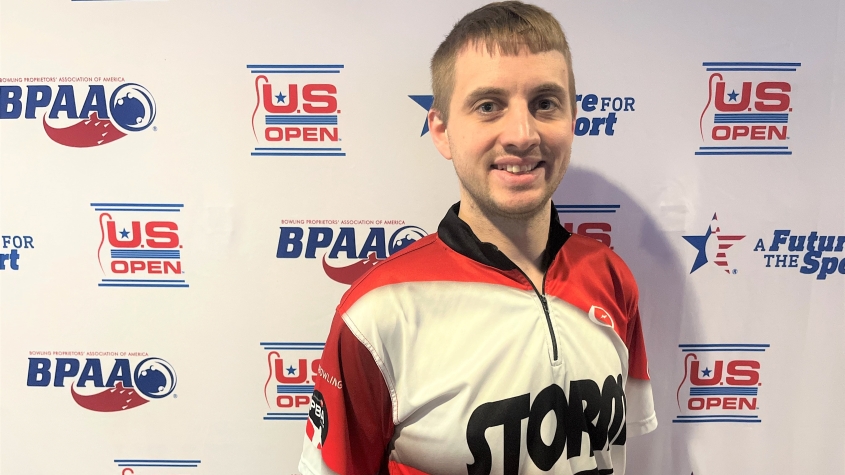 INDIANAPOLIS –
Richie Teece feels like he bowls his best when he's able to stay relaxed and avoid panic in the face of adversity.
The right-hander from England certainly appeared calm and collected throughout Tuesday's opening round of qualifying at Royal Pin Woodland (formerly Woodland Bowl) in Indianapolis as he fired an eight-game total of 1,756 to emerge as overall leader at the 2023 U.S. Open presented by Go Bowling!
Teece's day began at a modest pace with games of 201, 177 and 202, but things heated up considerably from there as he closed with scores of 258, 225, 182, 255 and 256 to vault to the top of the standings.
Teece averaged 219.5 per game on a day when only 30 of the 108 competitors in the field managed to average 200 or better, and he made the extremely challenging 49-foot Day 1 oil pattern look relatively easy when several past major champions were visibly frustrated by it from start to finish.
As such, it would be an understatement to say that Teece was happy with his opening-round performance.
"I've bowled in the U.S. Open six times now, but this is the first time that I've ever been the leader," Teece said. "It was definitely a rollercoaster of emotions, but it feels sensational."
That rollercoaster ride was experienced by just about everyone who was watching the scoreboard and trying to determine who would walk away with the lead after C Squad Tuesday night.
Heading into the eighth and final game, five bowlers on the squad – Tomas Kayhko of Finland; Shawn Maldonado of Sugarland, Texas; Kevin McCune of Munster, Indiana; Teece and Francois Lavoie of Canada – all had a chance to wrestle the lead away from Denmark's Thomas Larsen, who held the lead at 1,749 prior to the start of the final squad.
However, as the final game was drawing to a close, it was clear that the battle for the top spot would come down to just two players, Teece and Kayhko.
Teece began his 10th frame with a double, which forced Kayhko to strike on the first ball of his final frame in order to remain in the lead. It was not to be, however, as his shot missed the head pin to the right, ending the drama and giving the Day 1 lead to Teece.
There was no drama for Teece though as he didn't even realize he was still in contention for the top spot at that point.
"I'm not a scoreboard watcher at all, so I actually thought some other guys had already posted scores higher than what I could finish with. All I wanted to do was fill the last frame and move on to the next day," Teece said. "But then someone came up to me and told me I was leading, which, obviously, was really cool to hear."
Maldonado finished tied for second with Larsen at 1,749 while Kayhko was just one pin behind at 1,748. Lavoie claimed the final position in the Day 1 top five; he finished with 1,744.
Defending U.S. Open champion Anthony Simonsen of Las Vegas got his title defense off to a solid start, finishing the day in 20th place with a 1,627 total.
Although Teece was pleased with the strong start, he knows that the U.S. Open is a marathon, not a sprint. As such, he understands that it will take more than just one strong round to remain in contention come crunch time.
"Getting off to a start like this relaxes me a little bit because it gives me a small buffer, but that buffer can go away pretty quick in a tournament as challenging as this one," Teece said. "Because of that, I just need to approach tomorrow and the day after that the same way I approached today, which is just to take it shot by shot and frame by frame."
Teece and his fellow competitors will complete 16 more games of qualifying over the next two days on two different lane conditions before the field is cut from 108 to 24 for three rounds of round-robin match play, which will begin Friday morning at 10 a.m. Eastern and be contested on a fourth oil pattern.

Once match play begins, players' 48-game totals, including 30 bonus pins for each win during match play, will decide the nine bowlers who advance to the two live televised rounds.
The first round will feature seeds No. 5-9 battling it out on FS1 Saturday at 4 p.m. Eastern. The bowler who wins that stepladder will join seeds No. 1-4 for the championship round Sunday at 2 p.m. Eastern on FOX.
The 2023 U.S. Open is a collaborative effort between the USBC and BPAA and again will be considered a major on the PBA Tour. The total prize fund for the event will exceed $275,000.
For more information about the U.S. Open, visit
BOWL.com/USOpen
.