Tennessee bowler selected as 2023 Zeb Scholarship Award winner
April 04, 2023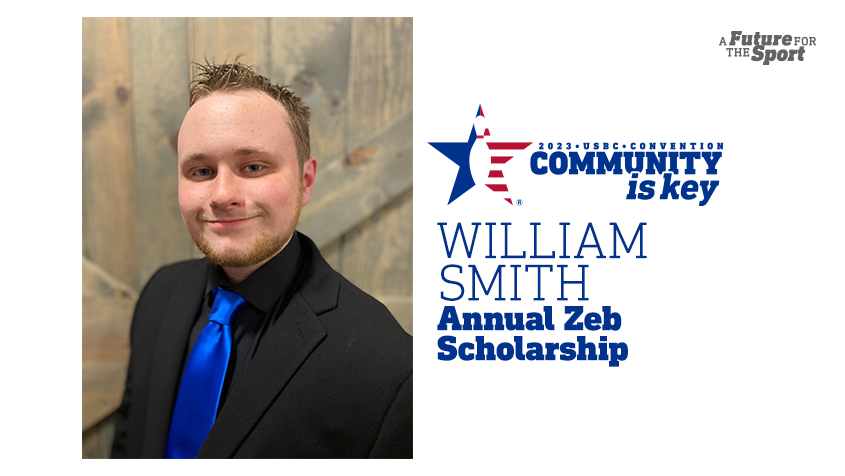 ARLINGTON, Texas
– William Smith of Smyrna, Tennessee, has been chosen by the International Bowling Campus Youth Committee as the Annual Zeb Scholarship recipient for 2023.
The Annual Zeb Scholarship recognizes a United States Bowling Congress Youth member who has achieved academic success and gives back to his or her community through service. The recipient, who must be a junior or senior in high school, receives a $2,500 scholarship.
Smith, 17, is a junior at Oakland High School in Murfreesboro, Tennessee, and holds a 3.865 GPA. He is currently in the Mechatronics Engineering Pathway, which he plans to continue in college.
Fittingly, Smith had just finished bowling when he received the news that he had been selected as the scholarship recipient.
"I had just finished a bowling tournament; it was a sweeper, and me and my mom were in the mall when we got the call," said Smith. "We were both just yelling right there in the mall. We were very excited, and I was surprised as well."
Through the first quarter of his junior year, Smith has made the school's Principal's List or Honor Roll each quarter while taking numerous dual enrollment, advanced honors and honors classes.
Smith made some history in earning the scholarship, and it was something he mentioned immediately when asked what it meant to him.
"It's very humbling, especially being the first from Tennessee to ever win it," said Smith. "It's also a little bit of validation for me because it shows that other people see the work I've been putting in, and that's rewarding."
In addition to his accomplishments in the classroom, Smith also has had his share of successes on the lanes. His path in bowling was inspired by his family.
"My grandparents and my mom bowled, and they got me started in it," said Smith. "I bowled on a fourth-grade team in elementary school, but I didn't start bowling tournaments until about seventh grade. I ended up picking bowling over baseball because it's something I know I can do for the rest of my life."
The choice was a good one as Smith has won a number of local and state tournaments and has qualified for the Junior Gold Championships each year since 2019. He was a three-time captain and MVP at Rock Springs Middle School, and thereafter he earned those same honors during his freshman, sophomore and junior years at Oakland High School.
He was named to the Daily News Journal's All-Area Team for his freshman and sophomore years and was the 2021 recipient of the Mr. Bowler Award (Top 3) presented by the Tennessee State BPAA and Tennessee USBC. Smith also has been the USBC Heart of Tennessee Youth Representative since November of 2021.
Smith, who has one certified 300 game to his credit, has already earned his Bronze-level coaching certification.
"I wanted to get my certification so I could give back to other youths in the sport," said Smith. "I've been able to use my coaching skills to help my high school team understand the sport better and further develop their talents. I also have been able to serve as an assistant coach for my former middle school team."
That willingness to help others is reflected in Smith's volunteer work and community service where he has completed more than 290 hours of community service since 2017. Smith is active in the Boy Scouts where he is an Eagle Scout and Senior Patrol Leader. He has donated his time and effort to numerous church and school projects and has volunteered for organizations like local parks, shelters and food pantries.
"Over the years, I've been involved in many service projects," said Smith. "I've done river clean-ups; I've helped out food banks and cleaned up trash in parks. I've also been involved in giving back to the scouting community because I'm the SPL (Senior Patrol Leader), and through that I help newer scouts fit in and show them how to be involved in more service projects."
Like scouting, Smith enjoys the friendships he's been able to make through bowling.
"I really love the camaraderie in the sport," Smith said. "It's different from other sports because whenever you're done in a bowling competition, you can still have good relationships with the people you bowled against. Even though you're bowling against those people, you're high fiving each other and joking around together. You get to share experiences and form bonds with those people."
Smith is always looking for ways to improve youth bowling and strives to help give it the recognition he feels it deserves. He credits bowling for having had a positive effect on every aspect of his life and with teaching him patience and dedication, among other life skills.
"Bowling has taught me to keep my head and keep my cool," said Smith. "Whenever you're bowling, it's easy to get aggravated or frustrated. The best way to bowl good in stressful situations is to clear your head and think about the next shot. If you throw a bad shot, you erase that from your mind and move on. Attitude is more important than ability, and I try to apply that to other things."
Smith would love to continue bowling in college where he will pursue a degree in mechanical engineering with the goal of returning for a masters in robotics. His dream job would be to work as a robotics engineer for SpaceX or NASA and have a chance to work on machines like the Mars rover or to help develop colonies in space.
Smith will be recognized this month during the 2023 USBC Convention at South Point Hotel and Casino in Las Vegas.
This year's award ceremony, which includes a variety of awards for youth and adult bowlers, will take place during the 2023 USBC Annual Meeting on April 26 and 27. The meeting will be broadcast live at BowlTV.com.
For a list of past Annual Zeb Scholarship recipients, click here.
Learn more about awards for adult youth leaders and scholarship opportunities for youth bowlers at BOWL.com/ScholarshipAwards.