Texas bowler makes 50th appearance at USBC Open Championships
June 10, 2022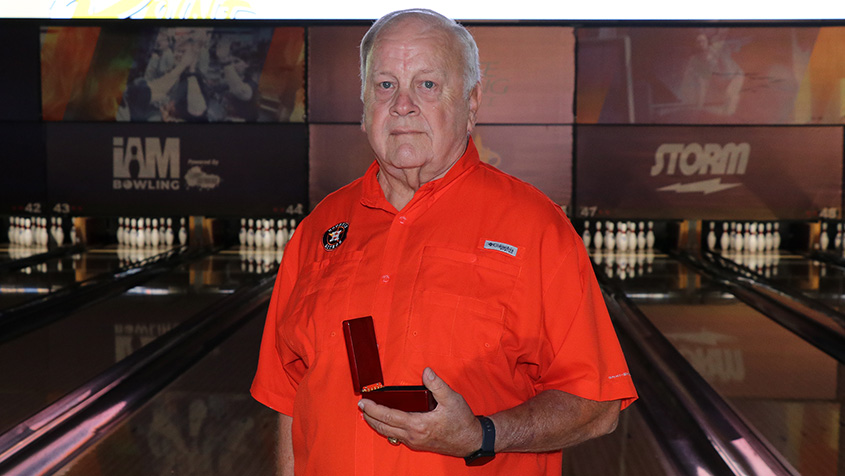 By Nick Bonsanto and Aaron Smith
USBC Communications

LAS VEGAS
- Skipper Arsenault of Port Arthur, Texas, celebrated the first of two golden milestones in 2022 this week as he made his 50th appearance at the
United States Bowling Congress Open Championships
.
Alongside family and friends, Arsenault became the latest competitor to join the exclusive club at the South Point Bowling Plaza on Monday and received a plaque, chevron and diamond lapel pin to commemorate his longevity and dedication to the tournament.
The 75-year-old right-hander was joined in his presentation at South Point by his wife, Judy, and they will celebrate their 50th wedding anniversary over Labor Day weekend.
Judy not only has joined him for nearly all of his appearances at the USBC Open Championships, but she also helped inspire him to reach this milestone.
"I've been looking at 50 for maybe 20 years now," Arsenault said. "When I hit 40, I told my wife I'm about done. She said, 'Oh no you're not.' My wife has been to almost all of them with me. She only missed when the kids were born and couldn't make it. This is my 50th tournament, and then Labor Day weekend, we'll have our 50th wedding anniversary."
The only thing that might have slowed down Arsenault toward his 50th appearance was knee replacement six months ago. Although he only bowled the team event this year at South Point, he's looking forward to getting back to full strength soon.
"I couldn't miss this, since at 75, we're all day to day," Arsenault said with a chuckle. "I thought this might be my last chance, so I wasn't going to miss it. I will be back next year, and I plan on getting back to bowling nine games. If I'm walking, I'll be there."
The Texas State USBC Hall of Famer made his debut at the 1970 Open Championships in Knoxville, Tennessee. After skipping the 1971 and 1972 events, he's made his annual trek to the tournament each year since 1973.
"I remember we were five guys from Orange, Texas, who had no idea what they were getting into," Arsenault said. "We didn't go to the next two tournaments, and then we went every year after that."
The 1984 event in Reno, Nevada, stands out as one of his favorites along the way. His team took over second place in Regular Team and was able to hold onto the runner-up finish.
Unlike today, with instant updates through live scoring and Facebook posts, Arsenault and his teammates had a much different way to see if their score was holding up from the event.
"We finished second in team in 1984 in Reno at the old convention center," Arsenault said. "We sweated that one out for a long time. The score already had been posted and was about 100 pins more than we had, and we kept thinking someone would slip by us, but it didn't happen.
"I talked to a friend who followed the tournament around, and I asked for his number so I could call him every Monday for an update. It got to where he called me. He also had a teletype machine or something like that, and he would telex my mother at her work with the scores each week."
Arsenault also has given back to the sport on the administrative side and now serves as the association president of the Southeast Texas USBC.
Through 50 appearances at the Open Championships, Arsenault now has toppled 82,268 pins for a lifetime average of 193.1.
"If you get to this point and are involved for 50 years, everything is well worth it," Arsenault said. "If you are getting close to 40 years, don't even think about not making 50. It's an amazing experience. The USBC treats you so well."
Visit us on Facebook at the
official USBC Open Championships page
.