Texas bowler selected as 2023 Alberta E. Crowe Star of Tomorrow
March 28, 2023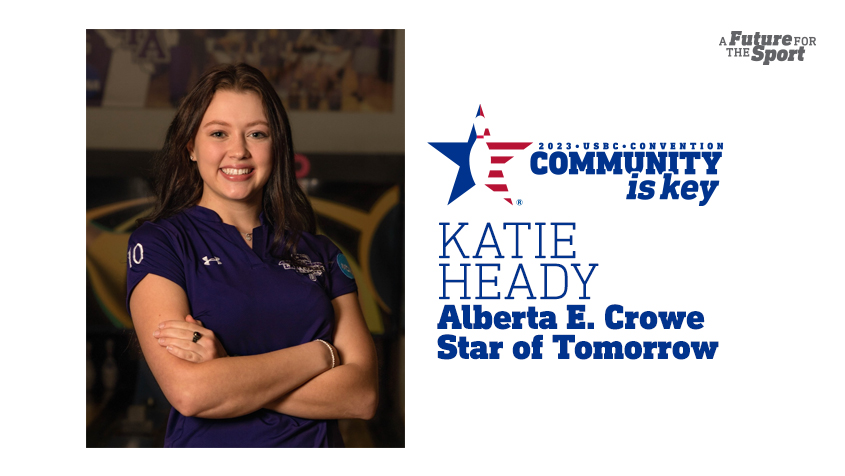 ARLINGTON, Texas
– Katie Heady of Richardson, Texas, has been chosen by the International Bowling Campus Youth Committee as the 2023 Alberta E. Crowe Star of Tomorrow.
The award recognizes the star qualities of a female high school senior or college student, including accomplishments on the lanes, academic achievement and community service. Along with the prestigious honor, Heady will receive a $6,000 scholarship as the 2023 recipient.
Heady represents all the qualities listed above as a 19-year-old college student at Stephen F. Austin State University in

Nacogdoches, Texas. Heady has been at the university for two years, so one would assume she is a sophomore. While that is true athletically, Heady is actually a senior in academic standing.
That's because by the time she graduated Summa Cum Laude from Plano Senior High School, where she received both National Junior Honor Society and National Honor Society recognition, Heady had already taken enough advanced placement and honors classes to allow her to enter college with 39 credit hours under her belt, giving her a head start academically at SFA.
Over her first two years at SFA, she was able to shoulder enough of a college workload to become a senior. Heady has been accepted to the Overlap Program at SFA for this year's fall semester, meaning she will be in graduate school while taking her last two undergraduate classes toward her degree in Rehabilitation Services.
It's that kind of dedication and determination that helped make Heady an outstanding choice as the recipient for this award, and it was an emotional moment for Heady when she learned she had been selected.
"I was having a really bad day that day and, honestly, I cried when I got the call from USBC letting me know that I had won," said Heady. "Hearing that news just made my day so much better. Winning this award is an incredible honor because only one person wins it each year. To me, it means that all my hard work, all of the hours I've spent bowling, all of that, has added up to something pretty incredible."
Heady came to the sport a bit later than many of her peers. She first picked up a bowling ball in fifth grade and didn't start bowling in league until the summer prior to her eighth-grade year. Growing up, Heady tried other sports including soccer, basketball and track and field, but it was bowling that struck a chord with her.
"Once I picked it up, it was just fun for me," said Heady. "When I went to bowl, it got my mind off of everything else that was going on in my life because I've always been a super-busy, super-hectic person. Bowling has such a great community of people. I was able to connect with so many different people through bowling, and I felt like that was a fun thing. There was always like 20 people I could text and say, 'Do you want to go bowling?'"
Although Heady was having fun, she also worked hard, and with the help of some great coaching and a self-professed desire to "not be bad at things," she started seeing positive results.
"I bowled out of Plano Super Bowl, and they have so many great opportunities for youth bowlers and just incredible coaches," said Heady. "I took every chance I could get to work with those great coaches. My first coach was Mickie Tate, and I would stay late every Saturday after our morning league and work with him. I attribute a lot of my success to working with him in my first few years of bowling."
Heady's successes on the lanes have been numerous. She qualified for the Junior Gold Championships each year it was conducted from 2017-2022. She won the singles title in the 2018 Texas USBC State Tournament and capped her high school bowling career with a team first-place finish in the 2021 Texas State Tournament.
Heady was chosen for the 2021 Dexter High School All-American Team and was a 2021 USBC Earl Anthony Scholarship recipient.
In addition to those accomplishments, Heady cites a win in the 2020 Amateur Bowlers Tour of Texas event at the age of 17 as her most memorable bowling achievement prior to college.
"It was an adult tournament, and it was the first adult tournament I had ever bowled," said Heady. "I shot 277 to win and I had all these adults standing around watching me and cheering me on. It was during winter break of my senior year, and I was the only youth bowler in the field and the only woman to make the finals. It was just super cool and very memorable to me having all those adult bowlers cheering for me."
Her time in the sport of bowling hasn't all been spent on the lanes. Heady also served as a board member with the Greater Dallas USBC from 2017-2020.
"I was the only younger person on the board, so I felt like I stuck out like a sore thumb at our meetings" recalled Heady. "But the board did a really good job of integrating me into everything they did and allowed me to use my voice and listened to my point of view, which was sometimes a different outlook from theirs since I was a youth bowler."
Success in the classroom and on the lanes has followed Heady to SFA. In addition to the accelerated pace with which she will achieve her undergraduate degree, Heady has earned a place on the President's Honor Roll (4.0 GPA) from 2021 to the present.
On the lanes, Heady was part of the 2022 Intercollegiate Team Championships national championship team and the 2022 NCAA national runner-up team.
"When I got to SFA, I had so many things about my game that I wanted to work on and needed to work on," said Heady. "So, I've been able to put in the time and the work with our coaches to completely change my game. It looks astronomically different from when I got here. We broke down my whole entire game, and I didn't bowl well for months. But finally, closer to the end of year, everything clicked."
In addition to the strides she's made in her game, Heady also enjoys the camaraderie she's found on the bowling team.
"We have such a great team," said Heady. "I've found some of my closest friends on this team, and they're just so supportive of me. We're serious, but we can also joke around in practice, and you can be yourself. That's refreshing and important to me."

In addition to her exemplary performance in the classroom and on the lanes, Heady has strived to complete 30 hours or more of community service each year, which has included involvement in organizations like the Plano Heritage Farmstead Museum, North Texas Food Bank and filling bags for "The School Supply Project" which benefits the Children's Advocacy Center of Collin County.
Heady also serves as a volunteer intern for the Alcohol and Drug Abuse Council of Deep East Texas in

Nacogdoches.
"I specifically want to be a substance abuse counselor, so this is an incredible experience," said Heady. "I get the chance to work with so many people from so many backgrounds who are dealing with these issues. It's super interesting to see, and I really love this work because I feel like alcoholism and drug abuse are widely misunderstood by the general population, and I think being able to work with people who are dealing with these issues and seeing how they progress is just a super cool and interesting experience."
Through bowling, Heady notes she has learned teamwork, patience, leadership and the value of being a well-rounded person, which are all valuable lessons as she completes her undergraduate degree and then moves on to graduate school for a degree in Clinical Mental Health Counseling with the goal of becoming a licensed professional counselor with a focus on substance abuse.
Heady will be recognized in April during the 2023 USBC Convention at South Point Hotel and Casino in Las Vegas.
This year's award ceremony, which includes a variety of awards for youth and adult bowlers, will take place during the 2023 USBC Annual Meeting on April 26 and 27. The meeting will be broadcast live at BowlTV.com.
For a list of past Alberta E. Crowe Star of Tomorrow winners, click here.
Learn more about awards for adult youth leaders and scholarship opportunities for youth bowlers at BOWL.com/ScholarshipAwards.