Texas Southern wins 2018 SWAC Championship
March 25, 2018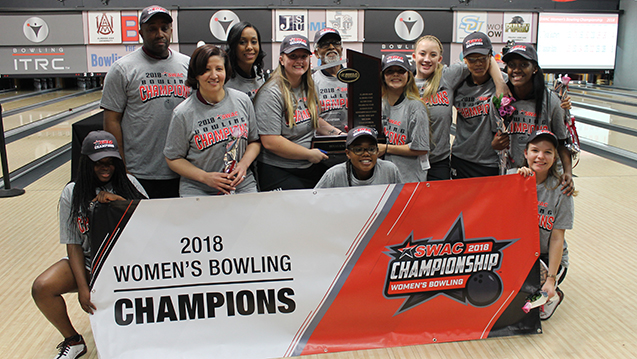 ARLINGTON, Texas
– Texas Southern claimed its first Southwestern Athletic Conference Women's Bowling Championship in more than a decade after defeating Jackson State in the title match of the 2018 edition Sunday at the International Training and Research Center.
The best-of-seven championship match came down to the final frame as Texas Southern recorded a 190-189 victory in the deciding game to earn the conference title, 4-3, and an automatic bid to the 2018 NCAA Women's Bowling Championship, which is taking place April 12-14 in St. Louis.
The championship match aired live on ESPN 3 and will re-air on ESPNU April 1 at 10:30 p.m. Eastern.
Texas Southern, which last captured the SWAC Championship title in 2006, entered the championship match in the enviable position of needing to win just one match to earn the title against No. 2 Jackson State in the double-elimination match-play bracket. Jackson State would've needed to defeat Texas Southern twice to claim victory.
The teams alternated wins through the first six games to setup the dramatic finale.
Texas Southern opened Game 7 with three consecutive strikes and held a 20-pin lead after five frames.  
Jackson State countered with three consecutive strikes of their own in frames five, six and seven to tie the match, but Texas Southern held a one-pin lead after both teams traded opens in the eighth frame.
Both teams tossed strikes in the ninth, allowing Texas Southern to maintain its one-pin lead as they entered the 10th frame.
Jackson State stepped up first and 2018 SWAC Bowling All-Tournament team selection Marcella Sanchez left a 4-5 combination on her first offering. On her spare attempt, Sanchez's spare ball clipped the 4 pin and just barely missed the 5 pin on the conversion attempt, leaving Jackson State with a final score of 189.   
That left Texas Southern needing to fill nine pins in the final stanza to win, and the ball was in the hands of 2018 SWAC Bowling All-Tournament team member Samantha Kriner.
But, Kriner's first delivery left the potential for disaster as she left the 3-6-7-10 split combination. Needing just three pins to secure victory she calmly took care of the 3-6-10 on the second offering for the 190-189 victory.
The Texas Southern team members are Shania Carr, Jessyca Driver, Kimari Jackson, Samantha Kriner, Summer Salak, Jessica Thoma, Brittany Torres and Denisyha Waller. The Lady Tigers are coached by Sabrina Rose. Torres was named the event's Most Valuable Player.
Visit
SWAC.org
for complete tournament information, including photos and more.