Texas team takes Classified lead during final squad of 2022 Open Championships
July 18, 2022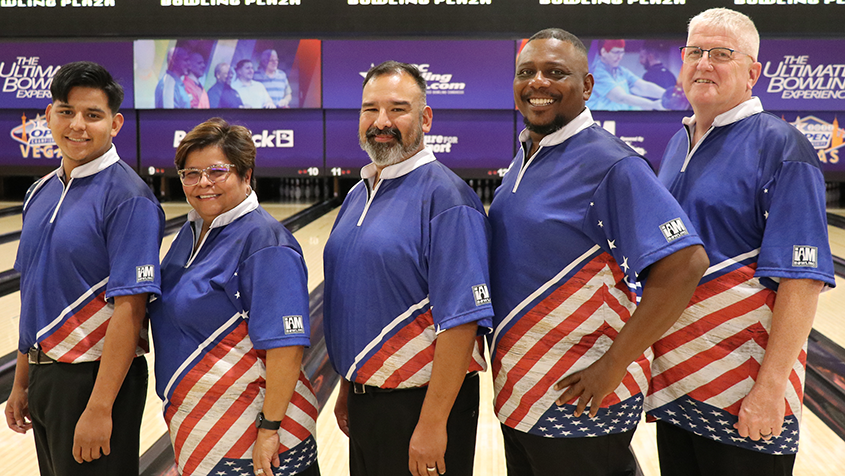 LAS VEGAS
- In the final squad of team competition at the 2022
United States Bowling Congress Open Championships
, a new leader emerged in the Classified Division.
Members of Fantastic Five of Corpus Christi, Texas, entertained onlookers by rolling a 2,909 total to take the lead from Alamo City PINS of Helotes, Texas, who had held the Classified Team lead since March 18 of the 129-day event with a 2,788 total.
The Fantastic Five consisted of Mark Rivera Jr., Barbara Rivera, Mark Rivera, Landall Long and David Sweeting. The five were bowling together for the first time as a team Sunday at the South Point Bowling Plaza.
"We didn't think we had a strong enough team going in, but we pulled together," Sweeting said.
The team took the lead with games of 998, 930 and 981. Going into the third game, they needed 861 to take the outright lead.
"After the first game, I knew we had a chance," said Sweeting, the president of the Corpus Christi USBC. "After the second, I knew we were in a good position and needed a little over 800. I didn't want to say anything to the team until we did it."
Three members of the Fantastic Five are family - Barbara and Mark are married, and Mark Jr. is their son. Both mom and dad were very excited for the team and that their son was able to be part of it.
"Mama bear is very proud," Barbara said.
"I'm very ecstatic and happy for my son, since it's his first time here," added Mark.
Long, who led the way for the Fantastic Five with a 671 series, also was elated.
"My previous two tournaments were depressing, but this definitely makes up for that," Long said.
Long posted games of 244, 218 and 209 to pace the team and was followed by Sweeting (633), Mark Rivera (552), Mark Rivera Jr. (535) and Barbara Rivera (518).
When talking about his new teammates, Sweeting said, "I want to give praise to everyone. We never talked down to each other, and we picked each other up all day long."
The 2,909 is the highest score in Classified Team since Paradise Lanes of Walden, Colorado, won the 2011 event with a 2,910 total. The record in Classified Team was set in 1991 by Lewis Marine Supply of Fort Lauderdale, Florida, at 2,974.
Team competition at the 2022 USBC Open Championships concluded Sunday, with doubles and singles competition coming to a close Monday.
The 2022 event kicked off March 12, and the 2023 Open Championships will take place in Reno, Nevada, and run from March 11-July 24.
Classified Team features five-player teams with combined entering averages of 775 and below.
Visit us on Facebook at the
official USBC Open Championships page
.