The Bayside Vibe. Now-Legendary New England center injects rowdy, family-reunion culture into pro bowling
September 14, 2022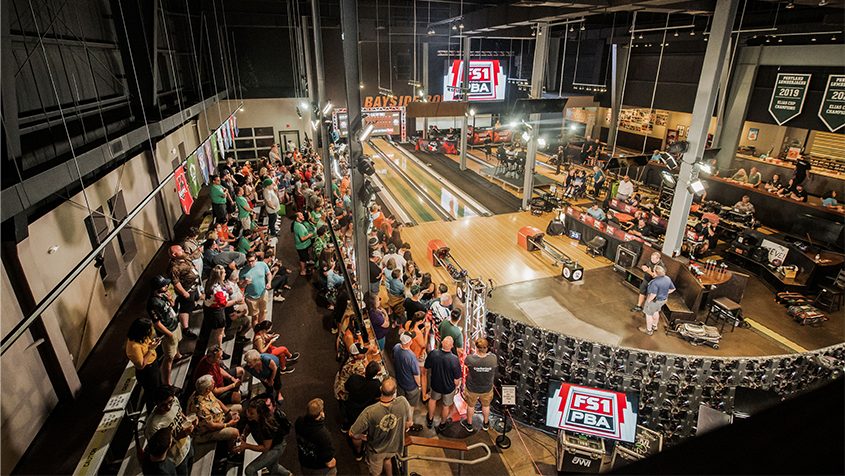 "Double Cheese" is ready to erupt.
So is "Lala."
"The Heartbreak Kid," a case of Pabst Blue Ribbon at his feet, stands nearby, his fists clenched.
"Buck Ripcord" and his wife, "Mrs. Ripcord," donning matching bright orange t-shirts, are poised for the big sendoff.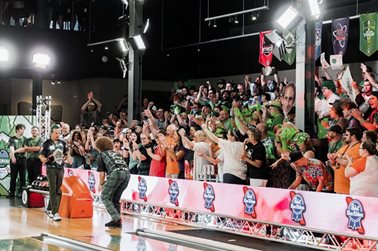 And so, with the music blaring — think "Fireball" and "You Spin Me Round" — and spinning lights hovering overhead, Double Cheese, Lala, the Kid, and Buck and Mrs. Ripcord, along with 500-plus local fans/partygoers jammed into the makeshift bleachers at cozy Bayside Bowl in Portland, Maine, prep for what would be the title-clinching shot of the 2022 PBA Elias Cup Finals.
Look closely and you'll find the colors of all eight Elias Cup teams and bowling jerseys from leagues from Los Angeles to Milwaukee to Staten Island. A collection of love-of-bowling shirts freckle the crowd, with puns like SPARE WARS. Or Stranger Pins. Or PACKY, in reference to Lumberjacks player Packy Hanrahan, but with a yellow Pac-Man for illustration.
As is tradition at the decidedly untraditional PBA host center, the crowd starts its rolling chant,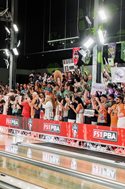 "Wooooooooooah," as big, burly Wes Malott — who looks perfectly at home in the Pine Tree State as the anchor for the Lumberjacks — sends his ball hurtling towards the pins. Needing just six pins to secure the title for his squad, Malott chops down nine and the crowd screams its approval.
A man in full lion costume, dressed as the Boston Bruins mascot, Blades the Bruin, waves his fury paws. Another fan waves an ax.
Malott, in his pine-green-and-black plaid uniform, pumps both fists into the air and turns to the fans. "We love you," he responds.
The crowd waves bobble-head like posters of pros. They yell. They roar. It's pandemonium.
Bottle the energy pulsing through Bayside Bowl during the Elias Cup Finals and the facility wouldn't need its rooftop solar panels to offset their electricity demands.
"It feels like a Duke-Carolina basketball game," notes play by play announcer Dave Ryan, on assignment for Fox Sports. "The other stops we go to, the qualifying rounds — a lot of fans attend, but they're quieter, respectful. Here, there's a raw enthusiasm for the game."
The atmosphere at Bayside Bowl is now legendary. It's also an atmosphere that the sport would love to tap into all around the country.
"This has become the most anticipated event of the year," says PBA Commissioner Tom Clark. "Every player wants to be part of it. Bayside gave this concept of a PBA league new life."
But not long ago, would anyone have guessed that a 20-lane bowling center in a small waterfront community of artists, foodies and beachcombers would be the key to getting bowling back on broadcast television? Or shifting the culture of what it means to be a Professional Bowlers Association fan in such a way that it has widened the sport's fan base?
A banner and Bragging Rights
Bayside owner Charlie Mitchell, an ultimate frisbee player who wanted a regular hangout night to break up the long Maine winters, started a league called Bowl Portland, or BoPo. Before long, the growing league needed a bowling center to call home. With bowling buddy Justin Alfond, Mitchell bought and transformed an old warehouse in Bayside — which was then a rundown and rather gritty pocket of Portland — into a popular, 12-lane bowling center called Bayside Bowl.
In a state where there are an estimated 7.6 breweries per 1,000 adults of legal drinking age, you can be sure that local beer is part of the equation, as well as made-to-order food like wings and burgers and the Canadian-style local favorite poutine — fries topped with cheddar cheese curds and gravy.
Bayside Bowl quickly became a place where everybody knows your name — your league name, if not your real one. Where a perfect game earns you an engraved brick on the wall. A league win — with no money at stake — is about a banner and bragging rights. Every league is co-ed, and no one cares whether you're a long-haul trucker or pediatric neurologist. All that matters is that you can bowl, and even that is somewhat negotiable.
The house league that basically built Bayside is up to 54 teams — about 350 members — with a waiting list to join. There is even a networking app on the BoPo website, appropriately called "Pinder," that allows teams to find new teammates. Sister leagues at Bayside (CascoBaySports and Restaurant League) add another 350 bowlers to burgeoning league scene. And, not surprisingly, the long, rugged New England winters help fill multiple shifts four nights a week with more than 100 teams.
"A lot of us have been bowling long enough now to think about the intricacies of the sport," Mitchell says. "But we still just get together to bowl once a week, with a DJ and some drinks."
"It's effortlessly cool," says BoPo player Chris "Double Cheese" Ogden. "Everyone's got a place here if they want it. It's not so much about bowling but about people hanging out while they're bowling."
'A Different Format'
Meanwhile, the PBA had been exploring the question: How do we look at a different format to play to a new audience?
"Traditionally, this is an individual sport," Clark says. "We tried to create these teams and transform it into a league sport. And for two years, it had no juice."
It seemed like the fan base, raised watching individual bowlers compete against each other, wasn't excited about league play — even when the leagues were made up of the best bowlers in the world. It sounded like a formula that should work, but something was missing.
In 2013, Clark was in Maine to meet with sports marketing consultant Brian Corcoran. When Clark asked about the local bowling scene, Corcoran described Bayside Bowl as having an "electric ambiance." Clark just had to see it for himself.
"I came here the night of the BoPo league," Clark says. "And the place was going crazy with their regular league bowling. And they all stopped and started chanting my name and knew who I was from the PBA."
Experiencing the surge of energy at Bayside, entirely built on league play, Clark thought, Why not
here? Why not bring the league where league play is king? The whole thing would be on television, so they wouldn't need 32 lanes. They would need two lanes, 40 of the best bowlers in the world and — in Clark's estimation — the nation's best league bowling fans.
Corcoran knew they'd also need $100,000 to $150,000 in sponsorships to get the PBA to his home market. But once he got the ball rolling with anchor sponsors Visit Maine and Shipyard Brewing, he knew it would be a win.
"One thing led to another," says Corcoran (who, incidentally, also brought the Professional Golfers Association (PGA) to Southern Maine in 2021 and 2022).
The noise level at the first Elias Cup in 2015 was deafening.
Clark says, "The way our crowds had been conditioned for years was that you can be loud until the bowler is on the approach. Then, there's no noise. Our tournament director at the time, Kirk von Krueger, gave the crowd that whole spiel."
Imagine how this sounded to BoPo league players who came out in droves for what might have been their one and only shot to see the best of the best. Few of them had ever bowled with this sort of etiquette. And if the PBA didn't want boisterousness, why had they picked a place that was wild on a regular ol' Tuesday?
Local bowler Hurley Oliver and his wife Donna, who manages Spare Time Bowling 50 miles north in Hallowell, Maine, love to tell the story of the day Mainers changed what it meant to be a PBA fan.
"The first year," Hurley says, "the emcee came out and he wanted to tell the crowd that when the bowlers were on the approach, we needed to be quiet. Walter Ray Williams Jr. talked to him and said, 'We don't really want them to be quiet. Let them cheer.'"
"Let them cheer," Donna says, pumping her first. "Let them cheer."
"I remember it like it was yesterday," Clark says. "Kirk and I looked at the players and said, 'Do you mind if they cheer while you're up?'"
What were they going to say? That they couldn't bowl with a little noise?
"The first frame, some of the greatest bowlers in the world were in that lineup, and they were leaving easy spares," Clark says. "Three straight guys missed, because they just hadn't bowled in that environment with everybody going crazy the whole time. I honestly thought to myself, Are they missing on purpose because they're mad about this? That's how crazy it was that they missed like this. But they weren't. They were just nervous, shaken by how loud it was. And then they got used to it."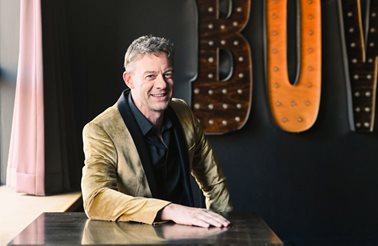 When Bayside first hosted the PBA, Mitchell hadn't been to a pro event and didn't quite realize that his league and his bowling center were changing the rules of watching the game.
"Now I've seen a few pro events and get it," Mitchell says. "Other places, it's a little more like a tennis match. The tradition was to be quiet — respectful and quiet."
"I grew up with that," agrees Joseph Colcord, the BoPo player known as Buck Ripcord who averaged 235.0 last year. "And this is nothing like that."
Now, when a pro like Hanrahan steps onto the approach to chants of "PackEEEEEE," he knows that over his six-day stay at Bayside, he's one of the boys.
"This is the culture we operate on in our leagues — with beer and cheering and everyone teasing each other in good fun," says Morgan "Lala" DiPietro, art director at a local design agency. "All of that has created a close-knit community."
What makes Bayside's come-join-the-party vibe the perfect fit for the PBA is a balance between being welcoming and being respectful.
Both have their place, and the come-join-the-party vibe is strong at Bayside Bowl.
"There are a million league bowlers in 3,000 bowling centers around the country," Clark says. "BoPo, is, to me, the most fun bowling league. It started more as friends taking up a new thing, bowling, and bringing in their own personalities. And, as it turns out, they got addicted to bowling. And they watched bowling on TV. And they know all the pros, and they know me. You take this combination of partiers who took up your game, and then the pros come in. It just gave it this incredible energy."
Mitchell remembers busting through two inches of ice on the sidewalk in April 2015 to make room for the PBA Tour bus to park. And yet, the day of the first afternoon show, fans were tailgating in the parking lot at 7 a.m.
"It was a great tailgate party, and the PBA hasn't had many of those," Clark laughs. "When we go to great bowling cities like Detroit, Indianapolis, or Milwaukee, they have this natural inclination to respect bowlers. And they are loud and enthusiastic — but after shots. And there's no music playing; they'd think that was practically sacrilegious."
In contrast, Mitchell describes the Elias Cup at Bayside as the "Kentucky Derby of bowling." In other words, the party is every bit as big as the sport itself.
That first year, one of the pros was overheard describing Portland as "better than Milwaukee in the '80s" — which, of course, Mitchell had printed on t-shirts. That's how they roll at Bayside.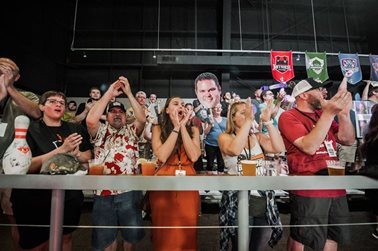 Picking Up Momentum
The partnership between Bayside and the PBA has been a growth opportunity for both parties.
In 2016, Bayside began a $3 million renovation and expansion, adding eight lanes and a viewing mezzanine with a full bar and an old-school arcade. The icing on the cake, so to speak, was a rooftop bar. A shimmering, silver, 1962 Airstream was hauled up there with a crane, and the tacos served out of that thing are some of the best in the area.
"This side was built specifically with the PBA in mind," Mitchell says, gesturing to what is described as Bayside West. "I wanted to build a stadium looking down on the lanes. It's modern but true to what we are. We're not your standard 36-lane bowling-only sort of center. This is a night club as much as it is a bowling center, really."
Bayside's business has grown to include concerts, fundraisers, movie nights and weddings, with the nuptials happening on the rooftop followed by — you guessed it — bowling.
That wasn't the case when Bayside opened 12 years ago. It was one of just a few businesses in the neighborhood. The parking lot wasn't even paved. Where Bayside West now stands, the City of Portland used to store salt and sand trucks. Today, Bayside Bowl is surrounded by restaurants and food-centric businesses, and over the past couple of years those businesses have been referencing their proximity to Bayside Bowl in their advertising.
It's not the least bit surprising that hosting the PBA facilitated growth for Bayside Bowl — and Bayside the neighborhood. But the BoPo culture has also been pivotal in the growth of bowling's television fan base, including a switch from ESPN to FOX.
"Bayside helped me get FOX as our major media partner," Clark insists, adding that the BoPo league's name-chanting trick worked its magic with Fox executives. "While most of the shows are on FOX Sports 1, five are on FOX — a network station. And so, the PBA came back to broadcast television after almost 20 years. And this place played a role in us getting there, because the FOX executives got to witness an atmosphere here that they wouldn't have expected at a pro bowling tournament."
In 2015, the pros were a bit curious why they were headed to a 12-lane center in Maine. But, by July 2022, pros like 2021 Player of the Year and the 2022 ESPY Best Bowler Kyle Troup knew they were in for some fun. This year, he even got to watch the Casco Bay July 4 fireworks from Bayside's rooftop bar.
"The people here, they just love bowlin','" says the North Carolina native. "They love to have a good time. The way they run their leagues, the music's always playing. They know each other from their leagues, and they welcome us as family. We get to play a Pro-Am with them and make connections with people at the bowling center, just kind of hanging out."
A week of signing bowling pins and schmoozing with fans at the rooftop bar — which has replaced parking lot tailgate parties — is one thing. But what about the ruckus? What's it like to bowl when there's someone bouncing a giant cartoon cutout of your head and the crowd is chanting, "The Troup, the Troup, the Troup is on fire"?
"I use the cheering to my advantage to get the crowd on my side," Troup says. "It gives me drive. Even in this environment, we're professional bowlers. We can still lock it in."
For Troup, the fans' unrestrained noise level doesn't show a lack of respect; it shows commitment.
The Three Rings
"I love the atmosphere that's created by both the fans and the team competition," says Buck Ripcord, who insists that, as an operations expert for a health insurance company, he's really not one of BoPo's more colorful figures.
"The coolest thing is seeing the pros enjoying themselves as much as we are," adds Ogden, a commercial producer for a local television station who, not surprisingly, was given his nickname by another BoPo regular ("Nuber") after ordering extra cheese on his burger some years back.
"We're yelling from start to finish," echoes Kenny Sweet, the 27-year-old BoPo regular known as Heartbreak Kid, named after his favorite professional wrestler, Shawn Michaels. "The fans have been here all week and they're still going.
"It's special here," adds Sweet, who, as a fellow two-hander, cheers loudest for Kyle Troup. "Everyone from the casual fan to the pro completely buys into the atmosphere and the energy here."
Sweet's eyes widen as he sees himself on the jumbotron, grinning with a case of Pabst's Blue Ribbon on his shoulder, his prize for winning a local's mini clash. When you're invited to bowl for some prerecorded filler for a PBA show, he says, you've got to ham it up.
On Sunday afternoon, Mitchell, resplendent in a gold blazer and grinning ear to ear, struts around the makeshift arena like the leader of a three-ring circus, which, of course, makes perfect sense. The Elias Cup at Bayside Bowl is, indeed, a three-ring spectacle: the game itself, the television production, and the fans.
The players are the heroes, each with his own story. The fans are well aware of which bowled a perfect game two days before and who earns the most money. They know the Lumberjacks — Troup, Hanrahan, Malott, Kris Prather, Arturo Quintero and team manager Tim Mack — as professional athletes.
The television captures the drama. Can the Lumberjacks best the Strikers and win a third straight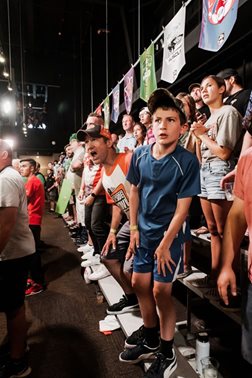 Elias Cup?
Or would Duke, the 58-year-old legend, end his 40-year career on a win with his third Elias Cup?
Last but not least are the fans.
No matter how far these fans traveled, including the ones from Florida, Ohio and Wisconsin, they got what they came for: Six days celebrating pro bowling. The Bayside crowd tested the limits of the sound recording equipment, rendering FOX's attempts to capture interaction between the players futile. No worries. The joy and excitement were palpable.
We know how it ended — Lumberjacks 205, Strikers 180. Somehow it felt proper that the title match was an emotional rollercoaster ride of splits and missed spares, with a whiffed single-pin spare by the Strikers' Matt Ogle opening the door for Malott's clincher.
With the fill ball still to be thrown, Malott authors the weekend's Hallmark moment by insisting that fellow Hall of Famer and beloved Strikers' player-manager Norm Duke take the honors.
On queue, Duke wipes tears from his already watering eyes and delivers a strike.
The energy of the Bayside faithful unifies in its love of bowling, with nary a dry eye in the house.
In one last fitting gesture, Mitchell sheds his gold ringmaster's jacket and offers it to Duke, who puts it on, thumbing away another batch of tears.
And the fans — they did what they do best. They chanted their appreciation: "Thank You, Norm!"
Until next time.