The trials of Mike Edwards
June 22, 2012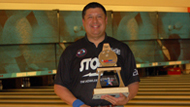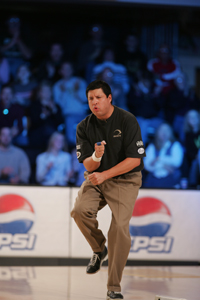 The greatest times Mike Edwards has had on the lanes were preceded by some of the darkest moments of his life. It was only fitting, then, that the first major title of his career, the 2012 United States Bowling Congress
Senior Masters
, was preceded by the darkest moment of all.
Even Edwards's decision to become a PBA member traces back to misfortune—a busted knee that derailed his aspirations of acquiring a college football scholarship.
"I could hear it snap," Edwards said in 1985 of the injury sustained playing for Tulsa Edison High School. "It looked like spaghetti on the x-rays."
With football out of the picture, and a need to figure out what he would do to get by in the world, the strapping son of athletic parents returned to a familiar haunt.
"I remember the first time I met Norm Duke, he was 14 years old," Edwards recalls of his days bowling action as a kid in and around his native Oklahoma. "We butted heads over in Edmond and even here in Tulsa. I remember one time Norm came to town with all the Texas guys like Bob Benoit and Del Ballard. Anytime we bowled each other, it was a tough match.
"I think bowling stuff like that helped me when I was just starting out. You know, times when you need a strike and you don't have a dime to your name and there's a couple thousand dollars on the line. I kind of miss those days, staying up all night bowling action. It was the thing to do back then."
Like any young hotshot who thinks he's got the kind of game you can take on the road, Edwards quickly learned the bridge between ambition and reality is a tough one to cross.
"It took me a year-and-a-half just to make it out of the rabbit squad," he recalls. "I was like a deer in headlights. I thought I was just going to go out and run everybody over. That was not the case."
It would not be the case for years to come, in fact. A devastating break at a place called Forum Bowl in Grand Prairie, Texas, made sure of that.
There, Edwards stood a mark away from defeating one of the greatest PBA players of all time, Hall of Famer Mike Durbin, for his first title at the PBA Quaker State Open. What happened next haunted him for years.
"I couldn't understand why it didn't strike," Edwards says of the ball he threw in the 10th, a shot that should have been a high-flush strike but instead left him with a 4-9 split he failed to convert.
Durbin walked away with the trophy; Edwards walked away destined to join the unflattering ranks of the PBA's "winningest non-champions."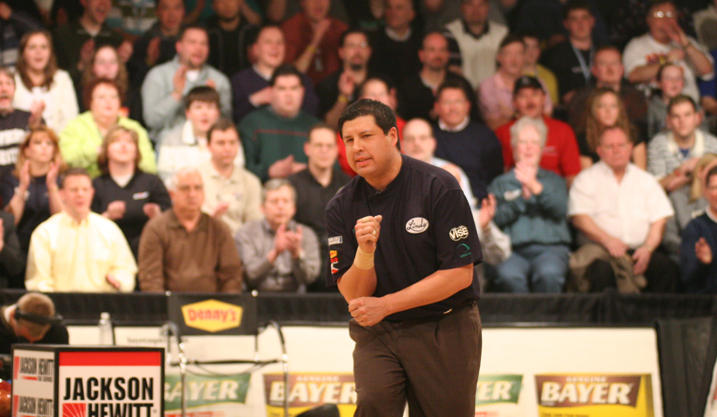 "I had several really good chances to win after that, but I gave them all away," Edwards says of the next nine years of his bowling career. "Every time I got there, I thought too much about what might happen instead of staying in the moment."
Then came a PBA Tour stop called the IOF Foresters Bowling for Miracles Open in Ontario, Canada in 1994. What better place to make a long-time dream come true than at a tournament named for miracles? But this is the life of Mike Edwards, where dreams only come true just when they seem farther from reach than ever before.
"I just bowled awful the week before," Edwards recalls. "It was so bad that I flew home and did not pick up a ball for a week. When I got to Canada, I don't know, it was just one of those things where I said 'Well, I can't do any worse than last week.'"
Maybe lower expectations make for happier outcomes. Whatever the explanation, Mike Edwards called himself a PBA champion that day for the first time since joining the tour 13 years prior.
"I didn't know whether this day would ever come," he said at the time.
It would not come again for the next 18 years. Edwards may have gotten the break he always wanted in Canada that day, but the usual breaks resumed thereafter. He made more than a dozen shows in the ensuing years and came away with not a single additional title to show for the effort.
When word of the PBA's intention to switch to an exempt tour format for the 2004-05 season got out, Edwards did not just wonder if he ever would win a title again; he wondered if he ever would bowl for a living again.
"Around 2003, nothing was going right for me, personally or professionally," Edwards says. "I was going through a divorce that affected me a lot, career-wise nothing was going right, and then I lost my exemption."
Anyone else with just a single title to show for more than 20 years of toil on tour might have called it a career. Anyone, that is, except for the son of one James Morris Edwards Jr.
"I had a long talk with my dad," Edwards explains. "He always was my biggest supporter, and he said 'You don't want to go out on these terms. You want to go out on your terms.' At the time, I didn't know what to do."
It was not going to be easy, but when the PBA rolled out the Tour Trials concept, at least he knew what to do—pack his bags and head to Stardust Bowl in Merrillville,Ind., to bowl for his livelihood.
Edwards arrived in Merrillville with his worst season on tour in 20 years behind him and no idea what he might do with the rest of his life. But there's something about desperation that awakens the competitor in Mike Edwards; he proceeded to bowl better that week than ever before.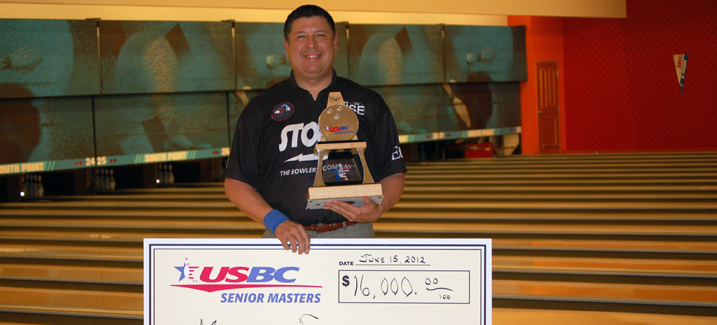 Edwards won by more than 550 pins, locking up the first of eight available exempt spots for the 2004-05 PBA Tour season. He averaged 240 for the week in a tournament in which he had to bowl on five different lane patterns.
"I don't know, I just felt like I had nothing to lose," Edwards recalls of that performance. "It didn't count as an official PBA title, but in my heart it did. Besides winning my first title in 1994 and the Senior Masters last week, it was the most satisfying win I ever had."
Edwards again found himself with nothing left to lose when he showed up to bowl the USBC Senior Masters in Las Vegas last week. The man who talked him into trying his luck in Merrillville eight years ago, the one he knew would never give up on him, no longer would be available for those long talks in times of need. James Morris Edwards Jr. passed away in November.
"It was very traumatic, the way everything happened," Edwards says. "Stuff didn't make sense to me there for a while. Bowling was the last thing I thought about; I really didn't care about anything at that point. But with the help of my wife, Sam, I was able to start getting past dealing with it. My wife is the love of my life; I don't know where I would be without her.
"But there are still times where it hits me that I won't be able to talk to him again. I think that will always be there. I always was able to call him after I bowled and talk to him. He would understand. There were some rough patches, even in the last two months when I was starting to get back in shape and get back into bowling again."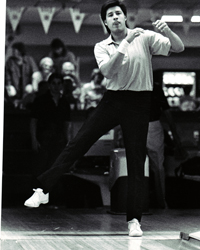 Had it not been for something his wife Samantha said to him, he might never have gotten back into bowling at all.
"She said 'You know your dad would not want you to quit,'" Edwards recalls. "'He wants you to do your best, and you need to honor that. You need to keep going.'"
Somewhere in the eternity it took a five pin to fall on a light hit in the 10th frame of the Senior Masters title match last week, Edwards may have wondered if it was worth it to have kept going, if this would be yet another moment when a title teased him before slipping through his fingers. But then that wobbly five pin fell, bringing him that much closer to his first title in 18 years, and Edwards collapsed to his knees.
"I thought 'Finally! One for the good guys!'" Edwards says. "Yeah, that made up for a couple bad breaks. I can still see it; I still think about it, that it actually did fall. I actually did catch a break."
But if you think his second national title in 18 years is enough to assuage the agony of so many times when the pins didn't fall, think again.
"It made up for some of the bad breaks, but it still didn't make up for a few others," Edwards said. "I am just going to use this momentum to get geared up for the last two senior stops in August."
Maybe by then the good guys will have more luck in store.