Thiel Celebrates 70 Years at Open Championships
March 20, 2015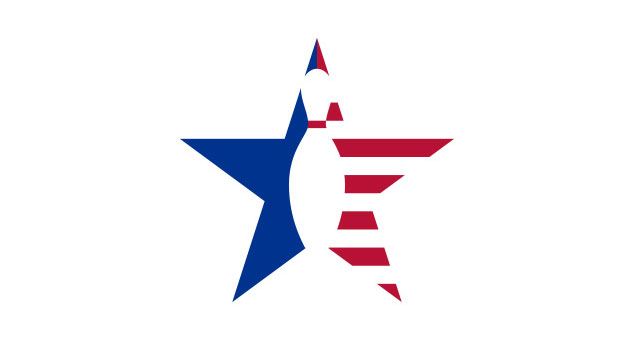 By Matt Cannizzaro and Aaron Smith
USBC Communications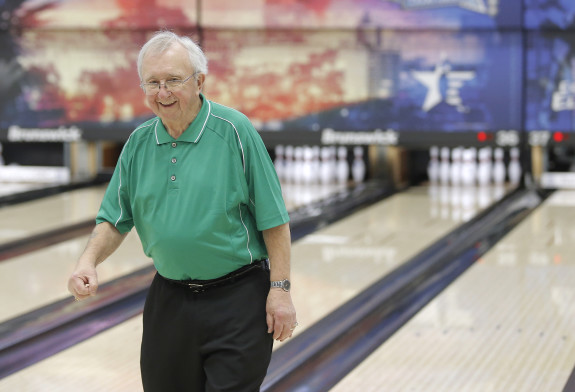 Sylvester Thiel of Lake City, Minnesota, walked into the El Paso Convention Center, said hello to the dozens of people who look forward to seeing him each year and then headed toward the lanes, where more than 150 bowlers were hard at work on their own United States Bowling Congress Open Championships legacies.
Thiel slowly climbed into the stands to take a look around the expansive venue and see what he could learn about this year's lane conditions, a ritual his wife, Phyllis, says has been the same for decades.
Even at 92 years old, Thiel is a competitor.
A few hours later, he returned to the convention center in his team uniform as focused as when he did so for the first time at the 1940 event in Detroit. He wheeled his 10-pound ball (and a heavier back-up option for the first time in years) toward the squad room, gently placed them on the scale to be weighed and then claimed a seat, so he could lace up the bowling shoes he'd wear for his upcoming march into the tournament record book.
Thiel's teammates waited patiently by lane 37, while all 44 teams of bowlers and hundreds of bowling fans rose to their feet to witness his milestone trip down Center Aisle. The standing ovation ushered him into the tournament's 70-Year Club as its third member, and first since 1999.
Only late USBC Hall of Famers Joe Norris of San Diego and Bill Doehrman of Fort Wayne, Indiana, logged more years on the tournament lanes, each competing 71 times. Doehrman's appearances were consecutive from 1908 to 1981, while Norris started in 1926 and bowled until 2000, when he finished his career with a record pinfall of 123,770.

"This definitely is exciting, especially since it hasn't been done in a while," said Thiel, who became the first bowler to receive the event's new crystal 70 Years Award. "I got emotional last year, and this is even more special. It started sinking in as soon as I walked in. I'm just happy to still be able to do what I've been doing all these years."
While many aspects of the tournament have changed, from the uniforms to the equipment to the lane conditions, many also have stayed the same, like the chance to see different parts of the country and spend time with teammates and friends.
Until Phyllis made her first trip to the tournament in 1965, Thiel was so focused on the competition that he didn't take advantage of all the great places he went. She has been by his side for all but one tournament since, and she made her own debut on the tournament lanes in 2002. The two now bowl doubles together.
"As soon as we'd walk into the venue, it was like I wasn't there because he was so focused on the tournament and the shot, but I was still glad to be a part of it," Phyllis Thiel said. "When he was young, all he did was eat and drink and bowl when he was at the tournament, but since I've been along, we've really enjoyed all of the sightseeing in each city, too."
Thiel was just a high school student when he made his first USBC Open Championships appearance, and he only bowled in the team event that year. He missed the 1941 event to focus on school, and he spent three years in the U.S. Air Force when the tournament wasn't held from 1943-1945 due to World War II.
He has been to all but two tournaments since 1946, missing the 1954 and 1964 events because his responsibilities as a bowling center manager didn't afford him the chance to get away to compete. Even a heart attack in 2003 didn't slow Thiel down.
Seven decades of memories include a rooster tail of water on the lanes during a rain storm in Atlantic City, New Jersey, in 1949 and a top-25 doubles finish with Bert Price in Rochester, New York, in 1956.

In Baton Rouge, Louisiana, in 2005, Thiel solidified his place in history when he celebrated his 60th tournament appearance by also joining the elite 100,000-Pin Club.
Only 19 bowlers in Open Championships history (through 2014) have competed in 60 or more tournaments, with only seven eclipsing the 65-year mark.
Norris (123,770), Thiel (112,385) and Doehrman (109,566) are three of the 15 members of the 100,000-Pin Club.
Although Thiel has not won a title on the championship lanes, he has spent nearly 80 years bowling with and against the best bowlers in the world as a member of some of the famous sponsored teams of the 1950s or in the great classic leagues of the era. His dedication to the sport and the Open Championships has made his name as familiar as any at the event.
"People ask why I only throw a 10-pound ball, but it's all I can use after an injury to the tendons and muscles in my arm," said Thiel, who has maintained a 181 tournament average. "It's something I have to do if I want to keep bowling. It took me a long time, but I finally was able to appreciate my scores for what they are now, even though they're not what they used to be. What matters is the fact that I'm still bowling. Plus, my wife, and the bowlers we bowl with, do not want me to quit, and that helps push me."
Thiel entered the 2015 tournament sixth on the career pinfall list and is continuing his pursuit of Norris, the all-time pinfall leader, and USBC Hall of Famer Bill Lillard Sr. of Houston, the active pinfall leader, who needs just 853 pins this year to surpass Norris. Lillard is scheduled to compete March 30-31.
For more information on the Open Championships, visit BOWL.com/OpenChamp.
Visit us on Facebook at the official USBC Open/Women's Championships page.
2015 USBC OPEN CHAMPIONSHIPS
El Paso Convention Center, El Paso, Texas
(Top 10 division leaders with hometown and pinfall)
REGULAR DIVISION
Team
1, The Cutting Edge (Bill Clarkin, George Eason, Dennis Glesmann, Kyle Taylor, Clint Ekhoff), Windsor, Colo., 3,032. 2, Amfco 1, Chula Vista, Calif., 2,936. 3, Team Kegel, Winter Haven, Fla., 2,931. 4, South Point Bowling, Roselle Park, N.J., 2,924. 5, Street Rags, Evansville, Wis., 2,906. 6, Wickliffe Lanes, Mentor, Ohio, 2,896. 7(tie), Mrb 1, Bloomington, Ill., and Team SD Storm, Sioux Falls, S.D., 2,894. 9, Larry's Quality Snacks, Hartland, Wis., 2,893. 10, Towne & Country Lanes, Hartland, Wis., 2,883.
Doubles
1, Tom Woodworth/Jeremy Sonnenfeld, Sioux Falls, S.D., 1,372. 2, Doug McHugh/Bo Johnson, Huron, S.D., 1,298. 3, Matt Lawrence/Rick Lawrence, Waxahachie, Texas, 1,223. 4, Chris Giddens, Dallas/Rob Hisey, San Diego, 1,216. 5, Robert A. Bures, Mentor, OH/Robert J Bures, Mentor,OH, 1,215. 6, Nate Hand, Rapid City, S.D./Brian Diede, Huron, S.D., 1,211. 7, Larry Eide, Sioux Falls, S.D./Jamie Eide, Harrisburg, S.D., 1,208. 8, Mark Davis/Anthony Crews, Sebring, Fla., 1,206. 9, Joseph Crocco Jr., Racine, Wis./Gary Exner, Racine, Wis., 1,202. 10, Charles Shelton/Martin Vitelli, Princess Anne, Md., 1,199.
Singles
1, Brandon Nelson, Fargo, N.D., 712. 2, Kyle Taylor, Loveland, Colo., 708. 3, Joseph Crocco Jr., Racine, Wis., 700. 4, Mark Davis, Sebring, Fla., 691. 5(tie), Jordan Gray, Columbus, Ind., and William Gray, Columbus, Ind., 690. 7, Andraunick Simounet, Lake Wales, Fla., 689. 8, Chris Stenger, Bloomington, Ill., 687. 9, Ben Dischinger, Rosemount, Minn., 684. 10, Rick Malley, North East, Md., 683.
All-Events
1, Terrance Reeves III, Winter Haven, Fla., 1,978. 2, Scott Salinas, Racine, Wis., 1,974. 3, Kyle Taylor, Loveland, Colo., 1,919. 4, Brandon Hasley, Rochester, Minn., 1,916. 5, Robert J Bures, Mentor, OH, 1.906. 6, Matt Kirkpatrick, Bloomington, Ill., 1,898. 7, Darik Rude, Mazeppa, Minn., 1,895. 8, Terrence Blevins, Chicago, 1,892. 9, Josh Hepp, Sioux Falls, S.D., 1,886. 10, Ryan Burchfield, Columbus, Ind., 1,880.
CLASSIFIED DIVISION
Team
1, Lani Ohana (Calvin Leong, Jesse Kaawaloa, Stanley Kaawaloa, Lani Ring, Jimmy Fujimoto), Kaneohe, Hawaii, 2,532. 2, Stri King 1, Hannaford, N.D., 2,506. 3, Melody Lanes 4, Montevideo, Minn., 2,505. 4, TH-1, Miami, 2,490. 5, Weaver Farms, St. Anthony, Idaho, 2,485. 6, Mel's Diner, Calmar, Iowa, 2,478. 7, Melody Lanes 1, Montevideo, Minn., 2,477. 8, Gary Sanders Masonry, West Point, Iowa, 2,460. 9, Hughes Farms 1, Parsons, Kan., 2,451. 10, Tom's Bowling Center 2, Gibbon, Minn., 2,436.
Doubles
1, Sharon Nelson, Mesa, Ariz./Missy Price, Harrisburg, S.D., 1,100. 2, Vern Minor, Thayer, Kan./Craig Carnahan, Altamont, Kan., 1,093. 3, Karla Coon, Dawson, Minn./Chad Reimer, Granite Falls, Minn., 1,090. 4, Larry Wittmeier, Vermillion, S.D./Bill Hochstein, Hartington, Neb., 1,081. 5, Willis Peterson, Hannaford, N.D./Scott Saxberg, Cooperstown, N.D., 1,059. 6, Kevin Stark, Buffalo Lake, Minn./Scott Schwarzrock, Gibbon, Minn., 1,052. 7, Al Wagner/Doug Blood, Montevideo, Minn., 1,048. 8, Jason Vanderstelt, Montevideo, Minn./Gary Paige, Eden Prairie, Minn., 1,037. 9(tie), Debbie Melville/Stacey Rost, Watertown, S.D., and Cheryl Fujimoto/Lani Ring, Honolulu, 1,035.
Singles
1, Mark Bearman, Webster, S.D., 601. 2, Jason Gorley, Tacoma, Wash., 593. 3, Greg Frey, Albuquerque, N.M., 581. 4, Harold Schroeder, Gibbon, Minn., 575. 5, Lyle Maly, Weston, Neb., 572. 6, Robert Montgomery, Stuart, Iowa, 570. 7, Ray Welcing Jr., Bonduel, Wis., 569. 8(tie), Robert Krcil, Hutchinson, Minn., and Robert Holbrook, Everett, Wash., 559. 10, Bill Cherry, Calhoun, Ga., 557.
All-Events
1, Joseph Whittaker, Provo, Utah, 1,660. 2, Paul Reker, New Ulm, Mont., 1,643. 3, Missy Price, Harrisburg, S.D., 1,636. 4, Jason Gorley, Tacoma, Wash., 1,632. 5, Tyler Stockeland, Hannaford, N.D., 1,608. 6, Richard Greathouse, Sarcoxie, Mo., 1,601. 7, Lani Ring, Honolulu, 1,599. 8, Ray Welcing Jr., Bonduel, Wis., 1,587. 9, Bill Cherry, Calhoun, Ga., 1,586. 10, Robert Holbrook, Everett, Wash., 1,582.