Third round voting begins in 2020 OC Bracket Challenge
July 07, 2020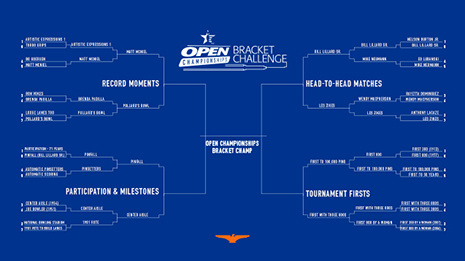 Only eight remain!

We're down to the final match for each of the four quadrants in the 2020 Open Championships Bracket Challenge - Record Moments, Participation/General OC Milestones, Tournament Firsts and Head-to-Head Matchups.

It's hard to believe we've now narrowed more than a century of competition, moments, milestones and memories to just eight final contenders.

We've seen some passionate discussion and a few potential upsets along the way. Most importantly, we've had a great time reminiscing about the Open Championships and celebrating its amazing history.

A tremendous responsibility lies ahead for all of the bowling fans and voters, and we look forward to seeing which bowlers, milestones or accomplishments advance to the bracket semifinals.

We've got details for each match, along with insight and picks from the OC public relations staff and some special guests.

Remember to visit the official USBC Open Championships Facebook page each day to cast your votes for each match!

MATCH 1 - RECORD MOMENTS
Matt McNiel's 2,326 vs. Pollard's Bowl 10,425

Two incredible records but as different as can be.

They happened about a decade and a half apart (2010 and 1996), and some might even argue in different eras as far as equipment and lane conditions are concerned. One was individual and featured a left-hander, while the other included five right-handers communicating and working together.

Now, it's time to decide which turned more heads at the Open Championships and within the bowling industry.

STAFF PICK

Matt Cannizzaro (OC PR Manager since 2005): Pollard's Bowl
Why: This one was so tough, but I also feel this matchup was a little more comparable than previous rounds, since both records included all nine games.

That said, I leaned in favor of Pollard's Bowl and the Team All-Events record, even though it was hard having to vote against a fellow left-hander.

All five members of the Pollard's Bowl team were able to keep it together over the nine games to all shoot between 2,049 and 2,107. A complete team effort. Communication and consistency at its finest.

GUEST PICKS

Duane Hagen (OC Tournament Director since 2008): Pollard's Bowl
Why: For the same reasoning as past rounds - this spanned 45 games and included consistency among all of the performers, with no one really carrying the scoring banner.

Fran Piraino (longtime bowling writer and historian in Syracuse area): Pollard's Bowl
Why: Both are phenomenal records, and both will go down as two of greatest OC achievements. Yet, what Pollard's Bowl did as a team in 1996, is on another level. Therefore, they are moving on.

Bob Johnson (Bowlers Journal International): Pollard's Bowl
Why: Matt McNiel's performance a decade ago was truly phenomenal, but the Pollard's Bowl team effort has stood the test of time. In an era when scores themselves have become less meaningful, record scores that hold up for an extended period are truly worthy of admiration.
Bob Hart (USBC Hall of Famer/reaching 65 years of OC participation in 2020): Pollard's Bowl
Why: I choose the winner based on five individuals working together, all with varying styles, over 45 games, on continuously changing lane conditions. All five individuals have to contribute at a high level. 
Doug Shellum (Open Championships and Minnesota bowling historian, 31-time OC participant): Pollard's Bowl
Why: Getting five individuals lined up on the national stage at the Open Championships is a lot tougher to me - having to change balls and lines and having the mental toughness to stick with your teammates to make that dream of an Eagle a reality when your shot is changing.

This in no way lessens the impact Matt McNiel has had on record books at the Open Championships! That's still incredible and leaves me envious.

MATCH 2 - PARTICIPATION AND MILESTONES
Pinfall vs. Center Aisle

Another tough choice between success/dedication and tradition.

There's no doubt the bowlers and the amazing things they accomplish are part of what makes the Open Championships so memorable, while giving future generations milestones and records to shoot for.

At the same time, it's hard to argue the importance of the grandeur - both in venue and overall experience - in keeping people coming back.

Newcomers, champions and even hall of famers love to describe the first time they saw the high ceilings and bright lights, got a look at the world's largest mobile scoreboard or took that first trip down Center Aisle - all things that hooked them immediately.

Now, it's time to choose which is more important to the history, growth and visibility of the Open Championships.

Is it the milestones and personal side of the event, in this case, pinfall, a category dominated by USBC Hall of Famer and eight-time OC champion Bill Lillard Sr., or is it the excitement and flair of OC tradition, in this case, Center Aisle, one of the most recognizable and unique features of the tournament and sport.

STAFF PICK

Matt Cannizzaro: Center Aisle
Why: I love the history and tradition of the OC. I also love the people, the champions and the amazing stories I get to tell each year.

To be honest, I thought the decision to build the lanes and keep the OC out of traditional bowling centers was going to go the distance, at least in this quadrant of the bracket.

That said, given the contenders in this match, I have to choose Center Aisle.

Yes, the milestones, especially 100,000 pins, are incredible to witness and celebrate. But, outside of the few who have achieved it, and those who have been there to witness it, it's one of the aspects of the tournament that really does not touch that many people.

Center Aisle, however, is something every participant gets to experience. There really is nothing like the goosebumps and butterflies you feel when walking past the pinsetters and through that curtain.

GUEST PICKS

Duane Hagen: Center Aisle
Why: I believe Center Aisle exemplifies the "Open Championships experience" and is enjoyed/remembered by all. Most folks do not want to remember their pinfall experience. =)

Fran Piraino: Pinfall
Why: Based on the popular vote, I'm kind of surprised Center Aisle made it this far. It appears tradition reigns supreme regarding the OC. But, my vote goes with the significance of the pinfall milestone, which I consider a rare and honored tradition in its own right.

Bob Johnson: Pinfall
Why: With tournaments now being held on a regularly scheduled basis at the South Point Bowling Plaza in Las Vegas - where the only "Center Aisle" is the spectator seating area between the two "sides" of the facility - that tradition will slowly fade in importance. But Bill Lillard... and future pinfall record-holders... combined skill and dedication in a way that only the Open Championships can showcase. 

Bob Hart: Center Aisle
Why: I still feel that the excitement and thrill of walking into the OC venue each year is what makes bowlers proud to be USBC members and tournament participants. The walk down Center Aisle is the ultimate culmination of these feelings! 

Doug Shellum: Center Aisle
Why: I have been consistent with putting out there that pinfall shows the dedication, commitment and perseverance of gentlemen like Bill Lillard Sr. and countless others, who come back year after year to compete on the national stage. Not many will have the opportunity to get to rack up as many pins in a lifetime, so I have moved over to the Center Aisle (when there is one....) as one of the most recognizable features at the Open Championships and a tradition that will keep them coming back.

MATCH 3 - TOURNAMENT FIRSTS
First with 100,000 pins vs. First with three 800s

A simple choice between dedication and domination, right?

Many would say if you continue to sign up and compete for long enough, you'll eventually reach the 100,000-pin plateau at the Open Championships. However, only 23 bowlers in nearly 120 years of competition have gotten there.

USBC Hall of Famer Bill Doehrman was the first to get there, achieving the feat after 61 of his record 71 years at the event. Note, those 71 years were consecutive, starting in 1908. It was a different world when it comes to travel, equipment, lane conditions - just about every aspect.

Left-hander Matt McNiel has had a great start to his career at the Open Championships, and his success includes four Eagles - three of which are all-events titles.

In three years in particular (2010-2012), McNiel was especially successful in navigating the event's challenging lane conditions and became the first bowler in history to record three 800s series at the OC. He had 806 in 2010, 822 in 2011 and 847 in 2012. Only two other bowlers have recorded multiple 800s in OC competition.

Now, time to choose the more impressive FIRST at the OC. The first bowler to reach 100,000 pins, which happened in 1971 or the first bowler to toss a third 800?

STAFF PICK

Matt Cannizzaro: 100K
Why: I never met Bill Doehrman, but I absolutely think of him as the "Iron Horse" of the Open Championships - 71 consecutive years and 100,000+ pins (most of which were achieved while averaging over 180) - wowza!

I also have no first-hand knowledge about what travel and bowling actually were like early in the 20th century, but it doesn't take a lot of research to see that things where much more challenging and unpredictable than they are today - from getting to the event to the bowling equipment, lanes and whatever type of conditioning they would've experienced, if anything.

And, Doehrman bowled more years than the life expectancy of his era!

GUEST PICKS

Duane Hagen: 100K
Why: An incredible milestone, especially when coupled with the era he achieved it in and his consecutive streak.

Fran Piraino: 100K
Why: Consistency is crucial for both of these milestones. Yet, being the first to eclipse 100,000 pins is remarkable to me, considering the number of years and high level of bowling involved in surpassing that plateau. That beats out McNiel's accomplishment in my book.

Bob Johnson: 100K
Why: McNiel is going to think I have something against him, and nothing could be further from the truth. His skills and accomplishments are unquestioned. But Doehrman's accomplishment underscores the historic importance of the tournament in the lives of so many "Joe Bowlers."

Prediction: If McNiel decides to keep going and enjoys good health, he'll get to 100,000 pins more quickly than any bowler ever.

Bob Hart: Three 800s
Why: More excitement has been shown lately regarding scores, performances and records in the OC.

Matt McNiel's three 800s, four titles (including three all-events titles), with a record 2,326 highlighting this era.

It is a shame these two categories are competing against each other, since each is so important to the history and recent theme of the OC.
Doug Shellum: First with 100,000 pins
Why: These matches are definitely getting tougher!

The question here bears repeating, which is the most impressive FIRST at the Open Championships. My most impressive first is the first to reach the 100,000-pin plateau.

Bill Doehrman was the first, and only 23 others have added their names to the list.

The first to three 800s is really, really impressive, too. This cannot be slighted, and to do it in consecutive years, is really incredible.

MATCH 4 - HEAD TO HEAD
Bill Lillard Sr. vs. Les Zikes

The legendary status of these two gentlemen absolutely transcends the Open Championships.

On the OC stage, they have amassed 135 years of participation, collected 14 titles and toppled nearly 240,000 pins. They are two of 14 bowlers to compete in the event 65 times and two of 23 members of the 100,000-Pin Club.

Lillard, who died in 2017, still is the stats front-runner in all categories, while Zikes remains active and celebrated his 67th OC appearance in 2019.

In 68 consecutive visits to the Open Championships, Lillard won eight Eagles (including four in 1956) and knocked down a record 124,087 pins.

Zikes is a six-time Eagle winner (including four in three consecutive years from 1962-1964). He is sixth on the all-time pinfall list with 114,535.

Outside the OC, Lillard and Zikes both enjoyed national, international and professional success and fame.

But, this is about choosing which is the more prolific performance at the Open Championships.

STAFF PICK

Matt Cannizzaro: Lillard
Why: I've probably written it multiple times during the OC Bracket Challenge process, and it's still true. Bill Lillard Sr. was one of the most awesome PEOPLE I've ever met, and that's beyond what he meant to the sport of bowling and the Open Championships.

Performance-wise, his stats give him the advantage in this matchup, so the decision simple if based on numbers alone.

GUEST PICKS

Duane Hagen: Lillard
Why: Lillard has the more impressive resume for me.

Fran Piraino: Lillard
Why: This is easy. Just do the math. Lillard has more Eagles and a higher career pinfall. And, he's my sentimental favorite.

Bob Johnson: Lillard
Why: How can anybody vote against Les Zikes in anything to do with bowling? Perhaps only if Bill Lillard is the other choice offered. The stats speak for themselves... at least for the time being. But my sources tell me Zikes has no intention of retiring anytime soon.

Bob Hart: Lillard
Why: Both men are examples of class and humility, and I have admired both!

I chose Mr. Lillard due to the fact that he has scored 9,552 more pins than Mr. Zikes, in only one more appearance. Mr. Lillard has also won eight Eagles vs. six for Mr. Zikes.
Doug Shellum: Lillard
Why: The one who had the most prolific performance/career at the Open Championships is Bill Lillard Sr.

Looking at just these two individuals totals is just incredible. Yes, they are both legendary in terms of the Open Championships, but Bill Lillard Sr. moves on in this bracket.

For more information about the Open Championships or to register for 2020 (Sept. 12-Nov. 22) or 2021 (March 6-July 18), click HERE.