Three bowlers join prestigious 50-Year Club at 2022 USBC Open Championships
April 24, 2022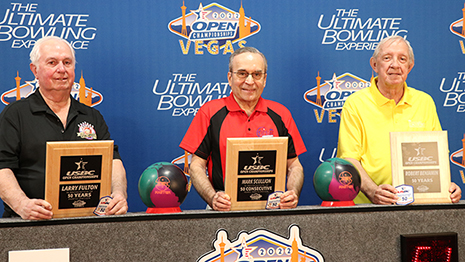 LAS VEGAS -
It's a treat recognizing the accomplishments and longevity of one bowler who participates in the
United States Bowling Congress Open Championships
50 times.
It's an honor when two bowlers share the spotlight at the same time.
But, when you have three men celebrating 50 years simultaneously, that is cause for an epic celebration.
That is what happened Friday at the South Point Bowling Plaza, where Robert Benjamin of Downers Grove, Illinois, Mark Scullion of Salem, Ohio, and Larry Fulton of University Place, Washington, all received plaques, chevrons and diamond lapel pins to commemorate their five decades on the championship lanes.
Emotions were high, as the three were met with applause and cheers from the near-capacity crowd.
The 74-year-old Benjamin was the first one introduced, and he was escorted by his sons, Bradley and Ryan, who also were his teammates for the 2022 edition of the event.
"It choked me up, walking out with my boys," said Benjamin, whose USBC Open Championships journey began at the 1969 event in Madison, Wisconsin. "Then, getting the opportunity to bowl with them at such an important event was a real highlight."
Watching the Benjamin trio from the stands was Carol, who will be celebrating 54 years of marriage to Robert Benjamin in the next few weeks.
"She is my sweetheart, and Carol is so supportive of everything I do," Robert Benjamin said. "She doesn't always travel, but I know she loves seeing me bowl with our sons."
It was Carol's father, Al Nelson, who got Benjamin turned on to bowling. It wasn't always a smooth ride, however.
"One time, we were bowling into the early morning, and I got home around 3 a.m.," Robert Benjamin said. "Carol was not happy, but I told her it was her dad who kept me out so late."
Next year, another Benjamin will be joining the ranks of the Open Championships bowlers.
"My grandson, Nelson, will be turning 18, and he'll able to join his dad, Uncle Bradley and his grandfather at the Open Championships," Robert Benjamin said. "I'm pretty sure the emotions will flow then, too."
Scullion, who is turning 74 on May 7, is not only celebrating 50 years of participation, he also is one of the rare bowlers who can use the word consecutive.
He made his tournament debut at the 1972 event in Long Beach, California, and has not missed a year.
"Oh, there have been some close calls," Scullion said. "One year, I was scheduled to fly from Pittsburgh to the tournament in Albuquerque (New Mexico), and my flight was canceled. I had to beg to fly standby on another airline. I would have done anything to get to Albuquerque. Well, three stops later, I got there just in time."
There also is a story about a flight from Pittsburgh to Dallas, then Dallas to Reno (Nevada), with unexpected storms and a needed stopover in Houston because of the weather.
"We got to Reno, and it was very close to our squad time," Scullion said. "But, weather was not going to stop me from my years of consecutive participation."
Scullion, a Vietnam veteran who served the United States as a recon sniper, started bowling at a young age, following in his father's footsteps.
"I started bowling duckpins, just like my dad, at Fort Knox, a U.S. Army installation in Kentucky," Scullion said. "I bowled casually, until that first year of USBC tournament play in Long Beach. I saw a bowler celebrating 50 years, and I thought that was a pretty cool thing I would like to try."
Bowling still is a big part of the Scullion family, as that is where he met his bride, Lou. They now have been married for 42 years.
"Lou's dad was a big bowler, and we met on the lanes on a Friday night," Scullion said. "I bowled pretty well, but she still beat me in every game we bowled. Even though that happened, we still fell in love, and we have been ever since."
Fulton, who celebrated his 79th birthday last week, had the biggest cheering section Friday, as close to 100 people, including 16 teams of competitors, came from the state of Washington to celebrate his achievement.
"It was so emotional, looking at my friends on the lanes, my wife, Nadine, and my family and other friends in the Plaza," Fulton said. "This definitely was something I was thinking about for months, and I was really looking forward to it."
Fulton started his Open Championships career in Rochester, New York, in 1966. At that tournament, he was a last-minute addition to his team.
"I remember walking into War Memorial Coliseum in Rochester totally in awe of the surroundings," Fulton said. "I remember seeing Bill Beach (USBC Hall of Fame, Class of 1991). He bowled so well, and I knew it was something I wanted to do. Today, here I am celebrating such a great milestone."
One of the benefits of bowling in 50 Open Championships for Fulton has been traveling around the country.
"I've seen Niagara Falls and been to Indianapolis to see the Indy 500," Fulton said with a smile. "While in Louisville (Kentucky), I got to attend the Kentucky Derby. These are places I would have never gotten to if it wasn't for the USBC."
Fulton is a member of the Washington State USBC Hall of Fame (Class of 2016), along with his wife, who was inducted in 2000. He has won many tournaments in his home state and has had a successful career in the Open Championships.
"Back in 1977, in Reno, I placed fifth in doubles," Fulton said. "That is a memory that will be with me forever."
The memory of this 50th year of participation will be with Fulton for a while, too.
His team, and his family and friends, wore shirts with the phrase "Fulton Road to 50," which outlined all the years and cities he has bowled in.
"I thought only my team and I were going to wear the shirts, and when I got here, I saw almost 100 shirts with my name on them," Fulton said. "It was amazing."
Do any of these men have words of wisdom for the young bowlers just starting their Open Championships careers?
"Never get down, and remember, you are bowling against the best in the world," Scullion said. "Be competitive, and embrace the moment."
Scullion also touched on the camaraderie, a noteworthy aspect of the Open Championships.
"Bowlers cheer for each other, and while you want to win, you want the other guy (or woman) to do well, too," Scullion added. "It's OK if they bowl a 224 game, but only as long as you bowl a 225."
All three honorees did themselves proud during the 2022 Open Championships at South Point.
Benjamin rolled a 472 in team, 458 in singles and 444 in doubles, for a 1,374 all-events total. In 50 years on the tournament lanes, he has knocked down 77,918 pins for a career average of 173.1.
Scullion had 552 in doubles, 519 in team and 485 in singles for a 1,556 all-events total. His career pinfall improved to 78,251, a 173.8 average.
Fulton's milestone campaign included sets of 488 in team and 375 in doubles for an 863 total. He did not participate in singles this year. In 50 years at the Open Championships, he has toppled 84,857 pins for a career average of 189.8.
There are 31 bowlers scheduled to reach 50 years of participation this year, along with three celebrating 60 years, one competing for the 65th time and another reaching the 70-year mark.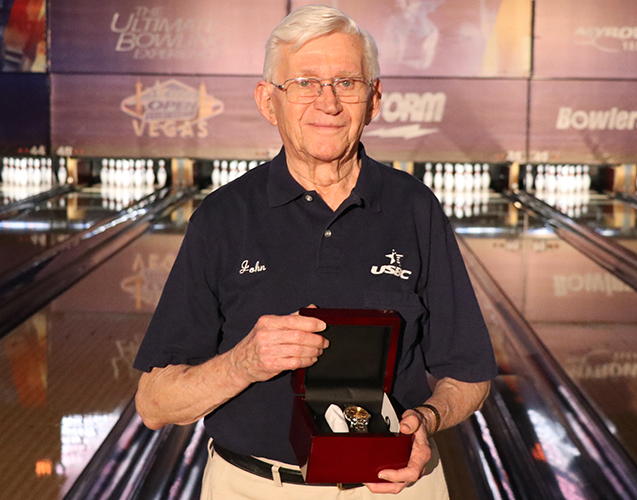 A day prior to the milestone trio taking the lanes in Las Vegas, John Kamenitsky of Stratford, Connecticut, made his way into the event's 55-Year Club.
The 90-year-old also started his Open Championships career at the 1966 event in Rochester, and he has been to nearly every event since. He received a plaque, chevron and engraved watch Wednesday to commemorate the achievment.
His 55th appearance included sets of 479 in singles, 456 in team and 405 in doubles for a 1,340 total. His career pinfall now stands at 83,294 for a career average of 169.2.
Visit us on Facebook at the
official USBC Open Championships page
.