Three generations of family enjoy Father's Day week at 2021 USBC Open
June 17, 2021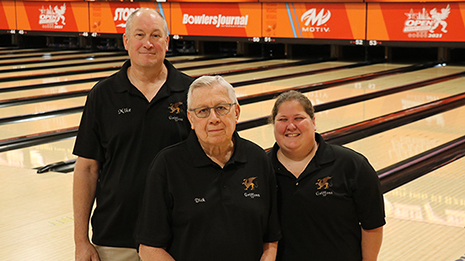 By Ron Kirsh
USBC Communications

LAS VEGAS -
Nothing says Father's Day more than being with your dad and doing what you love to do.
For the Swartz family from Cherry Hill, New Jersey, and Altoona, Pennsylvania, being at the 2021
United States Bowling Congress Open Championships
was the perfect time to get together after more than a year of pandemic-forced separation - and it turned out to be so much more than just a reunion.
This is the fourth consecutive year Michael Swartz and his daughter, Michelle, have teamed up for the Open Championships. This year, they decided to invite someone special to join them - Michael's father, and Michelle's "pappy," Richard.
Making the experience even more noteworthy and memorable was the fact that the 2021 tournament at the South Point Bowling Plaza and South Point Bowling Center marked Richard's debut on the championship lanes - at age 82.
"I needed a bowler for the team event and was thinking about who I could ask," Michael Swartz said. "Looking at the calendar and seeing we would be bowling during the week of Father's Day, I thought it would be a great opportunity to spend some time with my dad, doing something we have been doing together for a lifetime."
It's not unusual to have three generations of the same family share the Open Championships stage, but by doing it in conjunction with Father's Day makes it special for everyone involved.
"Ever since I was a little girl, I remember doing all sorts of sports, and I absolutely loved bowling with my dad and grandfather," Michelle Swartz added. "It has always been a great family experience and something I will never forget. Bowling with both of them this week just will add to the memories I will always have."
Sometimes, there simply isn't a better gift than the time you get to spend with loved ones.
"It means a lot to be here with Michael and Shelley," Richard Swartz said. "We are a very close family, and I am so happy my son asked me to join him."
Michael and Michelle Swartz each debuted at the Open Championships in 2017 and have bowled in every event since. Due to COVID-19, they missed their chance to compete in the 2020 tournament, which also would've given them the opportunity to experience the National Bowling Stadium in Reno, Nevada.
The pandemic, and all that came with it, meant missing more than just bowling, unfortunately. So, being able to be together in Las Vegas, around Father's Day, offered a bit of redemption and amplified sentimentality.
"We live just four hours apart, but sometimes, especially over the past year, it felt like so much more than that," Michael Swartz said. "Being able to see him smile and enjoy himself means the world."
Did Richard Swartz bring a cheering section with him for his first experience on the Open Championships lanes? Of course - his wife, Beverly.
"I am so proud of Richard, Michael and Shelley," said the matriarch of the Swartz family. "It's going to be so much fun watching them bowl over the next few days."
Beverly did a lot of cheering for her family, as Michael turned in a career-best performance at South Point that included sets of 664 in team, 625 in singles and 458 in doubles for a 1,747 all-events total, his best by more than 150 pins.
Michelle also improved this year on the tournament lanes, posting scores of 486 in singles, 473 in team and 449 in doubles for a 1,408 all-events total. Richard's Open Championships debut produced 448 in team, 420 in doubles and 395 in singles for a 1,263 total.
Besides Father's Day, the entire family planned to celebrate two other special events while at the South Point.
"It's my grandparents' 60th wedding anniversary on June 17, and my birthday is on June 22," Michelle Swartz said. "Being able to share these milestones together is so wonderful."
A youthful looking man, with an amazing smile and attitude, Richard said he has more to do when it comes to his bucket list. At the top of that list is returning to Las Vegas and South Point for the 2022 Open Championships.
Visit us on Facebook at the
official USBC Open Championships Facebook page
.