Titles determined at 2023 Intercollegiate Team and Singles Championships
April 23, 2023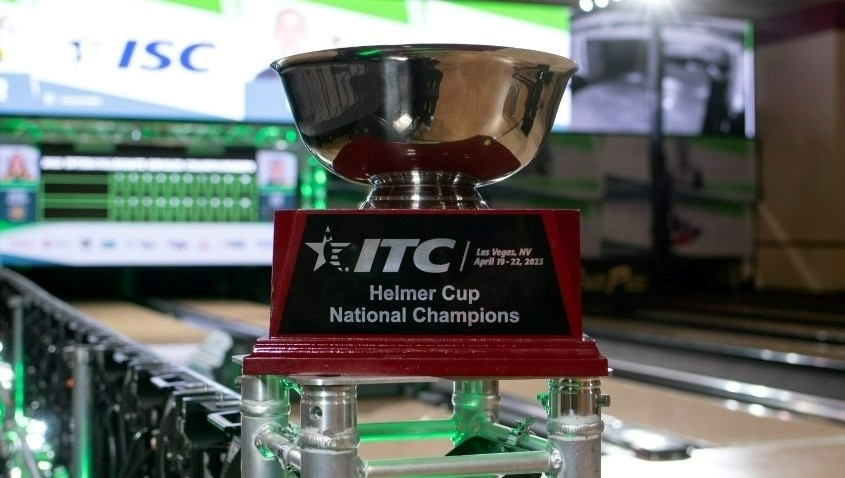 NOTE: If you do not want to know who won the titles at the 2023 Intercollegiate Team Championships and Intercollegiate Singles Championships, do not scroll down in this story.
The finals were taped for broadcast Saturday, April 22, with air dates on CBS Sports Network scheduled through April and May. The TV broadcast schedule for each event is:
Tuesday, April 25 at 7 p.m. Eastern: Women's ISC finals

Tuesday, May 2 at 7 p.m. Eastern: Men's ISC finals

Tuesday, May 9 at 11 p.m. Eastern: Women's ITC finals

Tuesday, May 16 at 7 p.m. Eastern: Men's ITC finals
LAS VEGAS
– The Wichita State men and McKendree women captured team championships, and Wichita State's Paige Wagner and Webber International's A.J. Wolstenholme claimed singles titles at the 2023
Intercollegiate Team
and
Singles Championships
at South Point Bowling Plaza.
The championship rounds in the men's and women's divisions in each event were taped for broadcast Saturday and will air on Tuesdays in April and May on CBS Sports Network.
The women's ISC finals will air April 25 at 7 p.m. Eastern with the men's ISC show airing May 2 at 7 p.m. Eastern. The women's ITC finals will be May 9 at 11 p.m. Eastern, and the excitement will conclude with the men's ITC title match May 16 at 7 p.m. Eastern.
2023 ITC men's champion: The Wichita State Shockers
Wichita State won the 2021 contest by a margin of 3-2 to collect its 12th men's national title.
As such, St. Ambrose came into Saturday's match hoping for some payback and looking to do whatever was within its power to keep the Shockers from collecting their 13th ITC crown.
But much to the disappointment of the St. Ambrose faithful, the Fighting Bees just never got on track during Saturday's title match.
Instead, it was Wichita State that was stringing the strikes and bringing the energy during a 3-0 sweep of St. Ambrose.
The Shockers struck on six of their first seven shots and nine times overall to take the opening game of the match by a score of 234-199.
The teams switched lanes prior to Game 2, but the results were the same as a combination of Wichita State strikes and St. Ambrose opens allowed the Shockers to cruise to a 211-152 victory and a 2-0 lead in the match.
The Fighting Bees did their best to hang tough and begin the process of mounting a comeback, but it just wasn't meant to be.
The two squads were tied after six frames of Game 3, but a St. Ambrose split and open in the eighth coupled with Shocker strikes in the seventh, eighth, ninth, and 10th ended the match and allowed Wichita State to secure its second ITC title in the last three seasons.
That gives the Shockers 13 men's national titles. Saginaw Valley State is next on the all-time list with four.
Wichita State Head Coach Rick Steelsmith is proud that this year's team was able to add another chapter to the storied history of Shocker bowling; he feels like it was a fitting way for some of his players to end their WSU bowling careers.
"The guys worked really hard for this day in and day out, and they were able to send the seniors out the way that they needed to be sent out, which is really cool for them," Steelsmith said. "Our program is blessed with some of the best kids in the country, and I'm just so proud of them all."
Steelsmith also knows just how talented St. Ambrose's roster is. As such, he was elated that his team was able to take down such a worthy foe enroute to this year's title.
"We have total respect for St. Ambrose; they're a terrific group, and they were in this match for a reason," Steelsmith said. "We just tried to stay focused on us and get as much as we could get, hoping it would be enough at the end.
"When that final strike was thrown, that's the best moment of all because that's when you get to see your guys run out there and jump up and celebrate with one another. That's the reward for all the hard work that they put in for this whole year."
The 2023 Wichita State championship team included Ryan Barnes, Brandon Bonta, Brandon Caruso, David Hayes, Alec Keplinger, Spencer Robarge, T.J. Rock and Nick Sommer.
In addition to the rewards Steelsmith spoke of, a couple of his bowlers earned some individual honors as well at tournament's end.
Bonta earned this year's Chris Stoehr Sportsmanship award in the men's division, and Keplinger was named to the 2023 ITC All-Tournament team and was named its men's most valuable player.
Joining Keplinger on the men's all-tournament team were Tyler Betz of Tennessee Southern, St. Ambrose's Cameron Crowe, Wisconsin-Whitewater's Garrett Meadows and Michael Nape Jr. from St. Francis-Illinois.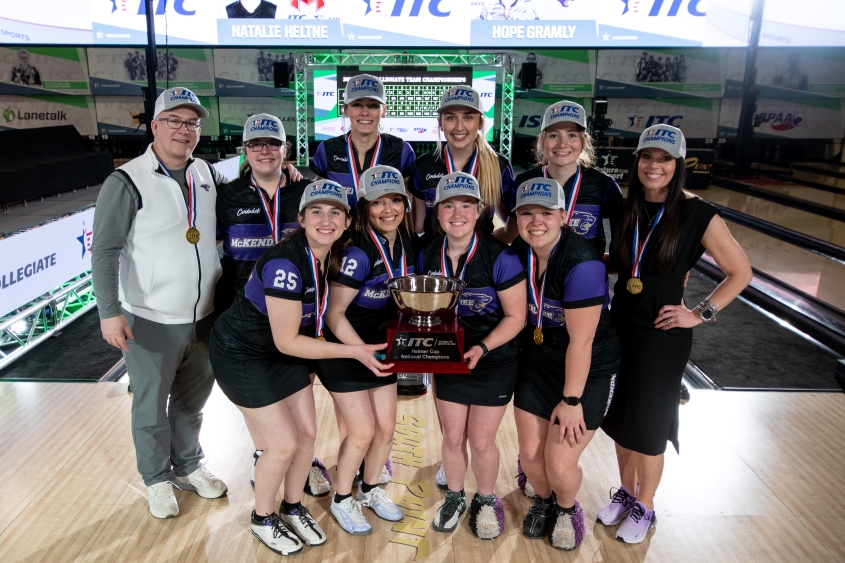 2023 ITC women's champion: The McKendree Bearcats
In the women's title match, McKendree took advantage of a late Maryville open to take Game 1 by a final score of 205-201.
The momentum then shifted in Maryville's direction during the next two games as the Saints rode an opening seven bagger to a 232-220 win in Game 2 and then capitalized on four McKendree opens to come out on top 225-171 during Game 3.
That put Maryville up 2-1 and just one win away from securing the first ITC title in program history.
But as champions always seem to do, McKendree responded.
The Bearcats started Game 4 with a four bagger and would go on to strike 10 times in total during a 234-180 victory that evened the match 2-2 and left the 2023 national title up to a fifth and deciding game.
Both teams came out strong during the finale with McKendree starting with another four bagger and Maryville responding with spare-four bagger of its own to keep the match tied through five frames.
Disaster struck the Saints in the sixth frame, however, as they were unable to convert a 10 pin. Not only did that halt Maryville's string of strikes, but it also allowed McKendree to take an eight-pin lead with just four frames remaining.
The Saints bounced back strong with a strike in the seventh frame, but they were only able to muster spares during frames eight and nine.
McKendree, meanwhile, spared in the seventh and eighth, but fourth bowler Rebecca Hagerman delivered a crucial strike in the ninth.
That put the Bearcats in position to win. If anchor bowler Hope Gramly could go strike-seven in the 10th frame, McKendree would be national champions once again.
Showing the poise and shot-making ability that caused her to be named a 2023 National Collegiate Bowling Coaches Association First Team All-American, Gramly calmly stepped up and delivered a flush strike.
Needing seven pins to officially secure the title, Gramly hit the pocket again in the 11th, toppling nine pins to officially eliminate Maryville and earn McKendree its second ITC crown – the Bearcats won their first in 2017 – to go along with its pair of NCAA championships.
For Gramly, who was named the 2023 ITC women's most valuable player shortly after the title match concluded, being asked to deliver in crunch time is nothing new.
"I've been in lots of close Baker matches that have come down to me needing to really execute my best shot, so it wasn't a situation that I was new to," Gramly said. "Still, I was nervous. My legs were shaking, but I knew that if I did my job and hit my line, my ball would take care of the rest."
Gramly did just that, and McKendree Head Coach Shannon O'Keefe wasn't surprised in the least.
"Hope (Gramly) had some weird breaks throughout our matches this week, but I'm always confident that she's going to step up and throw a good one when she needs it," O'Keefe said. "She's shown it over and over again over the years; she's the best player in college bowling for a reason."
But McKendree didn't win the title because of one bowler; it won because of the hard work and dedication of every player and coach and the support of all members of Bearcat Nation.
"Anytime you can win and bring it back to a school that has belief in you as coaches and players, that's very special," O'Keefe said. "We're just a small school in southern Illinois, so to be able to have this program on the national stage year in and year out is truly humbling and a blessing.
"As coaches, we pour ourselves into our kids, so to be able to take a step back and watch them make their dreams come true and know that we played a small part in that is something I'm in awe of every time we get to do it. This feels awesome; there's no other words for it."
McKendree's 2023 championship team featured Isabel Allen, Keyla Covarrubias, Angelique Dalesandro, Gramly, Rebecca Hagerman, Maranda Pattison, Kayla Smith and Anna Warkel.
Joining Gramly on the all-tournament team were Allen, Wichita State's Juliana Botero, Maryville's Natalie Heltne and Lauren Tomaszewski of North Carolina A&T.
The Chris Stoehr Sportsmanship award went to Lara Kurt of Savannah College of Art and Design-Savannah.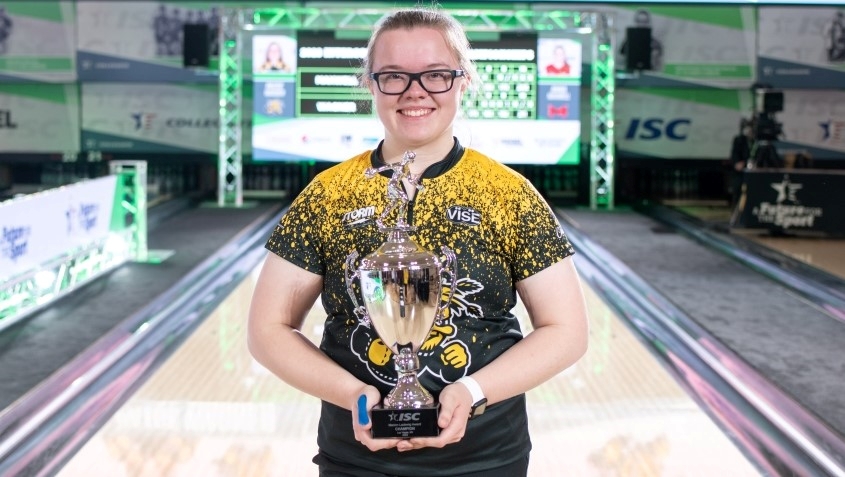 2023 ISC women's champion: Paige Wagner, Wichita State
In the women's singles title tilt, Wagner beat Maryville's Anna Maxwell, 211-203, to win the ISC crown.
Wagner seized control of the title match from the word go, starting with a four bagger and striking on six of her first seven shots to establish a 42-pin lead through seven frames.
Things got a bit dicey from there, however, as Wagner left a pocket 7-10 split in the eighth and chopped a 4-7 in the ninth to give Maxwell new life.
If the Maryville sophomore could strike out in the eighth, ninth, and 10th, she could shoot 223, which would best Wagner's max of 222 and complete an improbable come-from-behind victory for the national title.
Maxwell took the first step, making a ball change and delivering a flush strike on the right lane; unfortunately, that's as far as the string would go as the following delivery resulted in a 10 pin.
She converted the spare easily, but the damage was done as not striking lowered her max score down to 203.
Wagner sat at 192 through nine frames, meaning that a mark of any kind and two pins in the 10th would get her the victory.
The Wichita right-hander's first shot in the final frame crept high, but the 4 pin was all that was left standing.
For a player of Wagner's caliber, converting a 4 pin is usually a low-stress proposition.
However, considering that she had missed that very pin while chopping the 4-7 one frame earlier, it was clear that the Wichita right-hander could not afford to take the shot for granted.
She didn't; instead, she took her time, covered the spare without any concern and moved herself just one shot and two pins away from the winner's circle.
Nevertheless, that last shot wasn't stress free either because Wagner needed to be sure to stay behind the foul line.
During her semifinal matchup with Kurt, Wagner appeared to have the match won, but a foul on her fill-ball suddenly brought the outcome back into question.
Thankfully for Wagner, the misstep didn't cost her, and with that memory fresh in her mind, she wasn't about to let the foul line trip her up again.
Instead, she stayed well clear of it and delivered another pocket shot, knocking down nine pins to finish at 211 and officially secure the 2023 ISC title.
Maxwell finished strong, striking out during her 10th frame to make the final score 211-203.
When asked to describe how it felt to be a national champion, Wagner could only come up with one word.
"It's awesome. Honestly, I'm speechless right now and don't even really know what to say," Wagner said. "I'm so happy that my family was supporting me from back home even though they couldn't be here and that my teammates were here to watch."
Those teammates were front and center offering hugs, smiles and words of congratulations as Wagner walked around displaying the first-place trophy, one that will be added to the many that Wichita State bowlers have earned over the years during collegiate competition.
Wagner was proud to add to that storied history, but it wasn't something that came as a surprise; she felt all along like Saturday could be her day.
"I felt really good this morning; I wasn't nervous at all," Wagner said. "I knew this could happen, so I just continued to focus, stay present and make great shots."
Wagner certainly made her fair share of great shots throughout her two matches during the TV finals.
She started her day with an eight-strike performance – nine if it weren't for the foul on the last shot – to eliminate Kurt (235-226) before putting up seven strikes in her title-clinching defeat of Maxwell.
Wagner finished the day with 14 strikes and an average of 223 for her two games.
In the other women's semifinal, Maxwell defeated Stephen F. Austin's Chloe Skurzynski by a score of 238-223, ending Skurzynski's bid to become just the second bowler to complete a successful ISC women's title defense – Emily Eckhoff of Hastings College accomplished the feat by notching back-to-back titles in 2015 and 2016.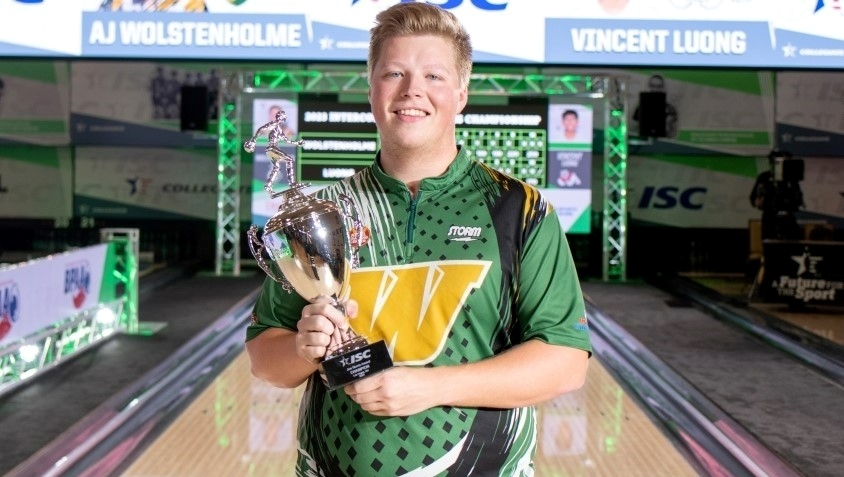 2023 ISC men's champion: A.J. Wolstenholme, Webber International
In the men's final, Wolstenholme jumped ahead of Fresno State's Vincent Luong early and never looked back.
The Webber International two-hander used three strikes and a spare to establish a 29-pin lead after just four frames.
Luong tried to cut into the lead by firing a double in the sixth and seventh frames, but it wasn't nearly enough as Wolstenholme closed the match with a seven bagger to breeze to a 259-170 victory and the 2023 ISC men's title.
Considering the fact that three of the four men's finalists were from Webber International – Adam Atkins and Austin Grammar also competed on Saturday's ISC men's show – Wolstenholme had teammates nearby and a sizable cheering section in his corner, and that was not something he took for granted.
"I was so happy to have my teammates next to me keeping me loose and supporting me when I needed them," Wolstenholme said. "It was awesome; I couldn't have done it without them."
There was, however, another person to whom Wolstenholme felt compelled to give credit, a person who, sadly, passed away before getting to see the two-hander raise this year's ISC trophy in triumph.
That person was Webber International Women's Head Coach Randy Stoughton, who passed away in January.
As did so many others, Wolstenholme had a great deal of respect for Stoughton, and he wanted to be sure the late coach's role in Saturday's victory did not go unmentioned.
"If it weren't for Randy (Stoughton), I wouldn't even be bowling in college," Wolstenholme said. "I ended up on a Zoom lesson with him during the COVID year, and he asked if I still had college eligibility because he liked the way I process things. He thought I would fit in well here, and once I came for a visit, I knew it was where I needed to be.
"Losing Randy was a big deal, and we feel the lack of his presence every day. I don't know; for some reason it just sort of felt like this was meant to happen. This one was for Randy."
If that's the case, then Wolstenholme certainly authored an impressive tribute.
He struck on six of his first eight shots during his semifinal match with fellow Warrior Atkins, who suffered two opens during that same stretch. That allowed Wolstenholme to cruise to a 224-173 victory and earn his place in the finals.
On the day, Wolstenholme struck 17 times in 23 chances and maintained an average of 241.5.
In the other semifinal, Luong defeated Grammar by a final score of 204-169.
Only one pin separated the pair after six frames, but Luong struck on three of his final five shots while Grammar opened the 10th to give the decision to the right-hander from Fresno State.
All qualifying and match-play rounds held prior to the televised finals were broadcast on BowlTV.com.
Teams and individuals competing at South Point Bowling Plaza this week earned their spots at the ITC and ISC through four sectional qualifiers held throughout the country in March.