TNBA youth members benefit from weekend at ITRC
September 08, 2022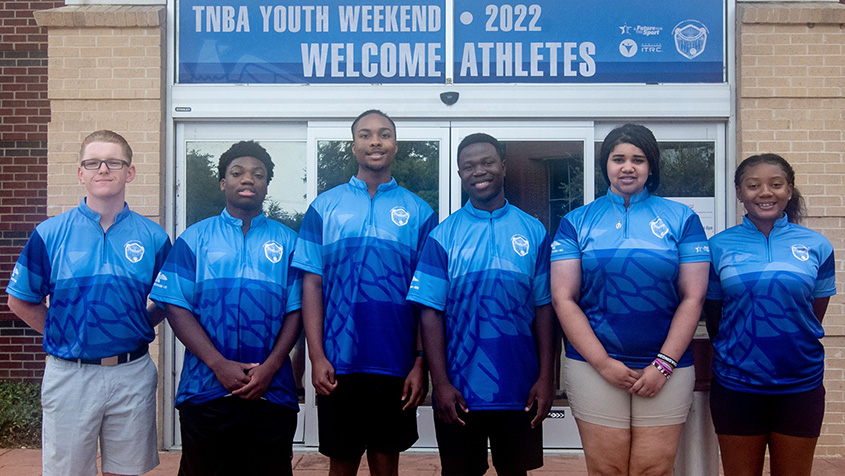 ARLINGTON, Texas
– Following a two-year hiatus, The National Bowling Association Youth Weekend returned to the International Training and Research Center, providing six student-athletes with the unique opportunity to train at the world-class facility. The event, created through a partnership between the United States Bowling Congress and TNBA more than a decade ago, took place this year from Aug. 18-20.
Over the course of the three-day program, players received on-lane training and drills along with classroom sessions from the ITRC staff. Participants also had the opportunity to hear from guest speakers and tour the International Bowling Museum and Hall of Fame.
TNBA and USBC have worked together on a concept called the TNBA/Team USA Youth Bowling Program, and this year marked the 11th time the TNBA Youth Weekend event has taken place since its inception in 2010. The event ran consecutively for 10 years before being paused due to the pandemic in 2020 and 2021.
Applications were sent to TNBA youth members, between the ages of 15-18, at the start of the year. As part of the application process, players were asked to submit a video, showing their bowling style from different angles, along with a resume of their accomplishments.
This year's six participants were selected from that pool of TNBA youth program applicants and included two girls and four boys. The two girls were Diamond Gist of Hammond, Indiana, and Jewel Johnson of Harrisburg, Pennsylvania. The four boys were KC Campbell of Newark, New Jersey; Tyler Keller of Hialeah, Florida; Kieryn Knox of West Orange, New Jersey; and Steven Leslie III of Philadelphia.
When asked about his experience at the TNBA Youth Weekend, a big smile came across the face of Leslie III.
"I can say that my experience here at the ITRC has been magnificent," he said. "This has definitely been a big boost to help me with my career and it's something I can take home with me and share with the people in my hometown. I've loved being here and loved being part of this program."
That sentiment was echoed by Leslie III's fellow participants, including Keller.
"I would hands down recommend this to any youth bowler that I know," Keller said. "Any chance you get to come train at any big national or international facility is a great experience, especially with the coaching staff they have here. It's a life lesson and life experience that you would never get to experience anywhere else."
During the weekend, an emphasis was placed on individual instruction to develop both the physical and mental game. The instruction included the use of the ITRC's advanced video analysis systems, analysis using Specto technology and additional statistical analysis. There were sessions covering bowler release discovery (positive axis point, axis tilt and axis rotation) and an assessment of each player's spare shooting.
Knox, who is a freshman this fall on the bowling team at Savannah College of Art and Design – Atlanta, found the on-lane instruction to be beneficial.
"It showed me where some weaknesses are in my game," Knox said. "It showed me that I need to work on some repetition with certain spares, like shooting washouts and stuff like that. I really feel like this was a great opportunity to improve my game, especially since I'll be going to college at SCAD and feel like there's a lot I can take from this weekend and apply to my college season."
In addition to on-lane instruction, the participants took part in classroom sessions on topics that included the physical game, bowling ball dynamics, ball motion dynamics and understanding the science of lane conditions and lane play.
"In the classroom, I learned when to apply certain surfaces to bowling balls and how those surfaces will affect ball motion," Campbell said. "I also learned a variety of layouts for bowling balls and how those layouts make the bowling ball roll differently."
Visiting the IBMHOF wasn't the only tour provided to the participants. Gist also enjoyed the tour of the USBC's Equipment Specifications Department, which included a demonstration by E.A.R.L. (

Enhanced Automated Robotic Launcher), USBC's ball-throwing robot.
"The robot, you only get to see that in videos," Gist said. "To get to actually see the robot that picks the ball up and rolls it down the lane itself, that was cool."
Joining the bowlers at the ITRC were TNBA Youth Weekend at the ITRC Project Coordinator Barbara Council-Armstead, TNBA Junior Bowling Director Veronica Green and TNBA representative/coach Don Armstead.
"By supporting the return of TNBA's Youth Weekend at the ITRC camp, both organizations show that the program is valued and they are truly committed to enhancing diversity and representation on elite levels of competition," Council-Armstead said. "Since its inception, highly talented groups of young athletes, often representing underserved populations, have been able to train with experts within our industry and gain access to the most advanced technology.
"The program has an impressive track record of alumni who have previously and are currently competing on the collegiate and professional level. As a founder of this joint initiative, I am pleased to see that goals are being met. USBC and TNBA are to be commended for their continued support of this exceptional training opportunity."
For a video recap of the weekend, click here.
For more information on The National Bowling Association, visit TNBAInc.org.
For more information on the International Training and Research Center, visit bowlingitrc.com.