TNBA youth members find benefits in weekend spent at ITRC
August 24, 2023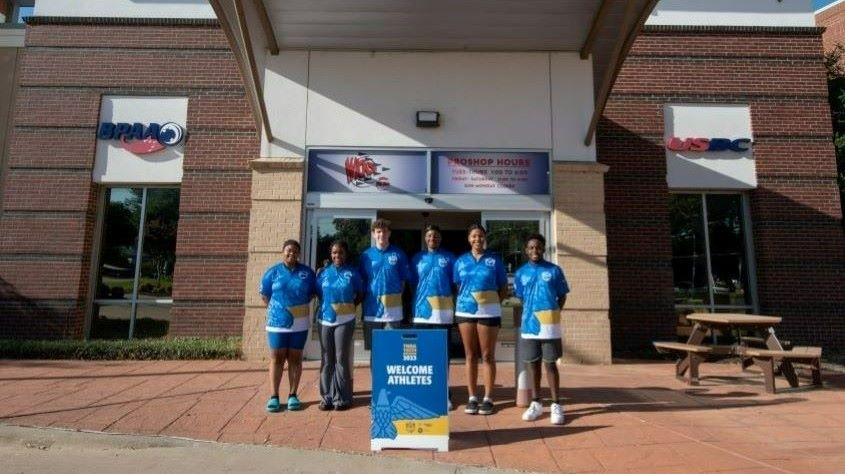 ARLINGTON, Texas
– The National Bowling Association Youth Weekend returned to the International Training and Research Center, providing six student-athletes with the unique opportunity to train at the world-class facility. The event, created through a partnership between the United States Bowling Congress and TNBA more than a decade ago, took place this year from Aug. 4-6.
Over the course of the three-day program, players received on-lane training and participated in drills and classroom sessions with the ITRC staff. Participants also had the opportunity to hear from guest speakers and tour the ITRC and the International Bowling Museum and Hall of Fame.
TNBA and USBC have worked together on a concept called the TNBA/Team USA Youth Bowling Program, and this year marked the 12th time the TNBA Youth Weekend event has taken place since its inception in 2010. The event ran consecutively for 10 years before being paused due to the pandemic in 2020 and 2021, then started back up last year.

Applications were sent to TNBA youth members between the ages of 15-18. As part of the application process, players were asked to submit a video, showing their bowling style from different angles, along with a resume of their accomplishments. This year's six participants were selected from that pool of TNBA youth program applicants and included three girls and three boys:
Ashley Adams, Temple, Ga.
Payton Hartgrove, Columbus, Ohio
Gabriella Powell, Austell, Ga.
Matthew Duty, Moseley, Va.
Emory Stone, Southfield, Mich.
Jonathan Wright, Crosby, Texas
"I really like the hands-on days where the coaches worked with you on improving your form, your mental game, just everything about your game," said Duty. "And this has been helpful for life as well, not just bowling. They work with your mental game and teach you to keep pushing if something gets you down. Keep focusing. Keep trying to get where you're trying to go."
During the weekend, an emphasis was placed on individual instruction to develop both the physical and mental game. The instruction included the use of the ITRC's advanced video analysis systems, analysis using Specto technology and additional statistical analysis. There were sessions covering the bowler's release and an assessment of each player's spare shooting.
"
This is an experience like no other," Wright said. "They teach you so many things about bowling that you normally would never think about. There is a whole overall science to bowling, and they bring it all together here."
"This was an amazing opportunity," added Adams. "It will teach you things that you would never learn as an amateur bowler anywhere else."
Hartgrove wants to bowl collegiately, so she felt the knowledge gained over the weekend was especially beneficial.
"This means a lot to me," Hartgrove said. "I'm getting ready to go to college, and I want to learn as much as I can and feel as prepared as possible, so getting to spend time at this facility is amazing."
Wright has aspirations of coaching in his future, so he had a first-hand look at how some of the best coaches in the world impart bowling knowledge.
"I absolutely love bowling, and I love learning about bowling as well," Wright said. "Later on in life, I plan on being a coach, and I want to make sure that I know what I'm doing so that I can help others find their way in the sport. We're working with some really good coaches who are truly hands on. They really know what they're doing and watch you both with their eyes and on video and can see what you're doing and what you need to change. I believe that is going to help me become a better bowler and help me help others become better bowlers, too."
In addition to on-lane instruction, the participants took part in classroom sessions on topics that included the physical game, bowling ball dynamics, ball motion dynamics and understanding the science of lane conditions and lane play.
"I think it provides an experience where you can learn and train and learn all the metrics behind what you do," Duty said. "It's not just about throwing a ball down a lane; it's about where you throw it, how you throw it, everything. You get to learn all of that with this program. It's very cool, and it's very useful."
The classroom and on-lane instruction was complemented by tours of the facility, including the aforementioned International Bowling Museum and Hall of Fame.
"I thought it was really nice and very educational," said Adams of the IBMHOF. "I didn't really know about the history of bowling, so I thought that was really cool to learn that."
"I like how hands-on the museum was and also the history of it," Duty said. "We got to learn what the pin boys did. We got to see the bowling car, and that was super cool. The museum was just really nice, and I enjoyed it."
Visiting the IBMHOF wasn't the only tour provided to the participants. The participants also enjoyed the tour of the USBC's Equipment Specifications Department, which included a demonstration by E.A.R.L. (

Enhanced Automated Robotic Launcher), USBC's ball-throwing robot.
"EARL is a super-cool guy," Hartgrove said with a laugh. "Learning the reasons for EARL and seeing all the different variables he can execute was really cool and interesting to watch."
"Earl was awesome," Wright added. "I was joking around with my parents and saying how I wanted one and how I would try to buy Earl if I could. I had seen him on YouTube a lot, and I knew I wanted to see him person one day, so that was cool."
The participants were accompanied by TNBA Vice President John Collins Sr., TNBA National Program Director Veronica Green and Robert Prymus Jr., who is a USBC Silver-level coach.
"This program represents an opportunity for our TNBA youth bowlers to be trained by some of the best coaches in the world, coaches who coach Team USA and Junior Team USA," Green said. "It gives them an opportunity to know that there are no limits to what they can do. It's just a good thing for everyone.
"When you coach these youths and you see they realize that what you're telling them is something they can achieve, it's just a good feeling. It's great to be around youth bowlers who have the passion for bowling and the passion to know that the sky is the limit for them. The opportunities out there are great, and they should be able to feel that they can achieve what they want through bowling."
For a video recap of the weekend, click here.
For more information on The National Bowling Association, visit TNBAInc.org.
For more information on the International Training and Research Center, visit bowlingitrc.com.