TNBA Youth members spend weekend at ITRC
August 20, 2018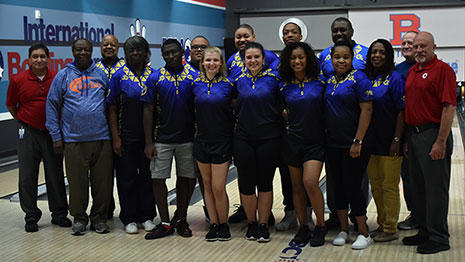 ARLINGTON, Texas -
Philadelphia teenager Christopher Johnson is on his way to Belmont Abbey College in North Carolina.
His bowling ability and passion have earned him a scholarship to bowl for the Crusaders, and he'll arrive on campus this week more in-tune with his game than he ever expected after spending the weekend at the
International Training and Research Center
, the home of the Team USA bowling program.
The 18-year-old right-hander was one of eight hand-picked participants at the 2018 The National Bowling Association Youth Weekend, which allowed him to learn from the Team USA coaching staff and measure his strengths and weaknesses using the ITRC's cutting-edge technology.
The three-day experience, which kicked off at the ITRC on Thursday afternoon, has been an annual tradition since 2010.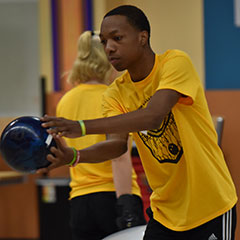 "This has been a great learning experience, and it definitely has been eye-opening to see and hear things in a new light and get feedback from some of the best coaches around," Johnson said. "Being chosen to be here shows me that all of the hard work was worth it, and I now have a chance to elevate my game even more and reach bigger heights."
This year's eight participants were selected from a pool of dozens of TNBA youth program applicants, who submitted applications, resumes and videos.
The bowlers came from four states, and the roster also included Brandon Bolden of Pennsylvania, Crystal Elliot, Patricia Rosales and Cody Stevens from Florida, Cameron Sanders of Illinois and Gillian Moore and Amara Speights from Virginia.
Joining the bowlers at the ITRC were TNBA/ITRC Weekend Project Coordinator Barbara Armstead, a former United States Bowling Congress regional manager, coaches Don Armstead, Jesse Barron, Sandra Moore and Trevor Silcott and TNBA officials Veronica Green and Dewann Clark.
"What this program does is open doors for individuals to see their potential and meet people who can teach them things that might help them take the next steps in their bowling careers," Barbara Armstead said. "Every year, I come down here and get so lifted every time a new group of bowlers walks through the doors at the ITRC. They're able to see the opportunities and see what can happen. It opens up their entire world when it comes to the sport of bowling, and to know I had a small part in that is incredibly rewarding."
Beyond the on-lane training and drills and classroom sessions with the country's top coaches, the experience also included a tour of the International Bowling Museum and Hall of Fame and insight from guest speakers about making the transition from high school to college bowling.
Past TNBA Youth Weekend participants have gone on to find success at multiple levels of the sport, including the youth, collegiate and Junior Team USA ranks. This success, and the hope of continued success and growth, is something Armstead looks forward to each year at the ITRC.
Though the program's applicants vary in age, background and location, they're all motivated to improve their games and prepare for what's next, whether it be high school or college bowling or a professional career somewhere down the road.
Since the bowlers range in age from 16-19, there's also an opportunity to share experiences and learn from each other.
"I'm preparing for bowling in college and the higher level of competition there, so knowing what I have to work on when I get back home has been very helpful," said Rosales, a 16-year-old right-hander from the Orlando area. "I've also been bowling in a lot of tournaments lately and getting some great experience. I'm hoping that by doing all of these things, it will help me improve in those events next year and help me be more prepared for college bowling."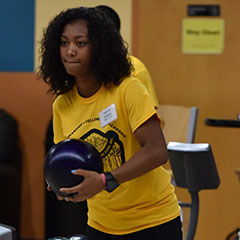 The ITRC formally may be known as the home of Team USA, but the doors at the one-of-a-kind facility are open to USBC members of any age or skill level. The main prerequisite beyond USBC membership is the desire to learn and improve.
Now, having experienced what's available at the ITRC, from video to statistical analysis, Johnson will head to Belmont Abbey ready to share what he learned with his new teammates.
"I honestly didn't know how much was available here, and it has been a great experience," Johnson said. "I learned who I was as a bowler. I learned my strengths and weaknesses and was able to see what I was doing right and wrong in a completely different way. I saw why I might struggle playing a certain area, and I learned things about throwing the ball at different speeds. Who knows, maybe I can get the whole team to come down next time."
For more information on the The National Bowling Association, visit
TNBAInc.org
.