TNBA Youth Weekend celebrates 10th year at ITRC
August 16, 2019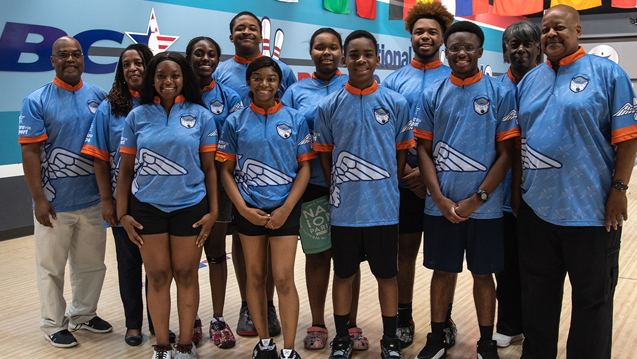 ARLINGTON, Texas –
For the 10th consecutive year, The National Bowling Association Youth Weekend is taking place at the International Training and Research Center, providing eight student-athletes with the opportunity to train under the watchful eyes of Team USA coaches.
Over the course of the three-day event, which started Thursday, players receive on-lane training and drills along with classroom sessions from the ITRC staff. Participants also have the opportunity to hear from guest speakers and tour the International Bowling Museum and Hall of Fame.
Kaia Gray of Chicago bowls in TNBA and United States Bowling Congress events and said to see the organizations work together on the program for youth bowlers is amazing. She had previously visited the ITRC and learned about the state-of-the-art bowling technology used during training sessions.
"When I heard about this opportunity to train under (Team USA head coach) Rod Ross, it was just a phenomenal opportunity," said Gray, who will bowl at Jackson State starting in the fall. "They told us they would work on the weak part of our game. I really hope they help me with that because I want to be more consistent with my shots."
When the Junior Gold Championships were held in the Dallas area in 2018, Adam Atkins of New Orleans visited the ITRC and had the chance to bowl on Sport patterns. He was excited for the opportunity to return as part of the TNBA Youth Weekend.
"It has Specto and all kinds of technology that really help you out with your game," said Atkins, who is starting his senior year of high school. "It's a good experience. So few have the opportunity to come here. What I'm going to do with the information I learn, we have a lot of young kids back in our program and I'm going to help them out."
He also works at a pro shop and wants to learn more about bowling balls.
"I just want to learn more about drilling, ball motion, cores," Atkins said.
Other participants in the TNBA Youth Weekend are Savanna Razor, Jailyn Rogers, Jordan Shipp, Alex Horton, Nykolas Walker, and Purley Williams.
Veronica Green, the TNBA National Youth Program Director, plus coaches Donald Armstead and Charles Horton also are part of this weekend's program.
Barbara Armstead, as the TNBA Youth Weekend Project Coordinator, oversees the program.
 "I am so happy to say this is our 10th year – 10 years of working with this wonderful program," Armstead said.
Armstead sent out applications to TNBA youth members, between the ages of 16-19, at the start of the year. As part of the application process, players are asked to submit a video, showing their bowling style from different angles, along with a resume of accomplishments.
She said they look for the top players – those participating in competitive events throughout the season – and pointed out that one of last year's TNBA Youth Weekend attendees captured a national title this summer.
"We had a group of phenomenal players and one of them, Patricia Rosales, just won the U20 Junior Gold Championships," Armstead said of last year's group. "She is a talented individual and she will credit some of her accomplishments to her trip here. It was a wonderful experience for her and for us."
Visit
TNBAInc.org
to learn more about The National Bowling Association.