TONIGHT on CBS Sports Network: Svensson Heads Group One Field in Main Event PBA Tour Final Stepladder
June 13, 2017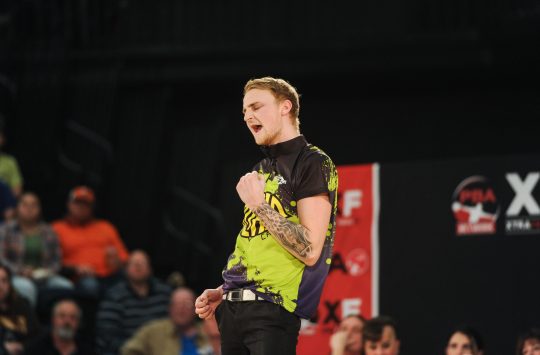 ORLANDO, Fla. – After dominating Group One's round-robin match play qualifying portion of the inaugural Main Event PBA Tour Finals, Sweden's Jesper Svensson needs to win one more match to advance to the championship match of the Professional Bowlers Association's newest showcase event.
The four-player Group One stepladder round will air next Tuesday at 9:30 p.m. EDT on CBS Sports Network, with no. 3 qualifier Jason Belmonte of Australia opening the finals in a one-game match with fellow two-handed player and no. 4 qualifier Anthony Simonsen of Austin, Texas. The Belmonte-Simonsen winner will then meet no. 2 qualifier Sean Rash of Montgomery, Ill., in a one-game match to determine Svensson's opponent in the two-game, total pinfall final match.
Svensson, a 22-year-old two-handed left-hander, rolled games of 268, 268, 279 and 222 in the match play portion of the tournament, winning his first three matches before losing to Rash's 234 in his final match. The young Swede still won the top berth in the Group One stepladder finals by 125 pins over Rash.
The Main Event PBA Tour Finals features the eight leading players in combined earnings over a span of the past 30 months. The two pods of four stars each have completed match play qualifying, which determined seeding positions for the respective group stepladder rounds. The seeding positions for Group Two, which will air on CBS Sports Network on Tuesday, June 20 at 9:30 p.m. EDT, are no. 1 EJ Tackett of Huntington, Ind.; no. 2 Ryan Ciminelli of Cheektowaga, N.Y.; no. 3 Dom Barrett of England, and no. 4 Tommy Jones of Simpsonville, S.C.
The winners of the Group One and Group Two stepladder rounds will advance to a three-game, total pinfall championship match on June 27 at 9:30 p.m. EDT. The stepladder runners-up will bowl a one-game preliminary match to decide third and fourth places. First prize in the new PBA Tour event is $30,000 plus a PBA Tour title.
Each of the CBS Sports Network telecasts will be re-broadcast. Check your local listings for times and dates.