Top three scores rolled on same squad Saturday at 2023 Open Championships
March 19, 2023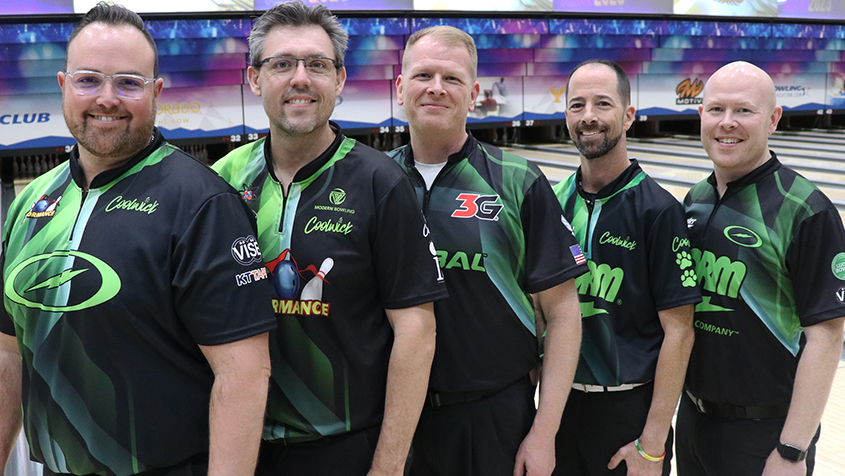 Pictured above (from left): David O'Sullivan, Shawn Naumann, Ron Hurt, Sean Riccardi and PJ Haggerty

RENO, Nev. –
The members of Chili Garlic Edamame have put in the time and effort to their craft to become one of the perennial contenders each year at the
United States Bowling Congress Open Championships
.
Although the group hails from different areas across the country, they travel in and work together as a cohesive unit for one goal – to win an Eagle on bowling's biggest stage.
The trophy has eluded the teammates despite several close calls in recent appearances, including a runner-up finish in Regular Team at the 2019 USBC Open Championships and a seventh-place finish in 2021.
As they started their team competition Saturday at the 2023 event, the group immediately went to work and started to strike at the National Bowling Stadium, firing the first 1,200 game of the year (1,209).
The scoring pace slowed in Game 2 (1,078), but the team – featuring David O'Sullivan, Shawn Naumann, Ron Hurt, Sean Riccardi and PJ Haggerty – finished with a flurry of strikes in Game 3 (1,135) to roll to the top spot in Regular Team with a 3,422 total.
Entering Saturday's high-scoring squad, the leading total in Regular Team belonged to Virtue Bowling Supply 1 of Mesa, Arizona, with 3,238.
The members of Supreme Deck #3 of Grand Haven, Michigan, were the first to go around the number, finishing their event with 3,295 to briefly take the top spot.
As Chili Garlic Edamame made their way north of 3,400, their companion team – Matt's 777 Roll of Las Vegas – also moved into the top three with a 3,253 total.
Haggerty led the effort for Chili Garlic Edamame with a 740 set. He was followed by O'Sullivan (711), Riccardi (685), Hurt (668) and Naumann (618).
"We understand how hard it is to win at this tournament," said Haggerty, a former Junior Team USA and Team USA member. "Only one team can hold an Eagle, and you need so much to go right to win. We had a lot of things go right. We certainly left some out there, which I think you can find in a few spots, but you need a lot of stuff to go right. We get together once a year and feel like we always have a chance to win at the end."
The group usually dissects its performance after each appearance at the Open Championships, and then ramps up discussion for the upcoming year a couple weeks before their annual trip through a group text.
Although the game plan went about as well as they could have hoped in Game 1, keeping the communication flowing through the rest of the set was key as they tried to maintain their pace toward the lead.
"The lanes changed quite a bit, and we had to make some big decisions and take a few risks," Haggerty said. "It paid off. These guys have a lot of guts, and we've been so close so many times. They have a lot of grit, and I'm really proud of them. I wouldn't have it any other way. It's fun to dig in when you need it, and I know this team will do that."
With the 2023 event just two weeks into its stay at the NBS, the group will have to wait and see if it is their time in the team event. There's always a feeling of what may have been left behind, but there will be time to look back at that later.
They'll return to the lanes Sunday at 10:30 a.m. Pacific for doubles and singles and look to continue to rewrite the standings in the Regular Division.
"It's so early in the event, and there's some number out there if you do it right, but it's fun to be on top while we're here," Haggerty said. "We're going to refocus, though, since we're back here tomorrow morning. Today was great, but it's easy to get ahead of yourself. We'll just take it one shot at a time and do what the lanes tell us to do."
Charlie Brown Jr. led the way for Supreme Deck #3, posting a 725 series. He was joined by David Carroll (714), Cole Muncy (654), Edward Plane II (645) and Robert Schepis (557).
Joel Reynoso paced Matt's 777 Roll with a 739 set. The team also included Kenny Ryan (682), Jason Pavlinko (633), Matt Gasn (629) and Brandon Allred (570).
The leading total in Team All-Events heading into Saturday belongs to Virtue Bowling Supply 1 with 9,149.
The 2023 Open Championships kicked off March 4 and will conclude July 24. The 143-day tournament will feature more than 9,700 five-player teams and nearly 50,000 bowlers making their way to compete in The Biggest Little City in the World.
Regular Team includes bowlers with combined entering averages of 876 and above.
Visit us on Facebook at the
official USBC Open Championships page
.