Trios reaches halfway point at 2021 PANAM Bowling Elite Championships
October 19, 2021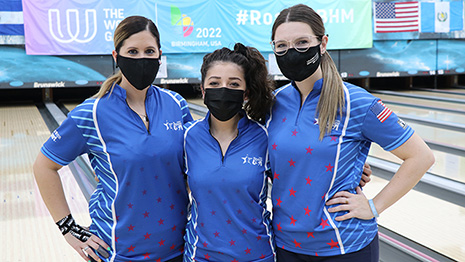 Standings: Women's Trios | Men's Trios

CALI, Colombia -
Sometimes in sports, the biggest victories are the lessons learned during the most disappointing defeats.
Rather than seeing those losses as failure, champions do what they can to learn from their mistakes, with the hope that the next opportunity will come with a different result.
After not medaling in singles at the
PANAM Bowling
Elite Championships for the first time in nearly 30 years, the
Team USA
members and coaches in Colombia this week for the 2021 edition of the event regrouped, analyzed, talked, experimented and pivoted.
The information they gathered during singles was important.
At the same time, anything from the weather or temperature in the bowling center, to the equipment choices of the competitors each day, can cause subtle, or very noticeable, changes in the playing environment.
Therefore, perhaps the two most important tools for success are versatility and open-mindedness.
Doubles went much better for Team USA, and the group came away with the gold medals in both gender classifications. The tournament includes the best bowlers from North, Central and South America, as well as the Caribbean.
Even during doubles, the team members and coaches were taking notes about the 20-lane Bolera Departamental and 38-foot Los Angeles oil pattern, knowing the conclusion of the two-player event only marked the midpoint of the 2021 PANAM Elite Championships.
The two-day trios event kicked off Tuesday, and the Team USA women were able to find their way to the top of the standings after three of the event's six games. The second half of trios will take place Wednesday, and six-game pinfall totals will determine the medalists.
Julia Bond (626), Bryanna Coté (587) and Sydney Brummett (559) led the 17 teams with a 1,772 total, and they were followed closely by their teammates, who finished the day 20 pins back with 1,752. Breanna Clemmer paced that group with a 640 set and was followed by Lauren Pate (558) and Gazmine Mason (554).
Mexico's Lili Robles, Aseret Zetter and Paola Limon are third with 1,744, while Canada's Felicia Wong, Miranda Panas and Jennifer Besana struggled in their final game and finished in a tie for fourth place with Mexico's Tannya Lopez, Sandra Gongora and Iliana Lomeli at 1,728.
"Our performance today was a product of all the games and events we've bowled prior," Bond said. "Each event, the lanes have played a little differently, but that's information we've been gathering and working really hard to share as a team. It feels nice to be in first place at the halfway point, and we'll be ready for whatever tomorrow brings. It's great to see the picture becoming clearer."
Bond noted how important is has been to be patient and communicate before, during and after competition, while focusing on making good choices and good shots each time they step onto the approach.
The 25-year-old right-hander, with Coté as her partner, left the lanes Sunday night with the lead in doubles, but they slipped to fourth place Monday when the rest of the field competed. They ended up missing a medal by 24 pins, while Clemmer and Pate took home the gold medal.
"It was frustrating to see our score get lower and lower, but Bryanna and I were here watching to see what was going on and see if maybe there's something we could've done differently," Bond said. "We knew we threw good shots and did our best, so that's something good that came out of it. It was motivating, too. We feel good about the game plan and shot making, and our spares have been good, so that made us more confident coming into trios and team."
All of the women's trios teams will be back on the lanes Wednesday morning and paired up based on their finishing positions after Tuesday's three games.
At the halfway point on the men's side, Team USA is in third and fourth place.
Mexico's Humberto Vasquez, Omar Torres and Ricardo Lecuona topped the standings with a 1,898 total and were followed by Puerto Rico's Israel Hernandez, Jorge Rodriguez and Cristian Azcona, who combined for a 1,838 set.
Team USA's Kris Prather (621), Nick Pate (616) and Kyle Sherman (548) own the third position with 1,785, and Matt Russo (673), Cameron Crowe (573) and Andrew Anderson (533) are close behind with 1,779.
Pate and Sherman are riding the momentum of the doubles gold medal, and the others still are working to put the pieces into place.
As a first-timer on the international stage, Crowe is taking in the whole experience and following the lead of his teammates - a mix of experience at various levels. A few also are relatively new to Team USA competition, and other have found success at some of the most prestigious events.
"I usually set lofty expectations for myself, but I also wanted to come in and make sure I represented our country well," Crowe said. "My performance isn't quite there yet, but everything is a learning experience. This is my first time with the USA on my back and bowling against other countries. There are nerves in this new environment, but it's nice to know there's a whole team behind me. I'm fortunate to have such a great group on my side, and I'm learning from them every day. Now, I want to put it all to use."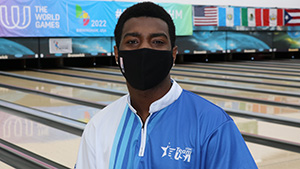 Crowe, a 20-year-old left-hander, finished 52nd in singles this week but earned a little bit of redemption in doubles. He and Russo were an unfortunate 10th frame away from securing a medal, but they ended up seven pins short.
Yes, it was a heartbreaking finish, but it also was an opportunity to learn for the next time he's in that position.
"It feels good to know I was in that position and could compete with some of the best in the world, but at the same time, I wish I was going home with a medal," Crowe said. "I know eventually we'll fix the mistakes and figure things out, and that time will come for me. There are expectations on us, and winning medals is the goal. Many who came before me accomplished it, and I want to join them, especially being my first time. I've got a group of guys here who are ready to ride or die with me, and I'm looking forward to the rest of the week."
Men's trios, which includes 26 teams, will conclude Wednesday night. The spotlight then will shift to the tournament-ending team event.
The Team USA men won the team title at the 2019 PANAM Bowling Men's Championships in Peru with a record 6,929 total, and they also won during the combined event in Cali in 2016.
The Colombia women won the team event in their home center in 2016 and successfully defended that title at the 2018 PANAM Bowling Women's Championships in the Dominican Republic.
In addition to this week's Elite Championships, two men and two women from each country will have their scores used toward the 2021 edition of the Champion of Champions event, traditionally a standalone tournament.
The top four countries, based on the combined 24-game pinfall totals in each gender classification, plus the United States, will qualify for the 2022 World Games. Because that event is being held in Birmingham, Alabama, the United States gets an automatic spot as the host nation.
The Team USA representatives for the Champion of Champions event are Anderson, Russo, Bond and Coté.
Additionally, total pinfall for all six bowlers in Elite Championships competition, in their respective gender classifications, will determine the four men's countries and four women's countries that will head to the 2022 International Bowling Federation World Cup.
The World Cup previously featured one man and one woman from each country, but a change to the format will allow more competitors to become part of a tradition that spans more than five decades.
To see the complete standings, visit
PANAMBowling.com
.