Troup wins final spot in U.S. Open stepladder finals, Tackett earns top seed
February 05, 2023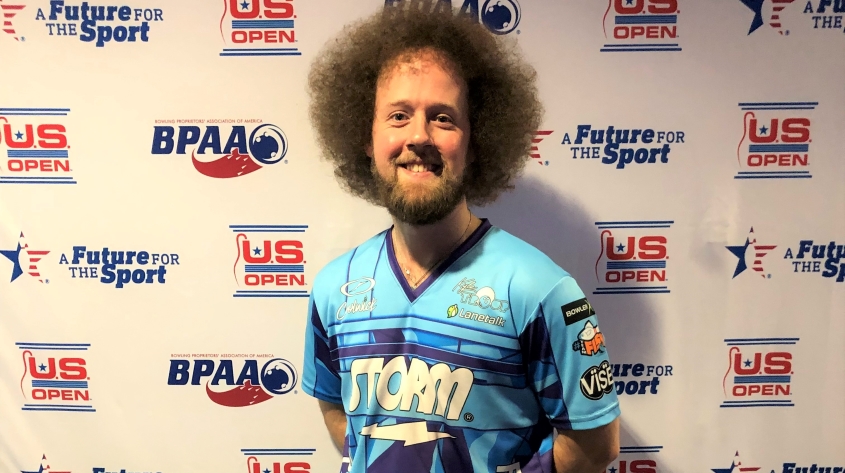 INDIANAPOLIS –
The 2023 U.S. Open presented by Go Bowling! began Tuesday morning when 108 competitors took to the lanes at Royal Pin Woodland (formerly Woodland Bowl) in Indianapolis.
Each and every one of those competitors hoped the week would end with the green jacket on their back, the U.S. Open trophy in their hands and the $100,000 first-place check in their bank account.
After Saturday's final eight-game block of round-robin match play and the No. 5-9 seed stepladder competition on FS1, just five bowlers still have the chance to turn those dreams into reality.
Those five players will compete in Sunday's stepladder finals competition live on FOX beginning at 2 p.m. Eastern.
Kyle Troup of Taylorsville, North Carolina, earned the No. 5 seed by defeating Justin Knowles of Okemos, Michigan, 215-191 during the final match of Saturday afternoon's No. 5-9 stepladder battle.
Knowles nearly ran Saturday's stepladder, defeating Frank Snodgrass of Sterling Heights, Michigan (211-203), Marshall Kent of Yakima, Washington (206-191) and Thomas Larsen of Denmark (215-190) before falling to Troup in the final match.
The victory earned Troup a spot in Sunday's final stepladder, where he will tussle with No. 4 seed Richard Teece of England, who secured the final automatic berth for Sunday's show by holding fourth place at the end of Saturday morning's final block of round-robin match play.
The winner of the Troup-Teece match will advance to face defending U.S. Open champion Anthony Simonsen of Las Vegas in Match 2.
Simonsen will be looking to complete the first successful U.S. Open title defense since Dave Husted accomplished the feat in 1996.
In order to do so, Simonsen would have to defeat either Troup or Teece and then get past No. 2 seed Tomas Kayhko of Finland in the semifinals.
Kayhko earned his position in the stepladder finals by authoring a field-best 17-7 record over the course of three eight-game rounds of round-robin match play.
Nevertheless, despite Kayhko's impressive win-loss record, he was unable to chase down tournament leader E.J. Tackett of Bluffton, Indiana.
Tackett earned the top seed for Sunday's stepladder by leading this year's field in average at 217.46 per game and authoring a more than respectable 14-10 match-play record of his own.
Now, Tackett sits just one win away from capturing his first U.S. Open title and the third major of his Professional Bowlers Association career – he won the
2016 PBA World Championship in Reno and the 2017 FireLake Tournament of Champions in Owasso, Oklahoma.
As the only finalist from Indiana, Tackett is likely to have at least a slight home-field advantage during Sunday's stepladder; however, he knows that it's going to take more than fan support to reach the winner's circle.
"I know that no matter who my opponent ends up being in the finals, I'm going to have to bring my best and bowl a very good game if I want to hoist the trophy and slip on the green jacket," Tackett said.
The trophy and jacket narrowly eluded Tackett last year after he earned the top seed for the 2022 U.S. Open stepladder finals only to fall to Simonsen in the title match.
Tackett certainly hasn't forgotten the sting of last year's runner-up finish, but he's not dwelling on the past; instead, he's staying focused on the opportunity that lies in front of him.
"Last year was really disappointing for me, but it's cool to be in this position again," Tackett said. "I'm really excited to be the top seed for the second year in a row. If I can win, it will be one of the greatest achievements of my career."
While Tackett has the luxury of having to win just one match in order to capture the title, Troup will have to run the ladder if he hopes to end the day wearing green.
The charismatic two-hander isn't bothered by that, however. On the contrary, he's looking forward to the extra TV time.
"Winning today and advancing to tomorrow's show means double TV, so I'm super pumped about that," Troup said. I always feel like if you can win the first match in a stepladder, you have the advantage because you've already bowled on the pair. Because I already bowled on the TV lanes today, I think I'm starting with the advantage against Richie (Teece) from the first frame tomorrow."
Troup is hoping to turn that advantage into a run up the stepladder and an eventual victory over Tackett in the title match.
If he can pull it off, he would walk away with his ninth PBA title and second major – he won the 2021 PBA Players Championship in Jupiter, Florida.
Although all victories are sweet, like Tackett, Troup acknowledges that capturing the U.S. Open would mean even that much more.
"With how I've bowled in the U.S. Open in the past, I honestly never thought I'd have the chance to do this," Troup said. "So to bowl this well in this event as the first tournament of the year really gives me a lot of confidence. I know that I'm a tough opponent just like the rest of the guys, and I'm just going to go out there and give it my best."
The 2023 U.S. Open is a collaborative effort between the USBC and BPAA. The total prize fund for the event will exceed $275,000.
For more information about the U.S. Open, visit
BOWL.com/USOpen
.