Two bowlers celebrate 50 years of competing at USBC Open Championships
May 03, 2022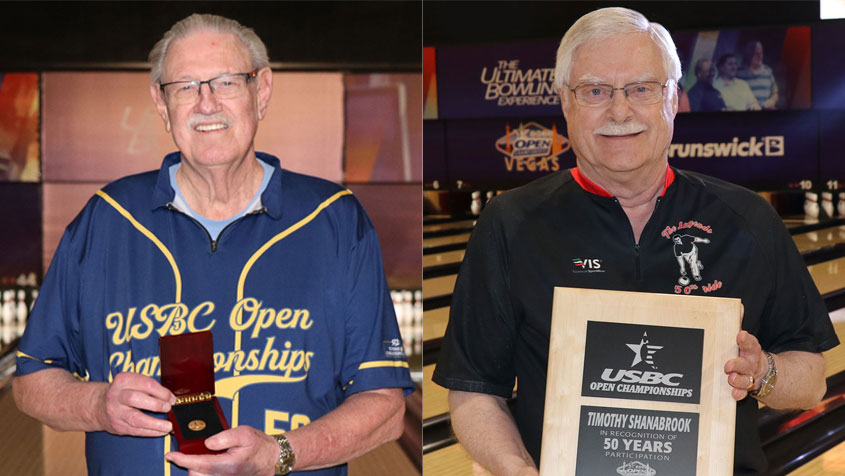 In photo: John James (left) and Timothy Shanabrook
By Nick Bonsanto
USBC Communications

LAS VEGAS
- Getting to 50 years at the
United States Bowling Congress Open Championships
is not something that happens often. On Sunday, John James and Timothy Shanabrook achieved that rare honor, becoming the 17th and 18th bowlers this year to celebrate the magic number at the South Point Bowling Plaza during the 2022 event.
James, an 80-year-old right-hander from Waukesha, Wisconsin, and Shanabrook, a 76-year-old right-hander from Hanover, Pennsylvania, were honored with a plaque, chevron and diamond lapel pin.
James was competing in his 50th consecutive USBC Open Championships. His career started in Long Beach, California, in 1972.
Competing in 50 straight tournaments means different things to different bowlers.
"It means longevity, and I'm here at 80," said James with a laugh. "I didn't even think I'd be alive at 80."
Having the family around for this special occasion is something that James enjoyed.
"They are all here," said James with a big smile. "My nephew, my brother and his wife are here. My daughters are here, also my seven nieces."
When James thinks about the Open Championships, two trips stand out to him.
Referring to Huntsville, Alabama, in 1997, James said, "We had to dodge a tornado. We ended up in a tornado shelter. I actually bowled pretty well there that year, rolling 1,841."
Continuing about his favorite Open Championships, "I remember 1999 in Syracuse, I had my highest score there at 1,877."
Competitors at the Open Championships do think about the potential to hit milestones, like 50 continuous years of competition, and it was no different for James.
"It didn't come to mind till I was at 35 or 40, then I started to think about it and look at it as a goal."
James kicked off his milestone appearance with a 526 series in team, and he added 502 in singles and 466 in doubles for a 1,494 all-events total. In his 50 appearances, James has toppled 80,653 pins for a career average of 179.2.
When Shanabrook looks at reaching this 50-year milestone, he looks at it with pride.
"Well, I'm proud of it, but it's really something I never even thought about," Shanabrook said. "It probably didn't hit me till about the 30th year. I've gone this far, so I've got to set 50 as a goal. I felt I really had to do it."
Shanabrook's journey to 50 years started in 1965 in St. Paul, Minnesota. Life made him take a break, and he returned to the Open Championships in 1973.
Like many other bowlers who have reached the half-century mark of USBC competition, family is key to success. For the past 33 Open Championships, Tim's son, Patrick, has been involved in his journey, which is something Shanabrook is proud of.
"I hope Patrick reaches this milestone, too. He is just 17 tournaments away," Shanabrook says. "What a proud moment that would be."
Unfortunately, Shanabrook's wife could not be here for his special ceremony.
"I would have loved to have her here, but she couldn't travel at this time."
Shanabrook had an eventful Open Championships with a 535 series in doubles, 486 in singles and 465 in team for a 1,486 all-events total. In his career, Shanabrook has knocked down 85,710 pins for an average of 190.4.
Visit us on Facebook at the
official USBC Open Championships page
.