Two new Standard Division leaders emerge by two pins each at 2022 USBC Open Championships
May 02, 2022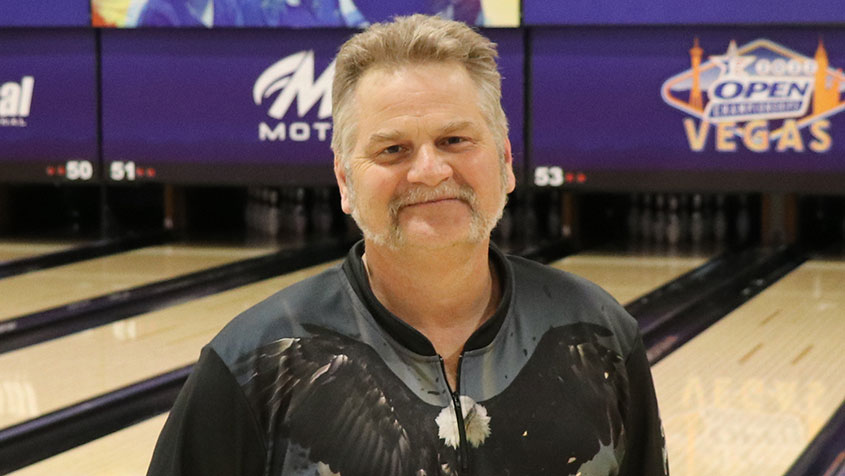 By Nick Bonsanto and Aaron Smith
USBC Communications

LAS VEGAS
- The Standard Division saw a pair of lead changes Sunday night at the 2022
United States Bowling Congress Open Championships
, with both sharing in some final-frame excitement to take the top spot.
The first change took place in Standard Singles, as Edward Zurawski Sr. of Woodstock, Illinois, rolled a 716 series to earn the top spot at the South Point Bowling Plaza by two pins ahead of William Kolstad of Mendota Heights, Minnesota.
Hours later, the Standard Doubles lead changed hands as Richard Oakes Jr. of Fresno, California, and Joe Loper of Cottonwood, Arizona, combined for 1,362 to best the previous leaders, Douglas Becht of San Tan Valley, Arizona, and Lee Rottman of Sherrard, Illinois, also by two pins.
In singles competition, Zurawski needed 197 or better in the third game. He entered the 10th frame needing a mark and pin count to take the lead.
He proceeded to roll a nine count and converted a 7 pin for the spare, and then filled out his 10th frame with another 7 pin for his 716 series.
By watching Zurawski in the 10th, spectators would have never known he had taken the lead.
"I was like a lost dog," Zurawski said. "I didn't think I would have a 200, so I didn't think I'd hit 700, let alone take the lead."
Zurawski started his singles competition with a 243 game, then followed it with a 275 and 198 to take the lead. In the second game, Zurawski had the front nine before he missed in the 10th frame, leaving a 2-4-5-8.
"I was a bit nervous in the 10th of that game," Zurawski said. "I knew if I could get the first one, I'd have a shot, but I really wasn't anywhere near it."
For those that are fans of the classic 1993 movie "Groundhog Day" with Bill Murray, you may have heard of Wayne's Lanes in Woodstock, that Zurawski now owns. It was at Wayne's Lanes, prior to Zurawski purchasing it, where they filmed a scene with Murray's character at the counter.
"That was 30 years ago when they filmed. They had remodeled the lanes before I took over, and I put all of the old masking units back to the look it had in the movie," he went on to say. "We have people come from all over the world for 'Groundhog Day.' I mean they come all year-round."
Competing in his 19th USBC Open Championships, Zurawski hopes next year in Reno, Nevada, will be Groundhog Day for him, and he can do it again.
The 57-year-old right-hander added sets of 547 in doubles and 542 in singles for a 1,805 all-events total.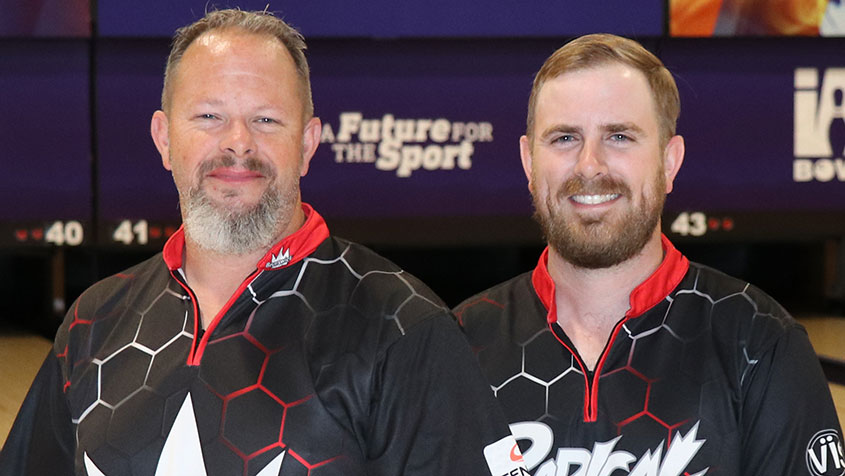 For Oakes and Loper, the decision to work together and use urethane equipment helped propel them to the top of the leaderboard in Standard Doubles.
Oakes, a 42-year-old right-hander, led the effort Sunday at South Point with games of 206, 279 and 259 for a 744 series, while Loper, a 29-year-old right-hander, added games of 212, 169 and 237 for a 618 set.
There were several ways Oakes and Loper could have taken the lead in their final frame. Oakes finished the game first with a strike and spare in his 10th frame, giving Loper the chance to roll two strikes and nine pins to take the lead by one pin. He delivered three strikes.
"We didn't know what we needed, so I just went up there and tried to get as many as I could and see how high we could get our score," said Loper, who made his sixth tournament appearance. "To find out we were in first was awesome."
The plan to use urethane was not necessarily the first option for Oakes, but he trusted Loper's direction to start.
"Our game plan was to use urethane out of the gate, but I didn't think it was going to work," Oakes said. "I wanted to give it a shot, though. It was Joe's idea to start with it, and it worked. I'm not a huge fan of urethane, but I may be after tonight."
Oakes and Loper put in some time at the Bowlers Journal Championships at the South Point Bowling Center to help prepare and also took some notes from friends who were competing earlier in the week.
They only get to compete together once or twice a year since Loper moved to Arizona a couple years ago, but they try to take advantage of every opportunity, both on and off the lanes.
Now, they'll have a little more to talk about in the upcoming months while seeing if their number is enough to hold onto the top spot.
"I'm here to enjoy the time away with my wife and friends, and if we bowl well, it's a bonus," said Oakes, who made his 12th Open Championships appearance. "It's normally pretty tough here, and when you have a good look, you have to take advantage of it. It would mean quite a bit if it holds on."
Oakes added sets of 655 in singles and 564 in team for a 1,963 all-events total in the Regular Division. Brett Cunningham of Clay, New York, leads with 2,220.
In addition to taking the lead in Standard Doubles, Loper also moved into the top 10 in Standard Singles and All-Events. He rolled 699 in singles to move into seventh place, and a 613 effort in team helped him to a career-best 1,930 all-events score to take over fourth place.
Gregory Witt of Phoenix leads Standard All-Events with 1,982.
Standard Singles and All-Events features bowlers with entering averages of 156-175. Standard Doubles includes bowlers with combined entering averages of 311-350.
Visit us on Facebook at the
official USBC Open Championships page
.