USBC collaborates with Commerce Bank on Signature Credit Card
May 31, 2023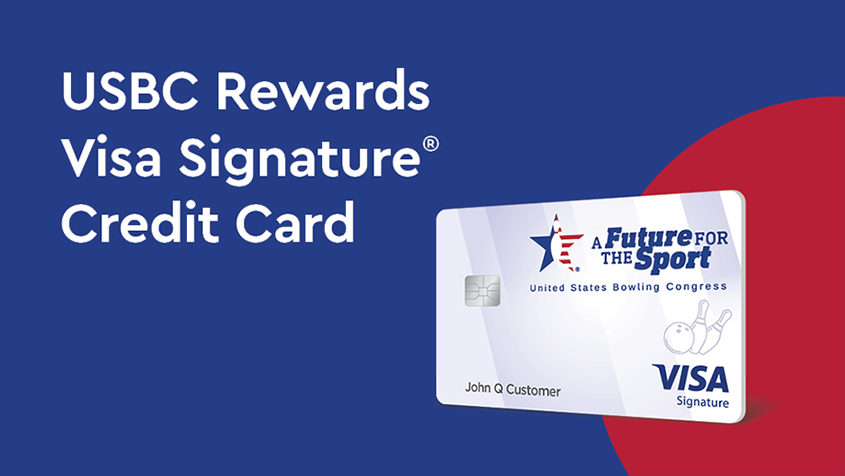 ARLINGTON, Texas –
The United States Bowling Congress has announced a relationship with Commerce Bank, providing USBC members an opportunity to sign up for a USBC Rewards Visa Signature
®
Credit Card.
Commerce Bank joins USBC Members Rewards and becomes the official credit card provider for USBC.
The USBC Rewards Visa Signature
®
Credit Card features unlimited Cash Back
1
(applied as a statement credit), including 5% Cash Back
1
for purchases made at bowling centers
2
, a feature unique and exclusive to the card.
In addition to the 5% Cash Back
1
feature for bowling center purchases, the USBC Rewards Visa Signature
®
Credit Card offers 3% Cash Back
1
on purchases for streaming, cable and ridesharing services
3
; 2% cash back at gas stations, restaurants and fast food
3
; and 1% cash back for all other purchases
4
. There is no annual fee* for the card, no point caps and no opt-in required. Rewards can be redeemed for Cash Back
1
, gift cards, travel and more.
"We're glad to work with Commerce Bank to offer this credit card featuring such unique benefits," said USBC President Melissa McDaniel. "We think the 5% Cash Back
1
from bowling center purchases will make this an appealing card for bowlers to consider."
Information about the USBC Rewards Visa Signature® Credit Card can be found at
commercebank.com/usbc
.
"Commerce Bank is committed to building long-term, valuable relationships with our customers," said Bill Gandolfo, co-brand product manager, Commerce Bank. "That is why we are excited to collaborate with USBC to offer this innovative credit card rewards program that adds even more value and savings when they bowl."
Disclosures:
*
Important Terms of the USBC Visa Signature® Rewards Credit Card
[PDF]
A Cash Back redemption is applied as a statement credit. The statement credit will reduce your balance, but you are still required to make at least your minimum payment. Values for Non-Cash Back redemption items such as merchandise, gift cards and travel may vary.
You will earn 5% Cash Back (1 regular point + 4 bonus points = 5%) for every $1 of Net Merchandise Purchases at Bowling Centers. For example, if you spend $100 at a Bowling Center, you will earn 500 points which is equal to $5 in Cash Back Rewards. A maximum of 500 bonus points will be awarded per calendar month, per Rewards account. Please allow up to 30 days after the transaction posts to your account for bonus points to be awarded. The Bowling Center category is comprised of merchants categorized with the MCC associated with "Bowling Alleys." Merchants self-select categories, so not all merchants will earn this additional bonus.
Please note that merchants self-select the category in which transactions will be listed and some merchants may be owned by other companies, therefore transactions may not be counted in the category you might expect. Purchases made using Near Field Communications (NFC), virtual wallets, or similar technology may not be eligible for higher percentage categories.
Purchase means "Net Merchandise Purchases" which are purchases of merchandise or services on the Account, less any returned merchandise credits or service credits posted to the Account. Net Merchandise Purchases do not include Cash Advances, Balance Transfers or transactions using Convenience Checks or any associated fees. Other exclusions apply. See commercebank.com/signatureterms for full program details.