USBC delegates to vote on 19 legislative proposals during 2021 USBC Convention and Annual Meeting
February 16, 2021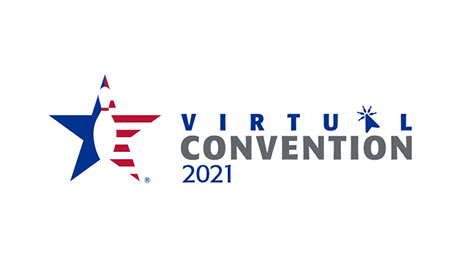 ARLINGTON, Texas -
Delegates at the 2021
United States Bowling Congress Convention and Annual Meeting
will vote on 19 legislative proposals involving bylaws and rules specific to tournaments and leagues.
The 2021 USBC Convention will take place virtually from April 26-29, with the Annual Meeting legislative session and
USBC Board elections
taking place on the final day.
The agenda for the legislative session will include the 13 proposals from 2020 that were not voted upon because the 2020 Convention was canceled due to the pandemic and six proposals slated for 2021.
Complete details, and a schedule for the week, will be available soon.
Votes will be cast electronically, live, during the Annual Meeting. Full details, and timing for practice voting sessions, will be announced in March.
Due to the virtual nature and verification of voting rights, all delegates must be registered by April 21, 2021. Association delegates must be in WinLABS and transmitted to HQ.
Athlete delegates and USBC Hall of Famers must email
convention@bowl.com
to register. Invitations will be sent to athlete delegates and hall of famers this week.
Of the 13 proposed amendments that carried over from the 2020 agenda, seven relate to bylaws, five are for tournament rules and one is for a league rule. For the 2021 amendments, five pertain to league rules and one relates to bylaws.
Click
here
for the complete list of proposed amendments for 2020 and
here
for the 2021 information.
Suggested changes to amendments must be submitted to USBC in writing at
convention@bowl.com
by March 15, 2021.
Any USBC member may debate a motion by providing an audio or video recording up to two minutes by email to
convention@bowl.com
by April 15, 2021.
Bylaws proposals require a two-thirds majority vote for adoption, while league and tournament rules require a majority vote to pass.
The USBC Board also would like to announce at this time that the location and venue for the 2022 USBC Convention and Annual Meeting have been selected.
The events will return to Las Vegas and be held at The Orleans, which was scheduled to host the festivities in 2020.
The decision continues the organization's commitment to host its Annual Meeting near a USBC Championship event. The 2022 USBC Open Championships will take place at the nearby South Point Bowling Plaza.
Visit
BOWL.com/Convention
for more information about the 2021 USBC Convention and Annual Meeting.