USBC Hall of Famer Dick Ritger dies at age 81
August 28, 2020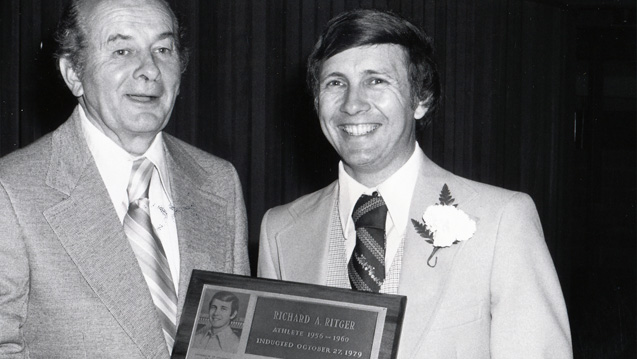 ARLINGTON, Texas - Dick Ritger, a United States Bowling Congress Hall of Fame member from River Falls, Wisconsin, died Thursday at his home. He was 81.

Ritger was a two-time titlist at the USBC Open Championships, winning Classic Team in 1967 and Classic All-Events in 1977, and was elected to the USBC Hall of Fame in 1984 in the Superior Performance category.

Also a Professional Bowlers Association Hall of Famer (1978), Ritger is one of 16 bowlers in history to win 20 or more PBA Tour titles. His professional bowling career spanned 16 years, starting in 1964.

He twice was named the PBA's Steve Nagy Sportsmanship Award winner (1970 and 1973), and his success as a competitor earned him the No. 14 spot on the list of the 50 greatest players in PBA history, published in 2009.

During the PBA's 60th anniversary celebration a decade later, a panel of historians, bowling writers and longtime PBA Tour competitors reviewed and ranked the organization's top moments, 1-60.

The No. 1 moment was the 299 game rolled by Don Johnson in the title match of the 1970 Firestone Tournament of Champions, which came against Ritger.

Ritger began honing his skills at a young age at his family's 10-lane bowling center in Hartford, Wisconsin, and he was able to balance a busy league bowling schedule while completing his time at the University of Wisconsin-La Crosse (1960), where he double-majored in physical education and recreation.

While he did go on to make a name for himself on the lanes in the 1960s and 1970s, he later became one of the world's most accomplished and recognizable coaches.

His educational background helped lead to the creation of Dick Ritger Bowling Camps, and the teaching of his revolutionary Ritger Method has helped tens of thousands of bowlers over more than four decades.

The timing of Ritger's emergence in the coaching realm also allowed him to reach and teach bowlers through a video series called "The Feelings of Bowling," which was distributed globally.

Both still are the basis of the curriculum at the Dick Ritger Bowling Camps.

Along with helping bowlers across the United States, Ritger was able to do in-person teaching in more than two dozen countries.

His lifetime of competition and service to the sport also earned him a variety of industry awards, including the World Bowling Writers Distinguished Service Award (1995), John Martino Award for Outstanding Contribution to the Sport of Bowling (1998) and the Bowling Proprietors' Association of America/Dick Weber Ambassador Award (2006).

In 2008, Ritger became the first inductee into the new Bowling Coaches Hall of Fame.

Ritger is survived by his wife of 60 years, Judy; three children, Scott (Amy), Shari (Joe) Hammer and Cyndi; 13 grandchildren; 14 great-grandchildren; brothers Dave (Shirley) and John (Laura), sister-in-law Kathy and their respective families.

A private family memorial mass will be held Sunday, Aug. 30 at 2 p.m. (Central) at St. Bridget Catholic Church in River Falls.

In honor of Ritger's life, the family requests that any memorial gifts be given to St. Bridget's Catholic Church or the River Falls Food Pantry.