USBC Masters on ESPN reaches more than 3.5 million viewers
February 12, 2015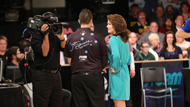 Ratings increase by 62 percent over last year's telecast
ARLINGTON, Texas – The Professional Bowlers Association Tour telecast of the United States Bowling Congress Masters on ESPN was the most-watched cable sports program on Sunday, reaching more than 3.5 million viewers.

The telecast, which featured two-handed Australian bowler Jason Belmonte winning a historic third-straight Masters title, averaged 1.17 million viewers in the last quarter-hour of the telecast. The two-hour telecast averaged a 0.60 household U.S. rating representing a 62 percent increase versus the 2014 USBC Masters telecast.

"Viewership numbers for the PBA on ESPN have been very encouraging," PBA Commissioner Tom Clark said. "The USBC Masters was another historic, action-packed spectacular. Sports fans nationwide are tuning in which is great for our sponsors, players and the game. When more people see bowling on TV, more people go bowling, become interested in bowling, become inspired by the best."

The Masters telecast was part of a positive household U.S. ratings increase for the PBA on ESPN this year, up 20 percent year-over-year when compared to the 2013-14 season-to-date.

The television success comes following a partnership between PBA and USBC to include the USBC Masters as part of the PBA Tour schedule in 2015 and 2016. The event had previously been planned for late summer.

"We want to thank our great partners in Green Bay for the flexibility to host the USBC Masters in the prime of bowling season," USBC Executive Director Chad Murphy said. "The move ultimately benefited the PBA, the players and product manufacturers with tremendous national exposure. USBC is committed to making decisions in the best interest of the future for the sport and this is a prime example."

Belmonte became the first bowler in the sport's history to win the Masters three consecutive years. He won a drama-filled semifinal against Hall of Famer Pete Weber of St. Ann, Missouri, before defeating AJ Johnson of Oswego, Illinois, for the title.

The USBC Masters drew a sold-out field of 336 of the best bowlers in the world and awarded more than $250,000 in prize money.