USBC to change adult high score awards in 2014-2015
August 15, 2013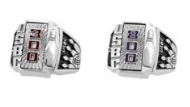 ARLINGTON, Texas -
Starting August 1, 2014, the high score awards given to United States Bowling Congress adult members for a 300 game, 800 series or 900 series will become once-in-a-lifetime awards. This change comes as part of USBC's strategy to focus resources on national governing body services.
As part of the change to the high score awards program, any USBC member who received an award in one of the high score achievement categories as an adult prior to August 1, 2014, will not receive an award for that achievement again.
"With this change, USBC takes another meaningful step toward our vision of redefining the organization," USBC president Andrew Cain said. "I want to clearly emphasize that cost savings was only a small factor in the board's decision-making process approving the change. This is primarily about a philosophical shift to make USBC membership about supporting and protecting the sport.
"The board believes this adjustment to the high score awards program provides a good balance of preserving an organizational tradition while moving toward USBC's vision for the future."
The 11-in-a-row award also will be eliminated as part of the changes. All 300 games and 800 series at the USBC Open and Women's Championships will continue to be recognized and are not considered part of the once-in-a-lifetime policy.
"Given that more than 50,000 certified perfect games are rolled in a typical season, the board agrees it is unnecessary for the national governing body to provide awards for near perfection with the 11-in-a-row," Cain said. "We also believe special recognition is appropriate at USBC Championships, since these prestigious events are conducted in special venues on uniquely challenging conditions."
Associations still will be required to submit 300 game, 800 series or 900 series achievements so the bowler's record can be updated with each accomplishment. The 11-in-a-row achievement will not be recognized at the national level effective August 1, 2014.
Members who already have received once-in-a-lifetime recognition for a high score will have the ability to purchase additional awards for subsequent high score achievements.
Sport Bowling awards will remain unchanged for the 2014-2015 season, with the exception of the elimination of the 11-in-a-row award.
Click
here
for Frequently Asked Questions about the changes to high score awards and go to
BOWL.com/Awards
for more information on awards.