USBC to spotlight bowling's incredible diversity in 2021
February 01, 2021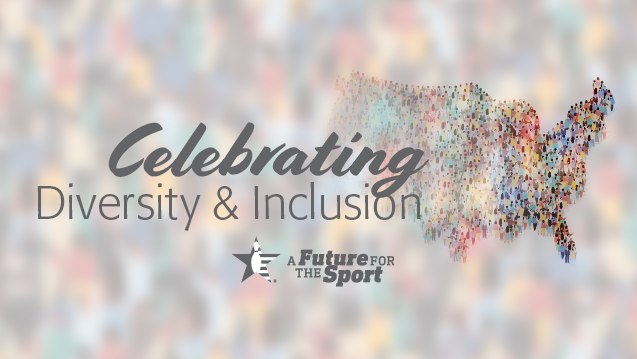 ARLINGTON, Texas -
If 2020 taught the world anything, it is how well everyone can come together in a time of adversity and uncertainty.
We saw solidarity and teamwork on a global perspective as we searched for a way past some unprecedented challenges, and we saw incredible strength and unity within smaller communities, groups and families.
Through education and patience, the messages and traditions of those subgroups can be shared and celebrated, and tolerance and understanding can help us become cohesive in all aspects of life.
Through sport, we have camaraderie, competition and a playing field upon which personal and cultural differences simply don't exist.
In bowling, the pins don't see gender or age or race or size or how we approach the foul line, and we're all unified against one common opponent, the invisible oil pattern on the lane.
In 2021, we'll continue to honor the amazing history of the sport of bowling, but there also will be opportunities to celebrate the incredible diversity of the United States Bowling Congress membership and recognize individuals who have impacted the sport and their fellow competitors.
In conjunction with the efforts and goals of the USBC Diversity and Inclusion Committee, an ongoing digital media campaign and a series of BOWL.com feature stories in the coming months will allow us to shine a spotlight on the various groups, organizations and bowlers that make up the USBC membership, while also bringing attention to topics that affect the world on a larger scale.
The schedule includes:
* February -
Black History Month
* March -
Women's History Month
* May -
Mental Health Month
* June -
Pride Month
* September -
Hispanic Heritage Month
* October -
Bullying Prevention
"For more than a century, bowling has brought our communities together for sportsmanship and fun as an activity that is safe and affordable and something that can include participants of all ages and skill levels," USBC President Melissa McDaniel said. "Our membership is incredibly diverse, loyal and united by a common passion. We look forward to telling some of their stories in the coming months and bringing light to other important topics, too."
USBC will continue to expand its diversity and inclusion topics, and we welcome the opportunity to showcase the people and other areas that are important to the members.
Help us succeed in telling those stories, sharing knowledge and growing the sport of bowling. Help us keep working toward the USBC promise of celebrating the past, being mindful of the present and ensuring bowling's future through thoughtful research, planning and delivery.
If you know someone who is a standout or inspiration in one of the areas listed above, or you'd like to suggest a topic close to you, please let us know more by sending an email to PR@bowl.com.
For more information about USBC and its programs and partnerships, visit
BOWL.com/Diversity
.