Vermont husband and wife take doubles lead at 2022 Open Championships
May 31, 2022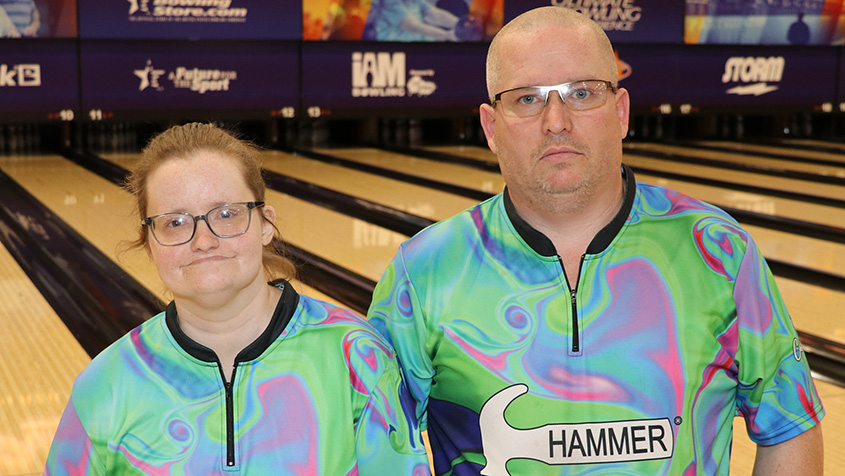 By Sam Neves
USBC Communications

LAS VEGAS
- For Melissa and Dennis Burnham of White River Junction, Vermont, pairing up for the third time at the
United States Bowling Congress Open Championships
proved to be the charm as they are heading home with the lead in Classified Doubles at the 2022 event.
Dennis led the way for the husband-and-wife team with games of 197, 229 and 265 on Tuesday at the South Point Bowling Plaza for a 691 series, while Melissa followed with games of 156, 152 and 189 for a 497 series and 1,188 combined total.
Ronald Jackson of Stone Ridge, New York, and Terri Donahue of Ulster Park, New York, previously led with 1,165.
"We're never sure how we're going to do when we come out to bowl the event," said Dennis, a 46-year-old right-hander. "But the plan is to always have fun, and this year, we did just that."
Making his eighth tournament appearance, Dennis bowled his highest-three game set to date at the Open Championships, besting his previous high of 651 during singles at the 2015 event in El Paso, Texas. He added 533 in the team event and followed up his series in doubles with 511 in singles for a 1,735 all-events total in the Standard Division.
For Melissa, a 42-year-old right-hander bowling in her third Open Championships, this experience was extra special.
"I feel extremely overwhelmed," she said.
Dennis added, "She's battling cancer, which only allows her the stamina to bowl three games. I'm just thankful she chooses to bowl them with me."
Melissa and Dennis have been married for 22 years. The pair met in a bowling center and now bowl together at Meyer Maple Lanes in Claremont, New Hampshire, where they are looking forward to returning to and counting down the days until the end of the 2022 tournament, when they hope to be crowned the Classified Doubles champions.
The 2022 Open Championships kicked off March 12, and the 129-day event concludes July 18.
Classified Doubles is for bowlers with combined entering averages of 310 and below.
Visit us on Facebook at the
official USBC Open Championships page
.