Via places fourth in singles at 2023 PANAM Bowling Male Championships
May 25, 2023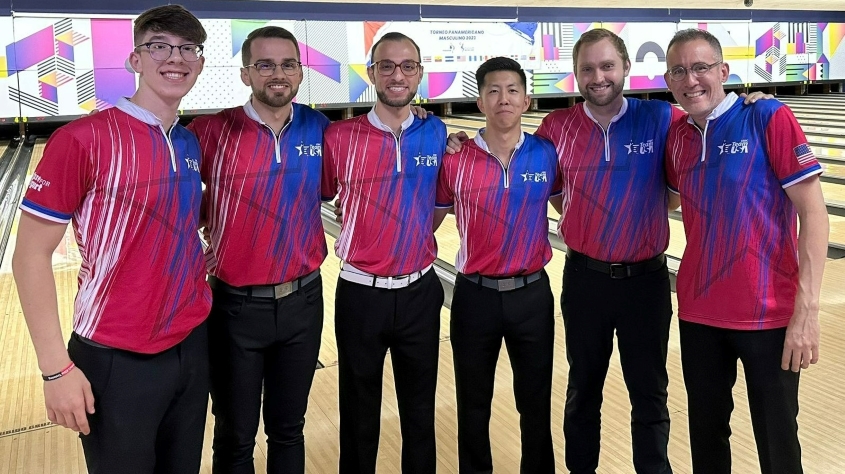 SANTO DOMINGO, Dominican Republic – Chris Via of Blacklick, Ohio, narrowly missed out on a medal after finishing fourth in singles on the first day of competition at the PANAM Bowling Male Championships, which is being contested at Sebelén Bowling Center in Santo Domingo.
Via averaged 229.67 for his six games (270, 214, 235, 259, 233 and 167) to come in with a 1,378 total, which was tops among the six Team USA bowlers who competed on Tuesday.
Unfortunately, it still left Via one pin short of reaching the singles medal stand, which was occupied entirely by bowlers from Puerto Rico.
Cristian Azcona used a 299 in Game 4 and 266 in Game 5 to propel himself to the gold medal with a winning total of 1,409. Israel Hernandez took silver with 1,387, and Edgar Burgos earned bronze with 1,379.
Team USA Head Coach Bryan O'Keefe was understandably disappointed to see his bowlers shut out of the medals on Day 1, but he is optimistic that things will improve in the days to come.
"It would've been nice to come away with a medal in singles, but we are gathering information that will help us during the upcoming events," O'Keefe said. "The game plan is the same each day, so if we learn a little each day and make our adjustments a little quicker, the medals will come."
After Via's fourth-place effort, John Janawicz of Winter Haven, Florida, turned in the best performance among the Americans on Tuesday, placing seventh in the 86-bowler field with a six-game total of 1,354 (a 225.67 average).
Prior to leaving for Santo Domingo, Janawicz talked about wanting to play the role of mentor to his younger teammates.
During singles, the 50-year-old right-hander opted to lead by example instead.
Janawicz was the picture of consistency throughout his block, firing games of 224, 215, 207, 247, 247 and 214 to put up the third-best score on his squad.
Nick Pate of Inver Grove Heights, Minnesota, joined Janawicz on the lanes Tuesday morning.
Unfortunately, Pate's round was a little more of an up-and-down affair with the right-hander starting quickly with games of 256 and 238 only to take a step back shortly thereafter with scores 192 and 197.
He rebounded with a nice 235 in Game 5, but he couldn't sustain the momentum, finishing with 179 to come in with a 1,297 total (a 216.17 average) that put him into a tie for 21st place.
Matt Russo of Ballwin, Missouri, finished six spots back after recording a final score of 1,260 for his six games on Tuesday.
Russo got off to a solid start, going over the 200 mark during each of his first five games (236, 211, 208, 246 and 212).
Sadly, that's when things took a turn for the worse as a closing 147 erased Russo's progress and quickly dropped him down to 28th place in the overall standings.
Darren Tang of Las Vegas wasn't far behind.
Tang fought hard to move his name toward the top of the leaderboard, but the right-hander just couldn't seem to string big games together.
He broke 200 during four of his six games (223, 200, 236 and 221), but a 179 in Game 3 and 189 in Game 5 kept Tang from making a substantial move upward. When all was said and done, he finished the day with a 1,248 total to settle into 31st place.
While two of the Americans came out of the gate strong only to struggle late, the opposite situation occurred for Brandon Bohn of Jackson, New Jersey.
The 18-year-old left-hander took a while to get going during his Team USA debut, starting his set with games of 158 and 168.
The rookie showed no quit, though, rebounding with solid scores of 223, 192, 211 and 203 to overcome the unfortunate start and end the day with a six-game total of 1,155 (a 192.5 average).
All six Team USA bowlers will be back in action for doubles competition on Wednesday. The first duo will hit the lanes at 8 a.m. Eastern with the remaining pairs starting at 12:30 p.m. Eastern and 5 p.m. Eastern.
For more information on Team USA, visit

BOWL.com/TeamUSA

.