Vick, Wright win ISC titles
May 20, 2008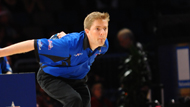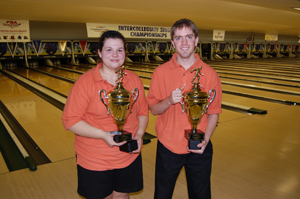 MILWAUKEE –
Rochester Institute of Technology junior Dan Vick started striking consistently during practice before his final match at the 2008 United States Bowling Congress Intercollegiate Singles Championships.
Once the finals begun, it only seemed like he never stopped.
The Pittsford, N.Y., native locked in early and never looked back in sweeping North Carolina State senior Vincent DiNova, 3-0, in a best-of-five, single-elimination match to win the men's national championship Tuesday at Olympic Lanes.
The field of 16 men and 16 women represented some of the best collegiate bowlers in the country competing for individual national titles at the USBC Intercollegiate Singles Championships.
In a battle of lefthanders, Vick opened the match with five straight strikes and 10 overall in a 268-182 victory in Game 1. He stayed hot in Game 2 with four straight strikes among his nine, winning 239-193 to take a 2-0 lead.
"I was fortunate to find a look during practice and was able to keep it loose," said Vick, who doubled in the 10th frame to secure the title with a 236-225 victory in Game 3. "Having another lefty out there helped. The lanes opened up a bit more after they broke down and the pins fell down."
Overall, Vick struck on 27 of 36 first-ball attempts in the match (75 percent).
A member of Junior Team USA in 2006, Vick swept RIT teammate David Gerhart, 3-0, in the quarterfinals and defeated McKendree's Richard Van Scoyk, 3-1, in the semifinals.
Vick became the fourth straight men's champion with experience as a Junior Team USA member, joining Fresno State's P.J. Haggerty (2005), Lindenwood's Brian Valenta (2006) and Robert Morris University's Tim Pfeifer (2007).
"The Junior Team USA experience helps a lot," said Vick, who won the team gold medal and Masters silver at the 2006 American Zone Youth Championships in Mexico. "I was able to stay more relaxed under pressure because I've been in similar situations like this one."
In the women's division, Pikeville junior Jennifer Wright of Columbia, S.C. – another former Junior Team USA member and 2006 U.S. Junior Amateur champion – defeated Robert Morris College senior Kristen Nielsen, 3-1, for the women's national title.
It is the second national title of the 2007-08 season for Wright, who helped lead the Bears to the women's crown at the USBC Intercollegiate Team Championships in April.
Competitors bowled 12 games Monday to determine seeding for the best-of-5, single-elimination match play competition Tuesday. The top four seeds in each division received byes to the third round of match play, while the No. 5 through No. 8 seeds received byes to the second round.
Qualifying for the USBC Intercollegiate Singles Championships was held at the four Intercollegiate Bowling Championships Sectional Qualifier sites - Allentown, Pa.; Chattanooga, Tenn.; Fairview Heights, Ill.; and Las Vegas - on March 14. All participants bowled six games with total pinfall determining final standings. The top four finishers in each division (male and female) at each site advanced to the USBC Intercollegiate Singles Championships.
The USBC Intercollegiate Singles Championships is sponsored by Hammer Bowling and Kegel, the official lane maintenance provider for USBC.

2008 USBC INTERCOLLEGIATE SINGLES CHAMPIONSHIPS
(at Olympic Lanes, Milwaukee)
Tuesday's Results
Match Play
(Best of five, single elimination)
Seeds in parentheses

MENFirst Round
(9) Jeffery Szabo, William Paterson def. (16) Ken Fischer, Robert Morris (Ill.), 3-0
(194-186, 177-154, 203-164)
(12) Brett Shepherd, Vincennes def. (13) Michael Dole, Lindenwood, 3-2
(218-278, 247-213, 160-225, 209-172, 236-200)
(14) Richard Van Scoyk, McKendree def. (11) Matthew Tod, Lindenwood, 3-0
(190-185, 200-168, 202-152)
(15) David Gerhart, RIT def. (10) Brian Huther, Martin Methodist, 3-0
(211-149, 208-170, 207-183)
Second Round
(8) Vincent DiNova, North Carolina State def. (9) Jeffery Szabo, William Paterson, 3-1
(164-212, 237-188, 247-224, 206-200)
(12) Brett Shepherd, Vincennes def. (5) Jim Rogers, Wichita State, 3-0
(216-162, 224-205, 231-195)
(14) Richard Van Scoyk, McKendree def. (6) Craig Nursey, North Carolina State, 3-1
(234-203, 212-198, 172-244, 246-203)
(15) David Gerhart, RIT def. (7) Jake Peters, Wichita State, 3-1
(235-189, 224-157, 213-214, 237-234)
Quarterfinals
(8) Vincent DiNova, North Carolina State def. (1) Sean Rutherford, Martin Methodist, 3-2
(216-213, 253-182, 179-226, 216-221, 190-182)
(4) Dan MacLelland, Saginaw Valley State def. (12) Brett Shepherd, Vincennes, 3-2
(196-201, 233-178, 224-193, 213-224, 218-197)
(14) Richard Van Scoyk, McKendree def. (3) Will Barnes, Wichita State, 3-1
(241-225, 207-246, 226-198, 225-170)
(2) Dan Vick, RIT def. (15) David Gerhart, RIT, 3-0
(203-189, 219-211, 279-173)
Semifinals
(8) Vincent DiNova, North Carolina State def. (4) Dan MacLelland, Saginaw Valley State, 3-2
(204-238, 251-187, 243-217, 211-228, 207-206)
(2) Dan Vick, RIT def. (14) Richard Van Scoyk, McKendree, 3-1
(191-211, 279-215, 224-191, 244-172)
Championship
(2) Dan Vick, RIT def. (8) Vincent DiNova, North Carolina State, 3-0
(268-182, 239-193, 236-225)
WOMEN
First Round
(9) Rebekah Diers, McKendree def. (16) Michelle Snyder, Morehead State, 3-0
(203-196, 215-158, 213-194)
(12) Jennifer Wright, Pikeville def. (13) Christine Belsky, Newman, 3-0
(219-127, 215-168, 237-181)
(14) Cindy Buckner, Martin Methodist def. (11) Hayley Beavis, Martin Methodist, 3-1
(207-181, 215-245, 197-170, 210-185)
(10) Michelle Kendrick, Florida State def. (15) Kaidee Sutphin, Central Florida, 3-2
(204-161, 232-239, 197-191, 148-218, 224-203)
Second Round
(9) Rebekah Diers, McKendree def. (8) Kayla Bandy, Pikeville, 3-2
(175-229, 255-224, 221-248, 191-167, 237-158)
(12) Jennifer Wright, Pikeville def. (5) Melissa Hurst, Wichita State, 3-0
(245-174, 208-200, 187-152)
(14) Cindy Buckner, Martin Methodist def. (6) Jillian Pavlak, Central Florida, 3-1
(199-233, 224-189, 236-213, 204-131)
(7) Amy Corbin, Morehead State def. (10) Michelle Kendrick, Florida State, 3-0
(254-223, 222-168, 210-171)
Quarterfinals
(9) Rebekah Diers, McKendree def. (1) Elysia Current, Wichita State, 3-1
(213-175, 173-248, 245-199, 216-193)
(12) Jennifer Wright, Pikeville def. (4) Brigette Harrelson, Central Florida, 3-2
(212-243, 197-201, 233-188, 211-204, 183-159)
(3) Kristen Nielsen, Robert Morris (Ill.) def. (14) Cindy Buckner, Martin Methodist, 3.5-1.5
(149-157, 192-181, 233-200, 179-179, 203-188)
(2) Jen Donahue, Lindenwood def. (7) Amy Corbin, Morehead State, 3-0
(233-196, 266-206, 235-220)
Semifinals
(12) Jennifer Wright, Pikeville def. (9) Rebekah Diers, McKendree, 3-2
(179-222, 182-195, 247-192, 246-212, 226-225)
(3) Kristen Nielsen, Robert Morris (Ill.) def. (2) Jen Donahue, Lindenwood, 3-2
(179-212, 191-227, 224-201, 194-193, 218-181)

Championship
(12) Jennifer Wright, Pikeville def. (3) Kristen Nielsen, Robert Morris (Ill.), 3-1
(258-221, 170-216, 215-180, 191-182)