Virginia bowler celebrates 300 game with family at 2022 USBC Open Championships
April 13, 2022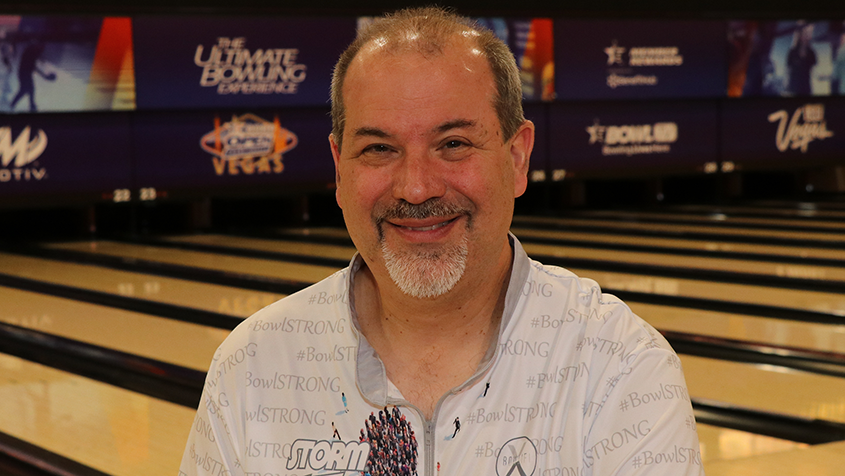 LAS VEGAS
- Michael Brenemen of Woodbridge, Virginia, tries to make his yearly excursion to the
United States Bowling Congress Open Championships
about more than just bowling.
The 52-year-old right-hander attempts to plan his trip to the event around spring break, so his family can enjoy new experiences while spending some extra time together in the host city.
When the Brenemen family reflects on their visit to Las Vegas for the 2022 USBC Open Championships, they'll now have a special memory tied to the South Point Bowling Plaza after a perfect performance on the lanes.
Brenemen became the 13th bowler at the 2022 event to roll a 300 game after connecting for 12 consecutive strikes during his second game of doubles Wednesday, and he was able to share the experience with his wife, Barbara, as they competed together in the Standard Division.
Michael's final shot may not have gone as planned as he watched his ball cross over for a Brooklyn strike, but the moment was perfect as he was greeted by Barbara with a smile and hug.
"When I turned around, she was the only person I could see," Brenemen said. "It was amazing. I was there when she shot her first 300 in league a couple years ago, and it was just an awesome experience."
Although sons Nickolas and Connor still were in the room, since the squad started at 7 a.m., they too joined in the celebration after receiving the news.
"We try to bowl around spring break so we can bring our boys with us," said Brenemen, who made his 16th Open Championships appearance. "We try to make it a family vacation every time we go."
Brenemen started Wednesday's action with a 154 game, before making the right move and catching some hits along the way. He finished with 225 for a 679 series, while Barbara added a 504 set to bring them to a 1,183 total, which places them in the top 30 in the division.
Douglas Becht of San Tan Valley, Arizona, and Lee Rottman of Sherrard, Illinois, lead Standard Doubles with 1,360. Standard Doubles consists of bowlers with combined entering averages of 311-350.
"I was playing a part of the lane I had no business playing," Brenemen said. "I was trying to force the ball. After the first game was over, I moved to where I had ended at in the team event last night and everything started falling into place. I did have a couple Brooklyns, but that line seemed to work better and was easier to get to."
The 679 set was the top three-game series in Brenemen's career at the Open Championships, and he added 597 in singles and 566 in team for a 1,842 all-events total, which also is a personal best on bowling's biggest stage.
"It's kind of surreal," Brenemen said. "This was the first time I've put together that many in a row here, and I guess it didn't really dawn on me until after I threw the ninth one that I had a shot at it. My goal every year is to shoot three 600s and 1,800, and I think this will be my first year shooting 1,800. It hasn't sunk in yet."
Visit us on Facebook at the
official USBC Open Championships page
.