Virginia man's bowling center is homage to his father
October 02, 2020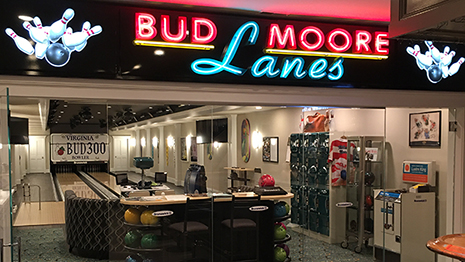 ARLINGTON, Texas -
Though he may not yet consider himself a bowler, at least compared to some of the friends he has made in recent years, bowling always has been a huge part of Bill Moore's life.
Now, decades after spending countless hours of his youth in the local bowling center, the 60-year-old financial planner has found a way to use his success and resources to celebrate the sport, pay homage his father, a lifetime bowler, and create a nostalgic escape for his family and friends.
Moore is the proud owner of Bud Moore Lanes in Clifton, Virginia, a bowling center named in his father's honor. But, it's more than just a place to bowl. Walking through the doors is like taking a time machine back to his own childhood.
Oh, and there's more. The two-lane facility happens to be in the basement of Moore's home.
"I always said that someday, I'd have bowling lanes in my house, and everyone thought I was crazy, including the first few builders I asked about doing it," Moore said. "Bowling has always been special to my family, and I wanted to create something that when you walked in, it was like going back 50 years in time in the bowling world. The best way I could think to keep the history was by the look and by showcasing all of the things from my dad's career. I took everything that was in his closet and put it in my bowling alley, which is really his bowling alley."
Moore's father, Lewis "Bud" Moore, is a Niagara Falls (New York) Bowling Association Hall of Famer, who bowled four nights a week when Moore was young. As the oldest of five children, Moore often accompanied his father to the bowling center. He'd bowl a little after school and then settle in with his homework, while his father competed.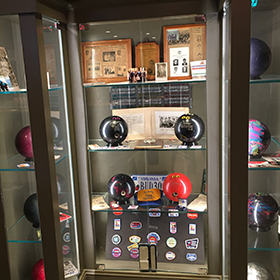 The decor at Bud Moore Lanes includes articles, bowling balls, awards and other treasures from the elder Moore, who now is 86 years old.
The facility is as modern as it is retro, however.
An antique Telescore unit, complete with ashtrays, grease pencils and the required cellophane scoresheets, is a centerpiece. There's also lockers and a Lustre King ball conditioning machine. Then, there's synthetic Brunswick lanes, up-to-date furniture, a computerized scoring option and a lane machine.
Along with the great bowling artifacts and memorabilia from his father, Moore's design includes some super subtle sentimentality that's easy to miss. Being a two-lane facility, it would be logical for the lanes to be numbered 1 and 2, right? Instead, they adorn the numbers 13 and 14, a silent tribute to the pair of lanes where his father bowled one of his two perfect games.
"The whole thing is an amazing showcase, and it just brings everyone back," Moore said. "I don't really want to get any older, so if I can go to my bowling alley and be 16 or 10 again - that's so cool. Most of the time, I have to be the responsible financial planner, but when I'm in there, I can be a kid again."
The in-home bowling center was a long time in the making, not just an afterthought for their basement. In fact, because of the logistics, the foundation for the lanes was done first, and the rest of the house was built around it. The bowling area was completed in December 2017, and the house wasn't ready for them to move in until almost a year later.
"It actually worked out that the bowling alley was finished first, so we would go over and bowl and then go home," Moore said. "Now, it has become a place I can bring clients and friends, and it's a lot of fun."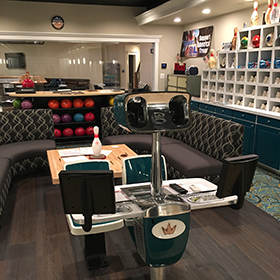 Bill Moore did bowl in high school and college, before turning his attention to college baseball and then to his career, marriage and family. He said he averaged close to 200 and would like to get there again as he moves forward from a series of injuries and three back operations.
Moore's improvement may be fast-tracked with help from some of bowling's greatest ambassadors, including United States Bowling Congress and Professional Bowlers Association Hall of Famer Johnny Petraglia Sr., who has become a close friend.
At the suggestion of the Brunswick folks who installed the lanes and equipment, Moore organized a grand-opening party in 2018, and Petraglia was there on behalf of Brunswick to help celebrate.
Their friendship grew, and a year later, as part of some Veterans Day activities in the Washington D.C. area, Petraglia was back at Bud Moore Lanes for a fundraiser that raised more than $12,000 for the Bowlers to Veterans Link. Walter Ray Williams Jr. and Parker Bohn III also appeared at the event, which Moore and his wife, Kate, hope to make an annual thing.
Along with the friendships, Moore's appreciation for the bowlers and their abilities also has grown. He's more of a fan than ever and enjoys any opportunity to get to watch the best compete. He even was planning to travel to Portland, Maine, this year to watch the PBA League in person, before COVID-19 forced a change in schedule and location.
It was Petraglia who delivered the news to Moore that they wouldn't be heading to Portland this year. There was good news, too, though, as it was announced the PBA League would be contested at Bowlero Centreville in Centreville, Virginia, just eight minutes from Moore's home.
With Petraglia in town to manage the PBA League's Brooklyn Styles, he was able to stay at Moore's house, and Moore was given a special invitation to attend the event.
When the teams weren't bowling, Moore was able to share the Bud Moore Lanes experience with many of the competitors.
Nearly two dozen of the players visited at some point during the week, including six of the 10 Professional Women's Bowling Association champions in the field. Among them, 24-time PWBA Tour champion Liz Johnson, who actually had attended the same high school as Moore.
"Johnny, and so many of the guys, have been incredibly supportive, and it was really cool to be able to welcome them into my house and let them hang out and have some fun, when they otherwise might've just been going back to the hotel for the night," Moore said. "It was nice for everyone to get to spend some time together and relax and learn a little about Bud Moore and Bud Moore Lanes."
Included in the week for Moore was a formal lesson with Petraglia, who helped him to scores of 197 and 208.
While he might not yet be ready for the PBA50 Tour, Moore was encouraged by his fast success and is excited to continue his bowling journey.
He also said he's learned so much from his new bowling friends about competition, lanes, oil patterns and equipment that getting the lanes USBC-certified became a priority and something he was able to have taken care of earlier in September.
Now that things are official, Moore is thinking about how he can host a league or events. Bigger yet, is the idea of sponsoring a PBA50 event in conjunction with Bowlero Centreville and holding the finals at Bud Moore Lanes.
"At 27, I didn't know what I wanted to do for my career, so to be 60 and have what I have and be able to share it, is so special," said Moore, who earned a mathematics degree from the Rochester Institute of Technology. "We've worked hard and optimized our money and have been able to buy the things we've wanted. This is what I've always wanted. People always say you can't take it with you, so why not spend it and have fun."
One final touch inside the venue is a sign next to lane 13 that says something along the lines of - "Bud Moore Lanes, Clifton, Va. Future lane expansion! Coming soon, Lanes 1-12." While that probably isn't logistically possible, it's a playful jab at all the people who never thought Moore would have a house with bowling lanes.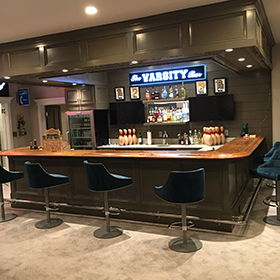 Just beyond the basement bowling center, where Petraglia and Williams share the house scoring record of 258, is a theater, locker room, gym, two Skee-Ball machines, classic video games, an air hockey table, ping pong table, shuffleboard table, candy machine and even a pay phone - all the luxuries of a 1980s bowling center or cutting-edge family entertainment center.
Also part of the landscape is a little more subtle sentimentality - a custom bar area called The Varsity Bar, which displays the varsity letters of all four of his children.
The rest of the home, Moore admits, was decorated by his bride of 37 years, but he's absolutely taking credit for the basement.