We're all Team USA
January 03, 2020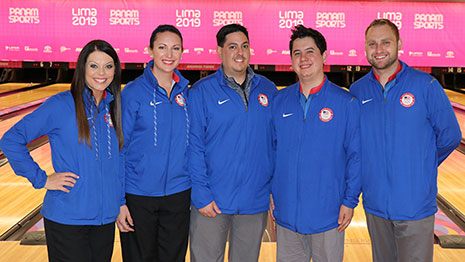 LAS VEGAS -
We've all teared up watching an amazing triumph or agonizing defeat in sports. Admit it. This is a judgment-free website.
You're not alone. And, at each given moment, countless others likely were wiping away a tear or two, hoping not to be noticed by friends or fellow fans.
I first felt this as a 7-year-old during the 1986 World Series, and I imagine there might've been emotions during the 2000 series, as well, if the Mets had been able to pull it off again. At that point, I absolutely was in the financial position to secure my subscription to Sports Illustrated and get that limited edition commemorative windbreaker.
It's hard not to get choked up and wish "to have that feeling just once, even for a moment," in any capacity, at any level of competition.
This is sports. And fandom. We live vicariously through those with the gifts and talent we could only dream of. Our pulses race. We juke and move like we're the ones competing. We tell stories about where we were when the most memorable moments occurred or how we had tickets to the game and chose not to go.
My role in bowling has given me the chance to be up close to many of our sport's memorable moments and top performers.
Over the last 15 years, I've gained an immeasurable respect for the competitors, not just at the elite level, but at youth events and at the
USBC Open Championships
, arguably the biggest stage in bowling and one where all USBC members have the opportunity to make history.
I've seen record scores, crowning moments and clutch performances. I've seen decades of close calls and disappointment overshadowed by monumental triumph.
So many have left me with tears in my eyes, voice quivering and struggling to hold the camera steady as I do my best to chronicle their most emotional performances and successes, and I'm not ashamed to admit it. Even seeing the players on the medal stand is special...maybe the most special.
Since it's
USBC Team USA Trials
week, it's only fitting to recall the women's trios event at the 2017 World Bowling World Championships, where
Team USA's
Shannon O'Keefe went from the emergency room to the top of the medal stand in just a few hours.
Complications from a kidney stone sent her to the hospital the night before the trios medal round, and she did everything in her power to not let down her teammates - Kelly Kulick and Danielle McEwan. Adrenaline, determination and a love for her team and country helped O'Keefe from the hospital bed to the gold medal.
In that moment, I wasn't just the PR guy. I was a bowler. I was a fan. I was a proud American. Plus, I wasn't the one who had to pass a kidney stone, which I've heard hurts 1,000 times worse than dropping a bowling ball on your toe.
I may not be an actual member of Team USA, but I tried once. I finished 31st at my only Team USA Trials.
Realistically, I wasn't even close to making the team, but it was close enough to wonder what if. What if one or two of the days were a little better? What if that short pattern wasn't such a thorn? What if I could make a 7 pin?
If 27 other people would've been busy the week of the 2011 Tournament of the Americas, I could've had my breakout international appearance.
I may not be an actual member of Team USA, but I feel pride in the team jacket I "borrowed" from the supply closet at USBC headquarters, and I try to cover every event like there's a media relations gold medal up for grabs.
I may not be an actual member of Team USA, but my insides get just as tangled with every success and every defeat.
But, in a way, I am a part of Team USA. While at home, watching a livestream or a highlight video on Facebook, you are a part of Team USA, too. While reading a recap on BOWL.com or looking at photos of the team members on their latest adventure, you are a part of Team USA.
Later this week, we may see another late-falling 9 pin like we did for Wesley Low on his way to claiming the 2019 U.S. Amateur Championship. We may see another Team USA dream come true like we did when Sean Wilcox was selected to both Junior Team USA and adult Team USA in 2019. We may see an inspirational performance from a veteran or rise to stardom for a young (or senior) unknown player.
We for sure will see tears - both the happy kind and tears of devastation. And those will just be from me.
Make sure to tune in to
BowlTV
all week to see the action unfold at 2020 Team USA Trials in Las Vegas, and stay logged in Jan. 7 to meet the newest members of Team USA and Junior Team USA.